A tender gingerbread spice cake is infused with maple flavor in the form of the maple caramel sauce and maple pecans, and covered in a brown sugar frosting.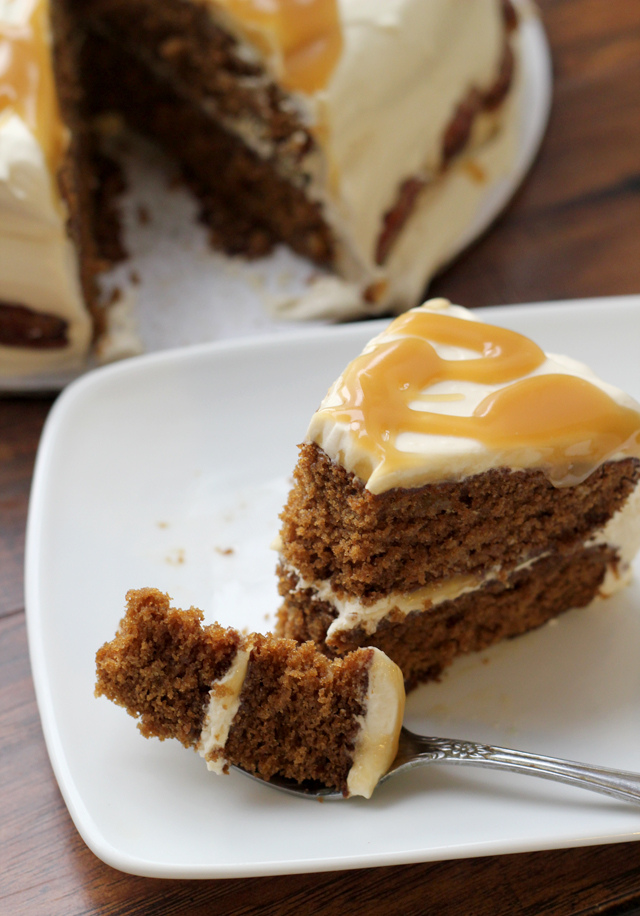 You're all like "Where's the pie?!?!"
But trust me, in a few weeks you will be SO.PIE'D.OUT (mainly because I am going to shove them in your face in full force starting very soon) and then you'll be all like, "Remember those days when Joanne made cake? That was nice."
Actually, I did make a pie last weekend. You know, the day before I was supposed to run 26.2 miles. Because that's what normal people do.
Spend their pre-marathon 24 hours mired in butter and flour and apples. (And bourbon!)
But…I gave it to my brother. (Without tasting it or snapping a single photo. #FoodBloggerFail) Because he has been calling me almost every week for the past month not-so-subtly-hinting that he would really like to eat pie for breakfast throughout all of November thankyouverymuch.
So he whisked the pie away with him all the way down to his new apartment in lower lower lower Manhattan.
And that's, like, a whole subway ride away!!!!
So going there on a whim to stick a fork in his (my?) pie and snag a few photos when I could barely walk until Tuesday and still can't really figure out this whole walking down stairs thing…seemed excessive. So no pie. (Yet.)
Cake it is.
And not just any cake but THIS cake that is so stuffed up with maple flavor in every nook and cranny and crevice that it can't fail to make you happy. It's a little different from most other gingerbread cakes because it uses Chinese five spice powder instead of loads of ginger, leaving it with a very hefty star anise flavor profile. Which I love, but some people do not. So use with caution or change it up if you're not that into it!
Then it's smothered in tangy sweet brown sugar creme fraiche whipped cream frosting, the most delicious maple syrup caramel I ever did bathe in taste, and maple pecans which are pretty much heaven.on.earth.
So after all that, I'd pretty much say LONG LIVE CAKE.
And #sorryimnotsorry.
One year ago…Bean Chili with Pecans and Chocolate and Cheesy Beer Bread
Two years ago…Star Anise-Glazed Tempeh with Stir Fried Peppers, Pumpkin Pie Fudge
Three years ago…Jelly Donut Muffins with a Ginger Pomegranate Cranberry Sauce Filling
Four years ago…Baked Apple Pancakes
Maple-Gingerbread Layer Cake with Salted Maple Caramel Sauce
A tender gingerbread spice cake is infused with maple flavor in the form of the maple caramel sauce and maple pecans, and covered in a brown sugar frosting.
Yield:
A 9-inch double layer cake
Ingredients
For the maple-coated pecans
¾ cup pecan halves, toasted
¼ cup pure maple syrup
For the salted maple caramel sauce
¼ cup unsalted butter
½ cup maple sugar
¾ cup heavy cream
⅛ tsp sea salt, plus more to taste
⅛ tsp maple extract
For the cake
2½ cups flour
1½ tsp Chinese five-spice powder
1 tsp baking soda
½ tsp coarse kosher salt
2 oz finely chopped crystallized ginger
1 cup maple sugar
¾ cup unsalted butter, room temperature
2 large eggs
¾ cup hot water
⅔ cup molasses
For the frosting
1 cup chilled creme fraiche
1¼ cup chilled heavy cream
½ cup brown sugar
6 tbsp confectioner's sugar
Instructions
To make the pecans, combine the nuts and maple syrup in a heavy-bottomed skillet over medium-high heat. Stirring constantly, cook until the syrup starts to thicken and is almost cooked away, about 3 minutes. Scrape nuts onto a sheet of parchment paper and separate them so they are not touching. Sprinkle with coarse salt. Let cool for 1 hour.
For the caramel, melt the butter in a heavy medium saucepan over medium heat. Whisk in the sugar until it melts and starts to boil, about 2 minutes. Whisking constantly, slowly add the cream. Bring back to a boil and then allow it to thicken enough to coat a spoon and reduce in volume to a cup, whisking frequently, 2-3 minutes. Remove from the heat and whisk in the salt and maple extract. Set aside.
For the cake, preheat the oven to 350F. Grease and line two 9-inch cake pans with parchment paper.
In a large bowl, whisk together the flour, Chinese five spice, baking soda, salt, and crystallized ginger.
In the bowl of a stand mixer fitted with a paddle attachment, cream together the sugar and butter until fluffy, about 3 minutes. Add in the eggs one at a time, scraping down the sides of the bowl after each addition.
Mix together the hot water and molasses in a separate bowl. Add the flour mixture in four additions, interspersing it with the water/molasses mix. Mix together until just combined. Divide the batter evenly between the two cake pans. Bake for 30 minutes or until a toothpick inserted in the center comes out clean. Allow to cool in the pan for 10 minutes, then remove to a wire rack.
To make the frosting, combine the creme fraiche, heavy cream, and sugars in a large bowl. Beat with a mixer until stiff peaks form.
To assemble the cake, place one layer top down on a platter. Spread with 1 cup of the frosting. Drizzle 3 tbsp of the caramel over it.
Invert the second layer from it's pan and place it, top-down, on the first layer. Cover the tops and sides with the remaining frosting and drizzle with 3 tbsp of the caramel sauce. Decorate the sides with the pecans. Chill if not serving immediately.
Notes
Adapted from
Bon Appetit