Spicy crispy chickpeas are served with fried halloumi, wilted greens, and a garlicky yogurt sauce in this wholesome and delicious meal.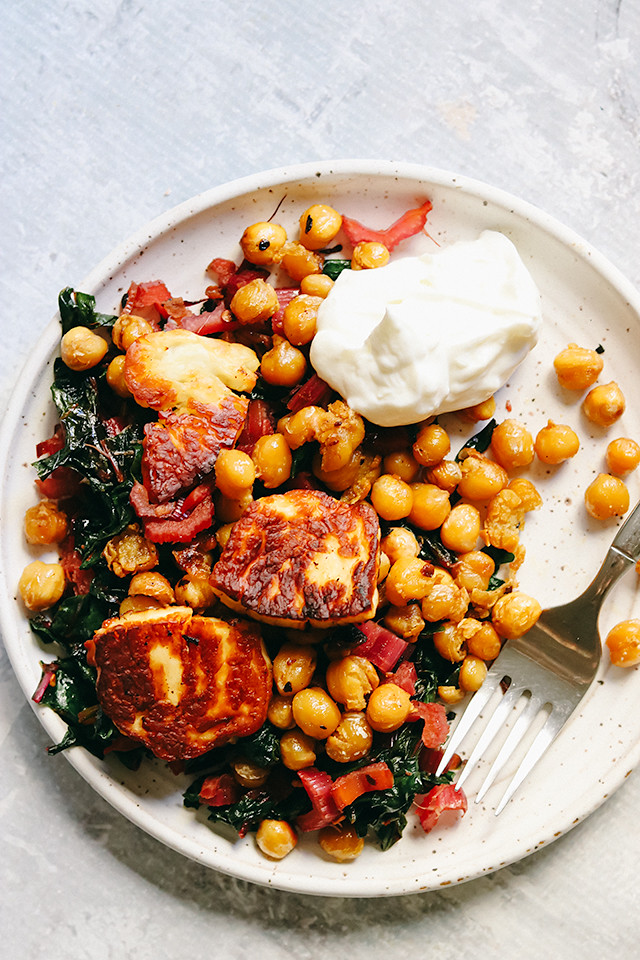 Nothing like a good fried halloumi bowl to dress up your weeknight!
Halloumi really just makes everything in life better. The crispy outsides, the creamy insides, the slight "squeak". 
We all get excited when this is on the week's dinner rotation.
It's my favorite way to spruce up a meal that would otherwise be given side eye by the peanut gallery I live with. Somehow even swiss chard is more palatable when halloumi is scattered on top of it!
This is actually an adaptation of a meat-filled recipe from Alison Roman's Dining In Cookbook. Her version starts with crisping up ground lamb in a skillet, which I obviously was not going to do. I initially thought I would just double the crispy chickpeas and call it a day but once the call of fried halloumi gets into your head it is hard to ignore it. 
Fried halloumi tastes NOTHING like lamb, but it still works super well in this dish, mingling with the Middle Eastern-ish vibe going on here. It's one of my favorite meat substitutions in meals like this where I want to try the sauces or the base of a dish but need to swap out the meat. Dare I say it might even be better than the original, but I haven't eaten lamb in well over a decade so I'm probably not the most accurate judge.
What makes this recipe perfect for a weeknight is that it requires minimal prep and can be made in one pan!
Mix up your garlicky yogurt ahead of time to let the flavors blend. 
Next, heat up a large nonstick skillet and fry up all of your halloumi. I really use minimal to no oil here, depending on my mood. As long as you have a good nonstick, this shouldn't be an issue. 
Next, clear out the pan and fry your chickpeas with garlic and some spices. Here you do need a quite a bit of oil to add some richness and to make sure the chickpeas really do get crispy all over. It makes them extra addictive though and is totally worth it. 
Finally, saute your greens! I used chard, stems and all, but you can use any green your heart desires. 
Mix everything together and serve with dollops of yogurt on top. 
Crispy, cheesy, creamy, perfection.
Crispy Chickpeas and Halloumi with Greens and Garlicky Yogurt
Spicy crispy chickpeas are served with fried halloumi, wilted greens, and a garlicky yogurt sauce in this wholesome and delicious meal.
Ingredients
For the garlicky yogurt
1 cup greek yogurt
1 garlic clove, grated
1 tbsp lemon juice
salt and black pepper, to taste
For the chickpeas and halloumi
1 lb halloumi, sliced into ½-inch thick slabs
1 large bunch swiss chard
6 tbsp olive oil
4 cups cooked chickpeas
3 garlic cloves, minced
1 tsp cumin seeds
1 tsp crushed red pepper flakes
salt and black pepper, to taste
Instructions
For the yogurt sauce
Combine all of the ingredients in a small bowl. Season to taste with salt and black pepper. Set aside to allow the flavors to meld.
For the halloumi and chickpeas
Saute the halloumi in a large non-stick skillet over medium-high heat until browned on both sides, about 1 minute per side. Remove to a paper towel-lined plate and set aside.
Separate the leaves and stems from the greens, then thinly slice the leaves and stems. Set aside.
In the same skillet you used to make the halloumi, heat 6 tbsp of the olive oil over medium-high heat. Add the chickpeas, garlic, cumin seeds, and red pepper flakes. Season with salt and black pepper. Saute until crispy, about 10 minutes. Remove to a large serving bowl leaving any residual oil and seasoning in the skillet.
Add the chopped chard stems to the skillet and season to taste with salt and black pepper. Saute over medium-high heat until slightly softened, about 2 minutes. Add in the leaves and saute until wilted, about 30 seconds. Mix with the chickpeas.
Divide the chickpea mixture among serving bowls, then top with the halloumi and a dollop of the garlicky yogurt. Serve immediately.