The bright, fresh flavors of summer come alive in these chimichurri summer vegetable bowls made with farro, corn, roasted bell peppers, and black beans!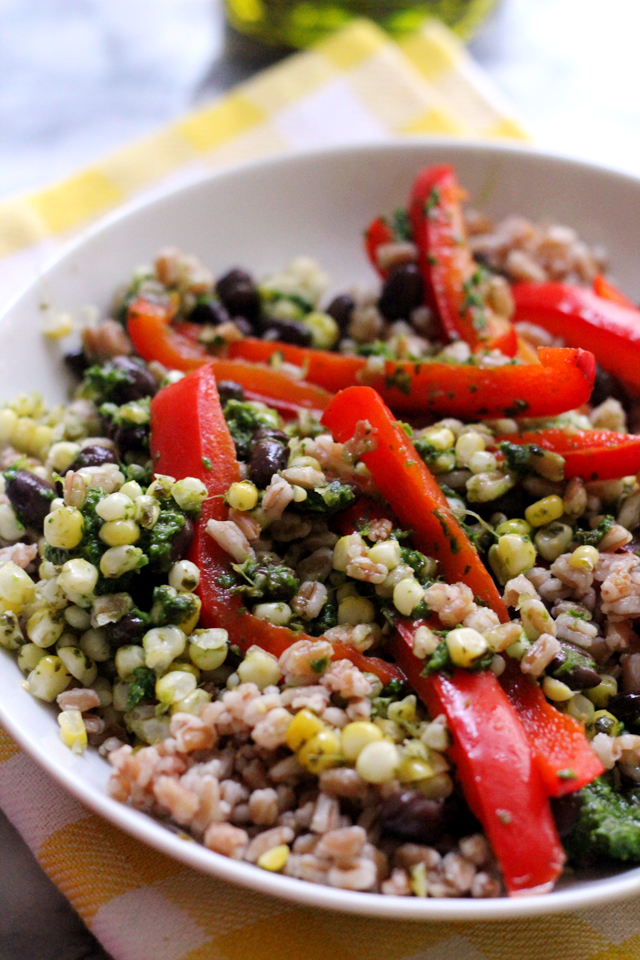 Summer came in like a lion.
The kind that has you standing in front of your A/C all the livelong day because your kid is mostly only happy when she's attached to you and if you thought pregnancy overheating was bad, try baby wearing.
The struggle is so real.
On the bright side, summer weather = SUMMER PRODUCE.
And that can only be a good thing.
Chimichurri often gets forgotten as a summer condiment, letting it's distant relative pesto take all the glory. SUCH A SHAME because not only does it let you use up not one, not two, but THREE herbs from your summer overabundance, but it's so bright and fresh and goes-well-with-everything that it deserves it's spot in the scorching summer spotlight.
These chimichurri summer vegetable bowls let it do just that. A few pulses of the food processor and you have enough of this herby goodness to dress what seems like enough veggie bowls to feed an army, plus some left over to season just as many ears of corn before roasting.
Just like its Italian brethren, chimichurri is made up of very simple ingredients, so you really have to go high quality in order to get the best flavor outcome. For just this reason, I reached for Pompeian's Smooth Extra Virgin Olive Oil, which is fruity and aromatic with just a hint of spiciness and oh so perfect for letting the bright summer flavors in these bowls shine.
While I roasted the veggies for these bowls (the true downfall of living in a grill-less NYC apartment), they would be just as good if not better if cooked on a grill so if you have one – GO FOR IT.
I give you my summer blessing.
Chimichurri Summer Vegetable Bowls
The bright, fresh flavors of summer come alive in these chimichurri summer vegetable bowls made with quinoa, corn, roasted bell peppers, and black beans!
Ingredients
For the chimichurri
½ cup chopped basil
1 cup chopped parsley
½ cup chopped cilantro
2 cloves garlic
¼ cup olive oil
3 tbsp white wine vinegar
salt and black pepper, to taste
For the corn
4 ears of corn
⅓ recipe of chimichurri
For the bowls
1½ cups farro
4 red bell peppers, seeded and cut into thin strips
1 tbsp olive oil
1 (15 oz) can black beans, drained and rinsed
⅔ recipe of chimichurri
Instructions
For the chimichurri, in the bowl of a food processor, pulse together the basil, parsley, and cilantro until minced. Add in the garlic, olive oil, and vinegar. Process until pureed. Season to taste with salt and black pepper.
Heat oven to 400F.
Brush the corn with the chimichurri and wrap each ear of corn in aluminum foil. Place on a baking sheet and roast for 25 minutes. Cut the corn off the ears.
Meanwhile, bring 3 cups of lightly salted water to a boil in a medium pot. Add the farro to the pot and lower to a simmer. Let cook for 10-15 minutes, or until water has evaporated. Remove from the heat.
Arrange the red pepper slices on a foil-lined baking sheet, skin up. Brush with olive oil and sprinkle with salt, to taste. Roast for 20 minutes.
In each of 4 bowls, combine a quarter of the farro, a quarter of the black beans, the kernels from one ear of corn, and a quarter of the roasted bell peppers. Drizzle with remaining chimichurri sauce and serve warm.
Nutrition Information
Serving size:
¼ of recipe
Disclosure: This post was sponsored by Pompeian. As always, my thoughts and opinions are my own. Thank you for supporting the brands that keep me inspired in the kitchen.