Sweet-tart and ready to kickstart your morning is the best way to describe these lemon ricotta cornmeal muffins with lemon-vanilla glaze!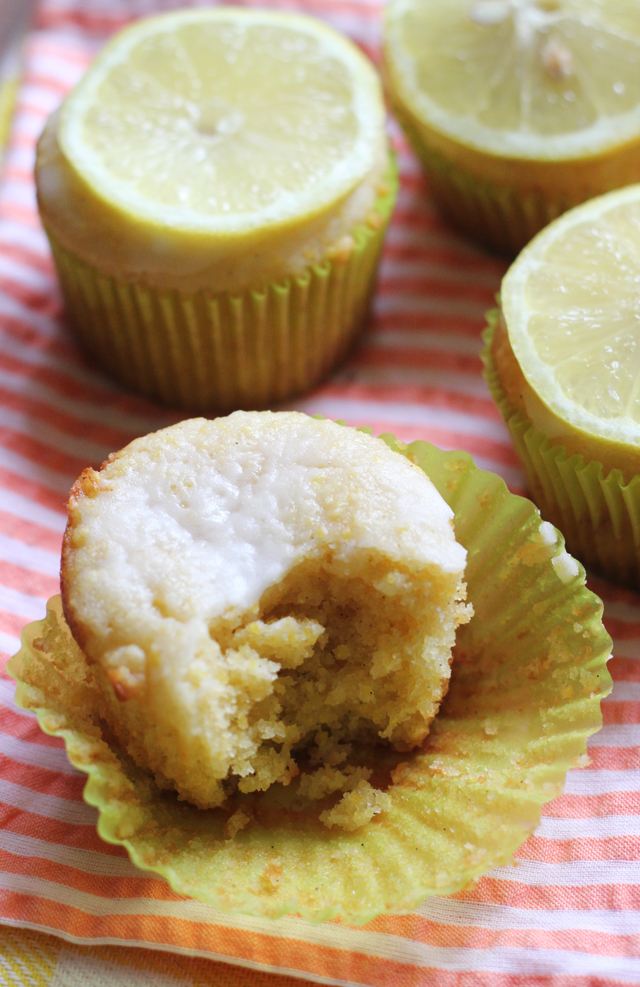 I've always been a fan of the leisurely morning. You know – the wake-up, catch-up-on-the-news-blog-reading, slow-sip-your-coffee, lick-your-muffin-liner-clean kind of mornings.
Guess what. Life post-newborn?
DEVOID OF LEISURELY MORNINGS!!
Now it's more:
Wake up.
Feed the baby.
Change the baby.
Play with the baby while she's still in a good mood.
Change the baby again because she has a knack for dirtying her diaper the second I put a new one on.
Calm the baby down because she is not a fan of having to have her diaper changed twice in an hour.
Try to bounce the baby to sleep amid a chorus of unhappy overtired baby cries.
Decide to just put baby in her swing and hope that she falls asleep on her own.
Throw together breakfast during the five-ten minutes of swing-induced quiet.
Slurp down coffee as quickly as humanly possible.
Rinse. Repeat.
You know who's quickly become fan of the grab-and-go breakfast and the effortless yet perfect cup of coffee?
Yes, that would be me.
Somehow this weekend I managed to conquer both of those elusive entities in one fell swoop.
And I have International Delight's new line of Simply Pure coffee creamers to thank for it.
This clean label coffee creamer is made with just FIVE simple ingredients while still managing to make your coffee taste outrageously fancy-delicious with just one small pour.
It also mixes super well into muffin glazes of any kind, but more specifically this lemon-vanilla glaze, which I used to add a layer of oomph to these lemon ricotta cornmeal muffins. The muffins themselves are lightly sweet with cornmeal crunch and a hint of lemon pucker, while the glaze is the perfect sweet-tart topping to make them feel (and taste!) like a real treat.
Fancy-tasting coffee – CHECK.
Grab and go muffin goodness – CHECK.
Anything-but-lazy morning – WE GOT THIS.

Lemon Ricotta Cornmeal Muffins with Lemon-Vanilla Glaze
Sweet-tart and ready to kickstart your morning is the best way to describe these lemon ricotta cornmeal muffins with lemon-vanilla glaze!
Ingredients
¾ cup + 1 tbsp unsalted butter, room temperature
¾ cup + 3 tbsp sugar
1½ tsp kosher salt
zest of 4 lemons
2 tbsp lemon juice
2 large eggs
4½ tbsp olive oil
3 tbsp maple syrup
1 tbsp vanilla bean paste or vanilla extract
1¾ cups all purpose flour
¾ cup cornmeal
2¼ tsp baking powder
¾ tsp baking soda
1¾ cups ricotta
For the glaze
1 cup powdered sugar
2 tbsp + 1 tsp lemon juice
1 tbsp Simply Pure Vanilla
Instructions
Heat oven to 350F. Line 2 12 cup muffin tins with paper liners.
In a stand mixer fitted with the paddle attachment, cream together the butter, sugar, salt, and lemon zest on medium-high speed until light and fluffy, about 3-4 minutes. Mix in the eggs, one at a time, until combined, about 30 seconds per egg, making sure to scrape down the sides of the bowl as needed.
Mix in the olive oil, maple syrup, lemon juice, and vanilla bean paste until combined. Scrape down the sides of the bowl. Mix in the flour, cornmeal, baking powder, baking soda, and ricotta until just combined.
Distribute the batter among the muffin cups filling to ¾ full. Bake for 18 minutes, or until the muffins barely spring back when touched. Let cool completely.
To make the glaze, whisk together the powdered sugar, lemon juice, and creamer until all of the lumps have dissolved. Dip the muffins top down into the bowl with the glaze so that the entire top is covered. Garnish each with a lemon slice, if desired.
Notes
Recipe slightly adapted from
Huckleberry: Stories, Secrets, and Recipes From Our Kitchen
This is a sponsored conversation written by me on behalf of International Delight. The opinions and text are all mine.