Loaded vegetarian picadillo tacos made with a bean-based picadillo with all the spice and flavor of the original meaty version.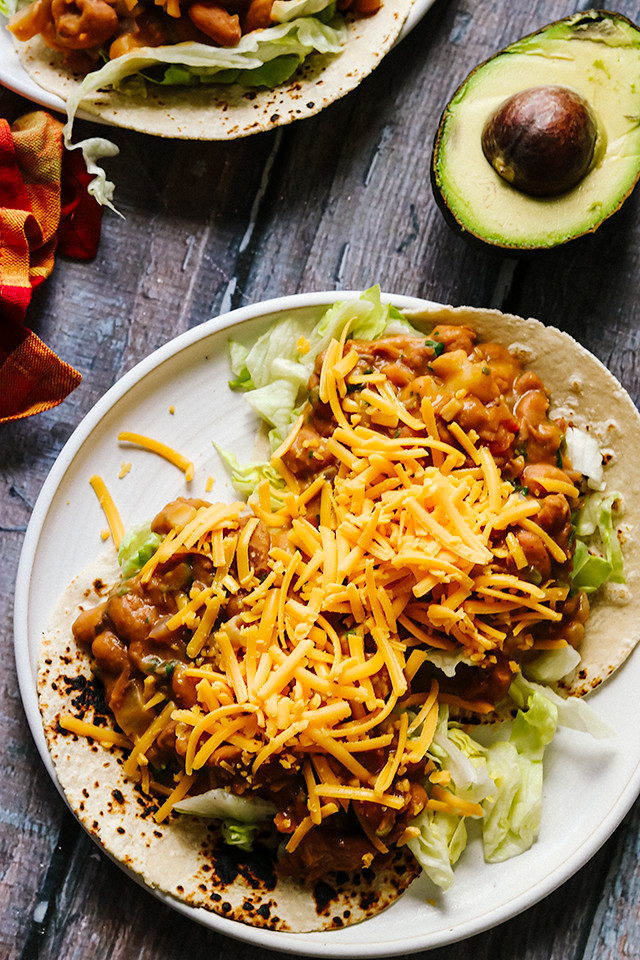 Vegetarian picadillo tacos to make ALL of our Monday dinners a little better tonight!!
Oof that weekend was a rough one. I was on call and got 2AM middle-of-the-night pages EVERY SINGLE NIGHT. 
Apparently everyone was having emergent (and in some cases not at all emergent – but that's a litany of complaints for another day) endocrine issues.
Working weekends are usually a bust in terms of meal prep, but this one was especially so because when I got home I just didn't feel like doing anything. I literally plopped on the couch and did not move (until I got paged again, sigh).
One of my best tips for busy times like these is to get a pot of beans going. It takes almost zero hands on effort and rewards you with easy meals for the rest of the week. I make my beans in the electric pressure cooker, so it's especially simple – I just throw them in with some water, two bay leaves, and salt, set the timer and forget about them until the machine beeps to tell me they're done. Later they can be used for tacos (ahem, case in point), soups, stews, chilis, enchiladas, quesadillas…the list is endless.
This meal starts with a pot of cooked beans and ends with tacos that are filled with a vegetarian version of picadillo, which is a traditionally meaty dish served in many parts of Latin America and the Philippines. Each region puts its own spin on the dish and, much like every Italian grandmother has her own version of bolognese, my sense is that this is true for picadillo as well. At its simplest, it generally features ground beef and tomatoes, but can also have raisins, potatoes, olives, and other ingredients that can vary by region. 
My recipe is based on the picadillo from Josef Centeno's AMA cookbook, which is filled with an amazing amount of delicious Tex-Mex dishes. I've substituted the ground beef with a pound of cooked beans (pintos or cranberry beans work!) and added some of the bean cooking liquid to make it more of a stew. Stuff it into taco shells, load it up with all the good stuff, and call it dinner!
Loaded Vegetarian Picadillo Tacos
Loaded vegetarian picadillo tacos made with a bean-based picadillo with all the spice and flavor of the original meaty version.
Ingredients
For the vegetarian picadillo
1 lb dried cranberry beans or pinto beans, soaked overnight and cooked according to package directions
¾ cup of cooking liquid reserved
2 tbsp olive oil
½ tsp cumin seeds
¼ onion, diced
1 garlic clove, grated
¼ jalapeno, seeded and minced
1 russet potato, peeled and cut into ¼-inch dice
2 tsp tomato paste
¾ tsp kosher salt
1 tsp smoked paprika
1 tsp ancho chili powder
¼ cup chopped scallions
¼ cup chopped fresh cilantro
For the tacos
8-12 tortillas, heated through
To garnish: shredded lettuce, grated cheddar cheese, avocado
Instructions
For the picadillo
Prepare the beans as directed.
Heat the olive oil in a large skillet over medium-high heat. Add the cumin seeds and cook for 30 seconds, or until fragrant. Add in the onion and garlic. Saute until fragrant, about 1 minute. Add in the jalapeno and cook for 3-4 minutes, or until the onion is tender.
Add in the potatoes, beans, tomato paste and reserved cooking liquid. Stir to combine. Season to taste with salt. Bring to a simmer and cook until the potatoes are tender, about 10 minutes.
Stir in the smoked paprika and chili powder. Add in the scallions and cilantro, then remove from the heat.
For the tacos
Spoon the picadillo into warm tacos shells. Add toppings as desired.