Creamy mascarpone tortellini served with roasted cherry tomatoes and thinly sliced kale in this family friendly vegetarian weeknight dinner.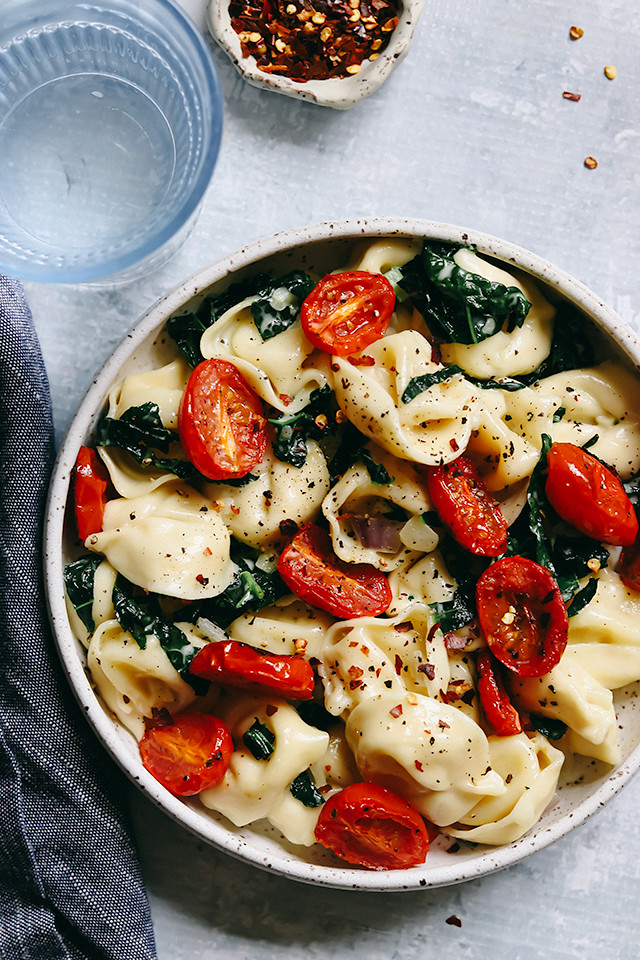 Let's talk about this for a second because it's about to be your *NEW* *FAVORITE* weeknight meal: cheese tortellini enrobed in a creamy mascarpone sauce, cozied up next to caramelized roasted tomatoes and garlicky tender kale.
Whhhhaaatttttttttttt. Yes. 
It's just yum all over the place.
The general vibe of this meal is kinda fancy, kinda healthy, kinda indulgent, but also COMES TOGETHER IN 30 MINUTES.
That's how I'm living my life these days – a little of everything (simultaneously, a lot of nothing). And while I love a good cooking or baking project, during the week I want something no nonsense that everyone will eat without any bribery. 
Here we are.
Let's talk specifics!!
First things first, get your oven on and get your cherry tomatoes roasting. This is the longest step but it only takes 20-30 minutes, depending on the size of your tomatoes. The rest of the recipe comes together while your tomatoes roast, so it really is multi-tasking at its finest.
Next, put your pot of water on to boil. I used to be someone who filled my extra large pot to the brim but I recently had a revelation where I realized that was totally unnecessary for the amount of pasta I was cooking for my family. Now I'm a half full kinda gal and it means my water boils in half the time. BOOYAH.
While all that's going on (look at us triple-tasking it!!), sauté some alliums in a pan and add your kale. Cook until it's wilted, tender, and almost melts in your mouth. Add the mascarpone, some pasta cooking water, salt to taste and call your sauce DONE.
Somewhere in there, cook your tortellini (fresh varieties only need about 5 minutes in the water) and toss everything together.
Dinner is served!
Creamy Mascarpone Tortellini with Roasted Tomatoes and Kale
Creamy mascarpone tortellini served with roasted cherry tomatoes and thinly sliced kale in this family friendly vegetarian weeknight dinner.
Ingredients
4 tbsp olive oil, divided
1.5 lb cherry tomatoes, halved
salt and black pepper, to taste
2 lb fresh cheese tortellini
1 shallot, minced
4 garlic cloves, minced
1 large bunch of lacinato kale, stems removed and leaves thinly sliced
8 oz mascarpone cheese
½ cup pasta cooking water
Instructions
Heat oven to 450F.
In a large bowl, toss the cherry tomatoes with 2 tbsp of the olive oil. Spread on a parchment-lined baking sheet. Sprinkle with salt and black pepper, to taste. Roast for 20-30 minutes or until the cherry tomatoes are caramelized.
Meanwhile, bring a large pot of salted water to a boil. Cook the tortellini according to package directions and drain, reserving ½ cup of pasta cooking water.
While the pasta is cooking, heat the remaining 2 tbsp olive oil in a large saute pan over medium heat. Add the shallot and garlic to the pan. Saute for 2-3 minutes, or until fragrant. Add the kale to the pan and saute until wilted, about 3 minutes. Add in the mascarpone cheese and reserved pasta cooking water, stirring until the mascarpone melts into a sauce.
Pour the kale-mascarpone sauce over the cooked tortellini and stir to combine. Add the cherry tomatoes and toss gently. Season to taste with salt and black pepper. Serve warm.
Notes
An Eats Well With Others Original