Chocolate pistachio macarons – only the BEST macaron flavor combination ever! Fudgy cocoa macaron shells are filled with pistachio swiss meringue buttercream in these two-bite treats.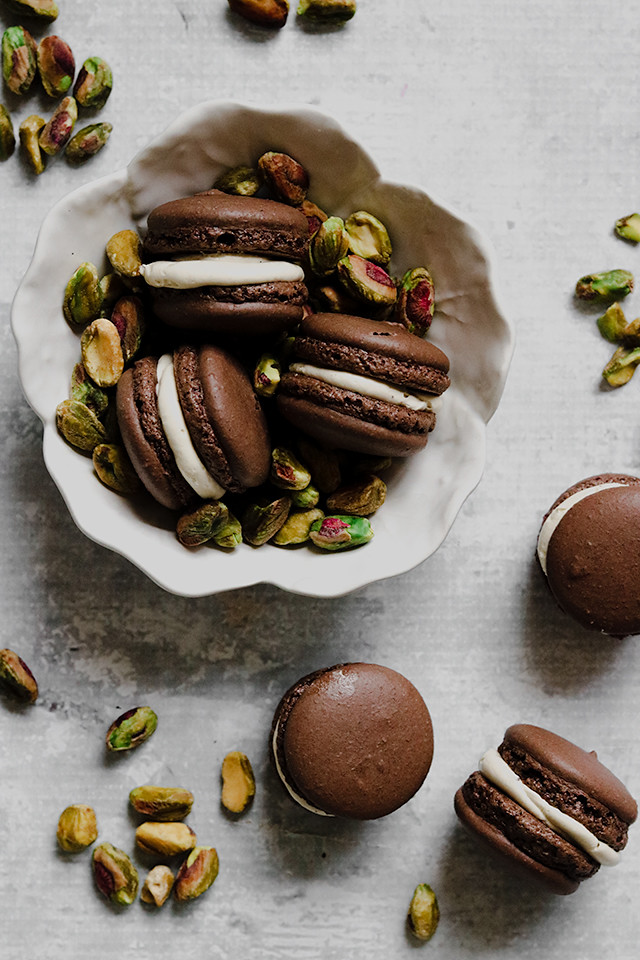 Last weekend I found myself with a real problem.
Okay, not a real real problem, kind of a *good* problem, but a problem nonetheless.
And that was: a freezer full of leftover pistachio swiss meringue buttercream that had been there since CHRISTMAS that I had completely forgotten about.
I know what you're thinking – WHAT HOW IS THAT EVEN POSSIBLE???
And also – HOW DID YOU HAVE THE SELF CONTROL TO NOT EAT IT STRAIGHT FROM THE FREEZER A LITTLE BIT EVERY DAY.
Right?! I'm kind of proud of myself, but also horrified.
My freezer has a knack for covering everything I love in freezer burn, so I knew I had to act fast or potentially have to say goodbye to that swiss meringue buttercream forever.
My solution: MACARONS!!!! 
This really killed two birds with one stone because not only did it serve to use up that buttercream gold but it also allowed me to flex my macaron muscles, which I haven't done in a while (almost a year!).
The thing about making macarons is that it is really not like riding a bicycle – go too long in-between batches, and you will forget how to do it. You can learn that the hard way, like some of us ahem, or you can trust me and just make a batch every few months. Honestly, you'll never be sorry you did.
Since the filling was already taken care of, I decided to be a bit adventurous with the shells and went with a flavor I had never made before – CHOCOLATE!!!
Making chocolate macaron shells is pretty much the same process as making regular macarons, except you replace a portion of the almond flour with cocoa powder. You'll want some good quality Dutch process cocoa powder here because it really drives the flavor of the macs. I used King Arthur Flour's double dutch dark cocoa, which is my go-to. 
As with all macs, you really need to be precise and weigh all of your ingredients. I haven't even provided volume measurements for the macarons because I want you to have success and the only way for that to reliably happen is to use weights. Sorry not sorry, I just love you too much.
I do think the cocoa powder made this batter a little bit stickier than usual and even my macs probably could have used a few more turns during the macaronage step. You live, you learn, and you just forge ahead and make more macarons – that's my motto.
Chocolate Pistachio Macarons
Chocolate pistachio macarons - only the BEST macaron flavor combination ever! Fudgy cocoa macaron shells are filled with pistachio swiss meringue buttercream in these two-bite treats.
Ingredients
For the chocolate macarons
125 g blanched almond flour
150 g confectioner's sugar
25 g Dutch-processed cocoa powder
¼ tsp kosher salt
100 g egg whites, at room temperature
79 g sugar
For the pistachio swiss meringue buttercream
3 large egg whites
1 cup (200 g) sugar
2 tsp vanilla extract
3 sticks (340 g) unsalted butter, room temperature
⅓ cup (80 ml) pistachio paste
Instructions
For the chocolate macarons
In the bowl of a food processor, combine the confectioner's sugar, almond flour, cooca powder and salt. Pulse for 3 minutes or until very finely ground. Sift the mixture into a large bowl and discard any bits that are too large to pass through. If there is over a tbsp of lumps in the sifter, then put back in the food processor, pulse, and then sift again. Set aside.
In the bowl of a stand mixer fitted with the whisk attachment, beat the egg whites on medium-low speed for 2 minutes or until foamy. Increase the speed to medium and beat for another 2 minutes. Slowly pour in the sugar and beat for an additional minute. Increase the speed to medium-high and beat until medium-stiff peaks for, about 2 minutes.
Remove the bowl from the mixer and add half of the dry ingredient mixture into the meringue, folding them together by scraping the bottom and sides of the bowl and then lifting the batter up and over onto itself. Rotate the bowl a quarter turn with each fold. It should take about 15 folds for the batter to mix together. Add the remaining ingredients and fold them together in this same way, aiming to knock out some of the air as you fold.
Once the dry ingredients are well combined, continue folding and testing the consistency of the batter. To do this, lift a scoop of the batter up with your spatula and let it fall back into the bowl. It is ready when it falls from the spatula in a solid ribbon and disappears back into the batter within 10-15 seconds. This can take anywhere between 40-50 folds.
Scrape the macaron batter into a pastry bag fitted with a half-inch round tip. Line two or three baking sheets with parchment paper. Hold the pastry bag at a 90-degree angle to the parchment-lined baking sheet and pipe it into 1.5-inch round circles, leaving about an inch between cookies. If you have a good consistency then any peaks that form when you lift away the pastry bag should flatten out on their own by the time your'e done piping everything.
Tap the baking sheets against a flat surface to release any air bubbles.
Allow the macaron sheets to rest until they form a skin, about 45-75 minutes. While they rest, heat oven to 275F and place an empty baking sheet in the oven. When ready, place a baking sheet with the macarons on top of the preheated baking sheet in the oven. Bake for 24 minutes. Remove to a wire rack and cool completely. Repeat and bake the remaining shells. Allow to cool completely before filling.
For the pistachio swiss meringue buttercream
Combine the egg whites and sugar in the bowl of a stand mixer and whisk to combine. Place the stand mixer bowl over a double boiler, making sure the bottom of the bowl does not touch the boiling water in the pan below. Heat the egg mixture until it reaches 160F (70C) on a candy thermometer, whisking occasionally.
Place the stand mixer bowl back on to the stand mixer mix with the whisk attachment for 8-10 minutes on high speed, or until the outside of the bowl has cooled to room temperature.
Decrease the mixer speed to low and add in the vanilla. Add in the butter a few tbsp at a time, making sure each addition is fully incorporated before adding the next. Once all the butter has been added, switch the whisk attachment to the paddle attachment. Mix on medium-high speed until smooth and fluffy, about 3-5 minutes. Add in the pistachio paste and mix until combined.
To assemble
Flip over half of the cooked macaron shells. Gather the frosting into a piping bag fitted with a ½-inch round tip and pipe a layer of frosting onto the macarons that have been flipped over. Top each with a second macaron shell. Place in an airtight container and allow to rest overnight in the fridge. Bring to room temperature before serving.