Eggplant and cream come together in this rich and delicious eggplant gratin with parmesan custard.
Disclosure: This post was sponsored by Silk. As always, my thoughts and opinions are my own. Thank you for supporting the brands that keep me inspired in the kitchen!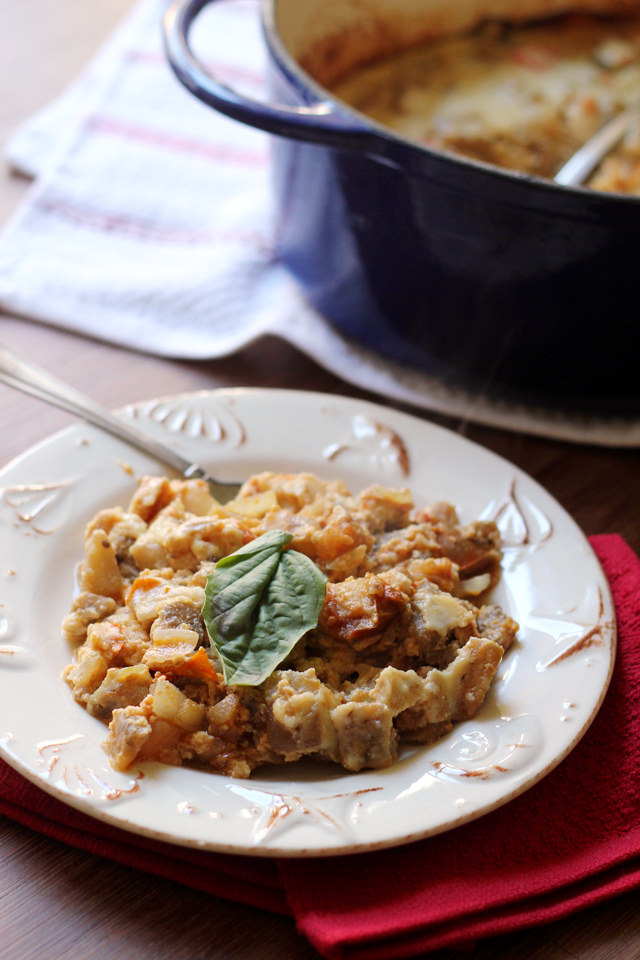 I am so over eggplant parm.
As a vegetarian, this is like…sacrilege of some kind because it is basically the token vegetarian option at every restaurant EVER. So obviously I'm supposed to adore it and be so excited that someone had the decency to consider my dietary preferences when making their menu.
Except, really? You couldn't think even a little outside the box?
::shakes head:: Not impressed.
My mom had to practically restrain me when the owner of the restaurant where we had the bridal shower suggested it as one of the entrees. It was about to be a very diva moment in which I screamed at him, "Do you even know who I AM" and stormed off but my mom was all like "Hmmm, maybe we'll just stick to pasta".
Smart move, mom. Smart move.
To be clear, it's not that I don't like eggplant parm. I mean, even the eggplant haters of the world (cough the.boy cough) go gaga for it. It's pretty much a universally loved dish.
But it would also be kind of nice if there was an option that did not require all the oil in the tri-state area, 12 pounds of cheese, and six kinds of breadcrumbs to make it.
Some of us are trying to perpetuate the illusion that we're still on wedding diets, after all.
Lightbulb moment.
What about a gratin stuffed with eggplant, the fresh flavors of summer-ready tomatoes. and a cheesy parmesan-infused soy milk-based filling instead? This way you still get the homemade decadence feeling of eggplant parm but without all the mid-day food coma napping.
Sometimes I really like the way I think.
I love adding Silk soymilk to recipes in place of heavy cream because it has the thick creamy mouth-feel of actual cream but without all the calories. This little party trick works especially well in dishes like this that have a lot going on already flavor-wise, so you don't even miss the dairy. If you haven't tried Silk yet, then head on over to their website and register to get free coupons and a chance to win a tablet!
Eggplant Gratin in Parmesan Custard
Eggplant and cream come together in this rich and delicious eggplant gratin with parmesan custard.
Ingredients
2 lb eggplants, peeled and diced
1½ tsp salt, divided
1 cup Silk original soy milk
2 eggs
1 cup parmesan cheese
black pepper, to taste
4 tbsp olive oil, divided
1 onion, diced
2 garlic cloves, minced
1 lb heirloom tomatoes, coarsely chopped
Instructions
Heat oven to 375. Grease an 8x10-inch baking pan or Dutch oven. Set aside.
In a large colander, toss the eggplant with 1 tsp of salt. Let rest while you prepare the rest of the vegetables.
In a mixing bowl, whisk together the soy milk, eggs, and parmesan cheese. Set aside.
Pat the eggplant dry. In a large nonstick or cast iron skillet, heat 2 tbsp olive oil. Add the eggplant to the pan and saute for 10-12 minutes or until golden. Remove from the skillet to a large bowl and set aside.
Wipe out the pan and heat the remaining olive oil. Saute the onion for 4-5 minutes, or until golden. Add in the garlic and remaining salt. Saute for 30 seconds. Pour in the eggplant and tomatoes. Let simmer for 5 minutes. Pour into the prepared baking pan.
Pour the parmesan custard over the pan and stir to combine. Season to taste with salt and black pepper.
Bake for 30 minutes or until starting to brown on top. Let cool for a few minutes before serving.
Still looking for ways to use up your end of summer eggplant? Check out these: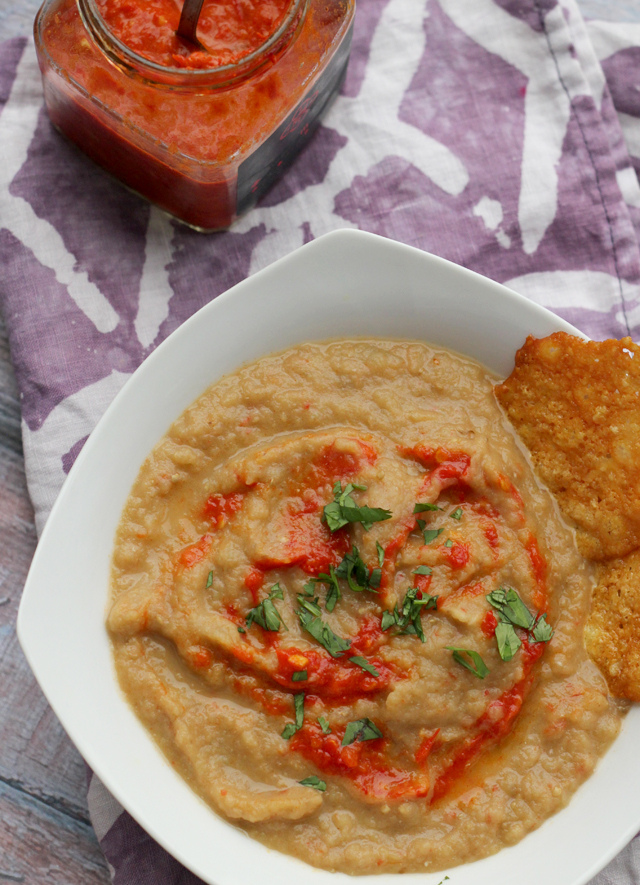 Roasted Eggplant Bisque with Harissa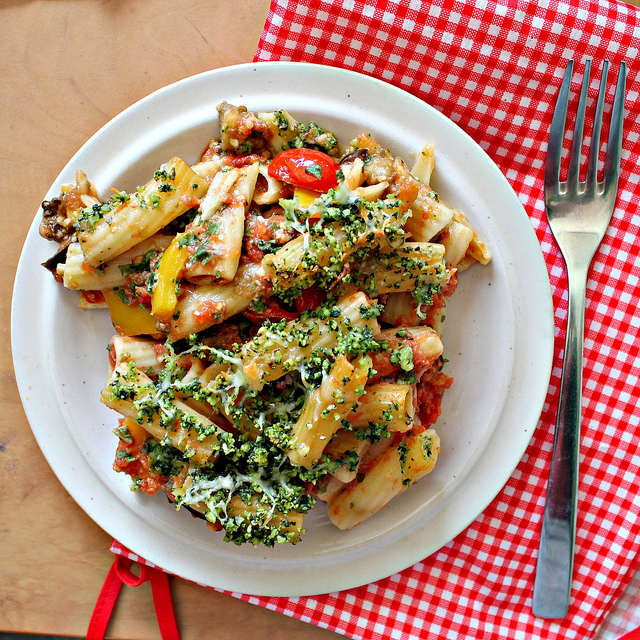 Rigatoni with Eggplant and Pine Nut Crunch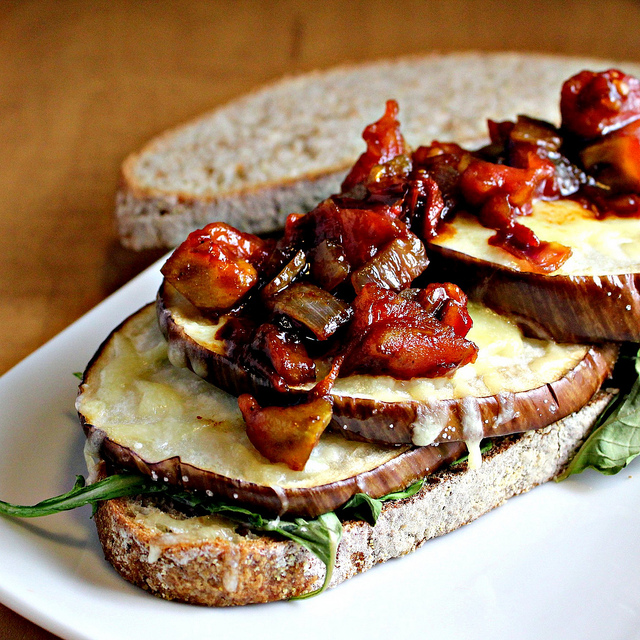 Grilled Eggplant Subs with Fontina and Tomato Jam
From Around the Web:
Crispy Eggplant and Harissa Flatbread with Greens from The First Mess
Eggplant Fries with Honey and Sea Salt from Sippity Sup
Stuffed Miso Eggplant from Oh My Veggies
Vegan Caramelized Onion Mac and Cheese from Minimalist Baker
Quinoa Crusted Baked Zucchini and Eggplant Parm from Half-Baked Harvest
This conversation is sponsored by Silk. The opinions and text are all mine.