Disclosure: This post was sponsored by Pompeian. As always, my thoughts and opinions are my own. Thank you for supporting the brands that keep me inspired in the kitchen.
Eat the rainbow with this berry-filled blueberry, nectarine, and burrata salad with maple balsamic vinaigrette.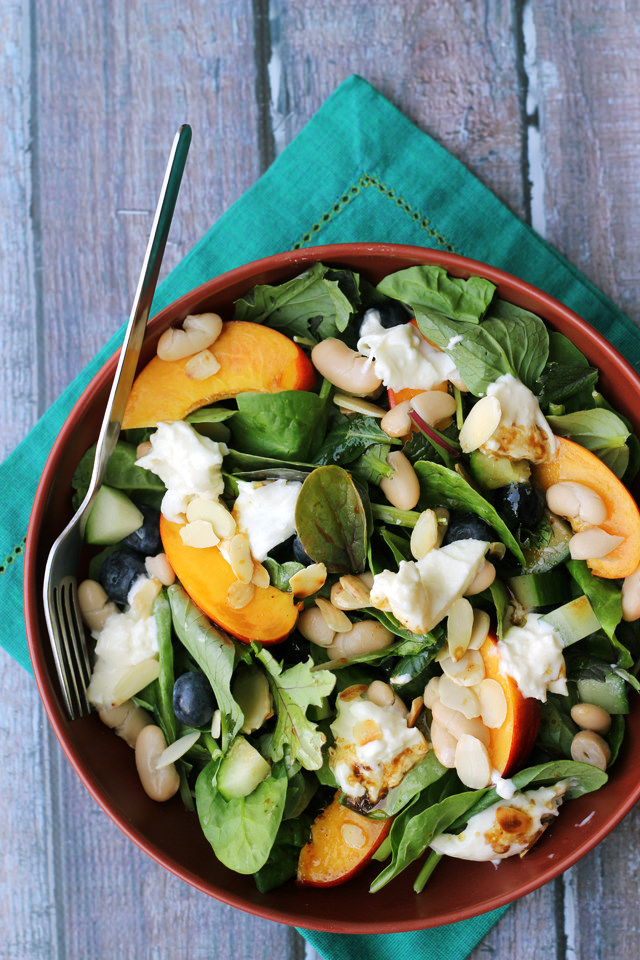 Remember back in the day when our computers used floppy disks, encyclopedias were our Google, and our moms served us a plain old lettuce tomato salad every night and expected us to get excited about eating our greens?
What a scary world in which we lived.
Now we're older, wiser, and can ask Siri where we are most likely to find burrata within a one block radius of our apartment!
Oh how times have changed. For the better. At least where salad comes in.
If you've been a longtime reader, you've probably noticed that I tend to have a Debbie Downer attitude towards my salads. I generally feel like they're good for a salad (otherwise I wouldn't share them). But sometimes that kind of good just isn't good enough.
Sometimes you just need a salad that's good in it's own right. This salad is that salad.
Being that May is both National Salad Month and National Vinegar Month, I knew I needed to combine the two to make a salad that would rock our springs and summers while still making bathing suit season far less scary. This wasn't really all too hard given that I'm a balsamic vinegar junkie and occasionally think I could drink it straight from the bottle. Especially when it's as sweet and tangy as Pompeian's balsamic vinegar is!
Liquid gold, I tell ya.
The key to a great salad lies in both the mix-ins and the dressing. I try to add as many colors and textures into my salad as possible, because that generally ensures salad deliciousness. I always like to have a little sweet, a little crunch, a little protein, and a little decadence.
Being that we are in full spring mode here in the northeast, I opted to toss my salad with some juicy blueberries, nectarine slices, and cucumber chunks. Then, for crunch and heartiness, almonds and white beans got thrown into the mix. AND, because every salad needs a little hint of indulgence, creamy burrata was strewn across the top.
Whisk up some maple balsamic vinaigrette, which is the perfect blend of sweet salty savory, and drizzle it on like you can't stop won't stop.
We have to make up for lost salad time, after all.
A salad a day, you say? Done and done.
In case balsamic vinegar just isn't your thing, Pompeian has a number of other vinegar varieties, ranging from red wine vinegar to roasted garlic infused vinegar to blueberry pomegranate infused red wine vinegar…and all of their vinegars are naturally gluten-free! Win/win for all.
What is your favorite salad dressing and how will you be #DressingItUp this salad season?!
Blueberry, Nectarine, and Burrata Salad with Maple Balsamic Vinaigrette
Eat the rainbow with this berry-filled blueberry, nectarine, and burrata salad with maple balsamic vinaigrette.
Ingredients
8 oz blueberries
4 nectarines, pitted and sliced
1 cucumber, seeded and cut into ½-inch dice
1¾ cups cooked white beans
¼ cup sliced almonds, toasted
8 oz burrata, torn into bite-sized pieces
5 oz arugula
For the dressing
2 tbsp olive oil
2 tbsp balsamic vinegar
1 tbsp maple syrup
1 tbsp whole grain mustard
salt and black pepper, to taste
Instructions
In a large bowl, toss together the blueberries, nectarine slices, cucumber, white beans, almonds, burrata, and arugula.
In a small bowl, whisk together the olive oil, balsamic vinegar, maple syrup, and mustard. Season to taste with salt and black pepper.
Toss the salad with the dressing and serve.
Notes
An Eats Well With Others Original
Nutrition Information
Serving size:
¼ of recipe
For more fruity salad recipes, check out these: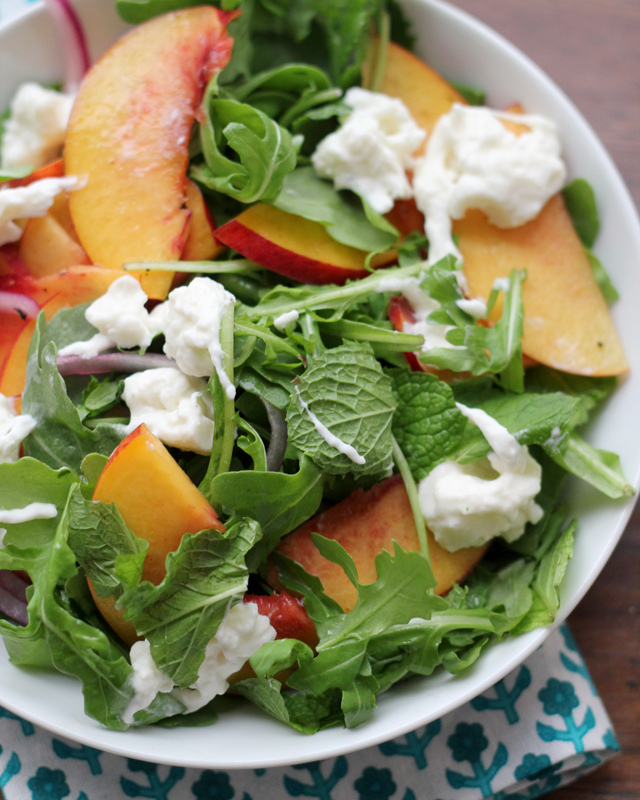 Pickled Nectarine Salad with Burrata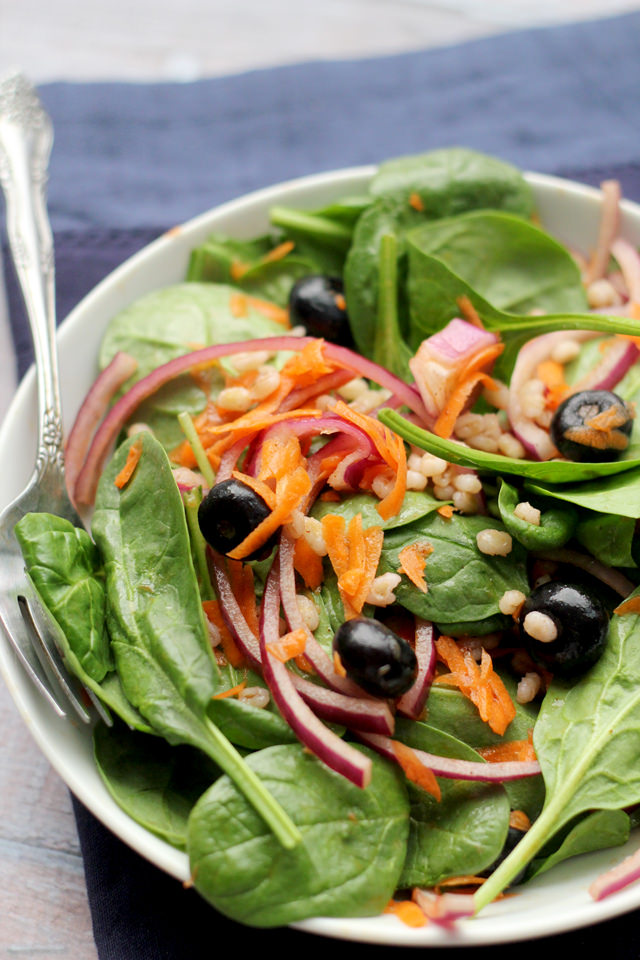 Spinach Salad with Barley and Cinnamon Vinaigrette
From Around the Web:
Spring Berry Salad with Lemon Verbena Vinaigrette from Oh My Veggies
Spinach Berry Salad with Blackberry-Balsamic Vinaigrette from Gimme Some Oven
Very Berry Avocado Salad from Diethood
White Berry Salad from Oh Sweet Basil