Roasted cauliflower and halloumi bowls served atop a freekeh pilaf and garnished with a pine nut-herb relish and tahini-yogurt sauce.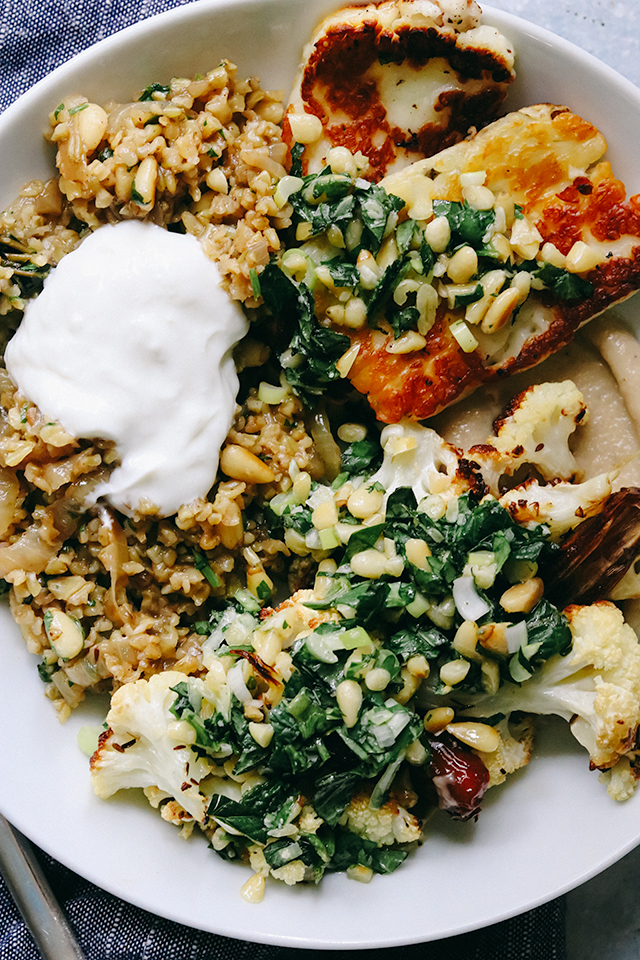 You have probably deduced this from the fact that I have now published three halloumi recipes in as many months (with plenty more gracing the archives), but halloumi is one of my desert island foods.
Yes, if I were trapped in an arid climate without any access to refrigeration, then OBVIOUSLY I would choose a highly perishable, dairy-based food product to have with me. Let's face it, I have no survival skills (see above) so if I'm going down anyway, I might as well eat what I want.
Halloumi it is!!
If you've ever had fried, roasted, or grilled halloumi, then surely you agree with me – the crispy outside that gives way to the creamy, chewy inside that is so deeply salty and savory – it's just so good.
And it kind of goes with everything? Sweet flavors, fresh herbs, a lot of spice…there is no wrong way to eat halloumi, I'm convinced.
Because it can stand up to high heat and cooking, it is also so much more versatile than most other cheeses and can be used in so many different ways. 
These bowls are basically a mash-up of all of my favorite things!
To make them, you start by piling up ingredients on a big old baking sheet and roasting them until they're browned and caramelized and extra delicious. The cauliflower and halloumi go onto the sheet pan first and are joined by dates about halfway through. You could also fry the halloumi if you wanted to, but it adds an extra step and dirties an extra pan, which no one needs. Roasting it is just as tasty, but with a lot less hot oil splatters. (Always a good thing.)
Next up, is the freekeh pilaf! First of all, what IS freekeh????
It's an ancient grain that is indigenous to North Africa and the Middle East. It bears a lot of resemblance to bulgur both in taste and in preparation, though freekeh has a little bit more of a smoky flavor to it. Freekeh cooks really quickly, so it is easy to put together on a busy weeknight. It packs quite a nutritional punch and is high in protein, fiber, and minerals (manganese especially!).
Here it is prepared as a pilaf, meaning that it is simmered with onions and spices to make a really tasty grain dish. After cooking, it is tossed with fresh herbs and toasted pine nuts to add crunch and freshness. 
Last but not least, the sauces! These are arguably the best part of any bowl meal and are the glue that ties it all together. We actually have two sauces here, and I'm not mad about it. 
The first is a pine nut-herb relish that is made of toasted pine nuts, scallions, fresh mint, cilantro, and a touch of vinegar. It's tangy, crunchy, and also super fresh flavored. 
The second is my absolute favorite sauce in life – tahini yogurt sauce! I could seriously put this on everything and it's something I make whenever I want to dress up a meal. It's made up of yogurt (I use Greek-style), tahini, a bit of grated garlic, lemon juice, and salt. You can adjust the ratios to taste but I like the tahini flavor to be really prominent. 
Pile everything up together on a plate and there you have it! These bowls would also be pretty excellent for meal prep lunches as all of these components are really sturdy and will hold up well over time, though I would keep the sauces separate until right before serving so they don't get heated up with the rest of the meal. They are better cold or at room temperature. 
Roasted Cauliflower and Halloumi Bowls with Dates and Freekeh Pilaf
Roasted cauliflower and halloumi bowls served atop a freekeh pilaf and garnished with a pine nut-herb relish and tahini-yogurt sauce.
Ingredients
For the cauliflower and halloumi
1 head of cauliflower, cut into bite-sized florets
1 tsp cumin seeds
5 tbsp olive oil, divided
kosher salt and freshly ground black pepper
8 oz halloumi, sliced into ¼-inch thick slabs
6 dates, pitted and halved
½ cup pine nuts
2 scallions, thinly sliced
1 cup mint leaves, coarsely chopped
½ cup cilantro, coarsely chopped
2 tbsp sherry vinegar
For the freekeh pilaf
2 onions, thinly sliced
2 tbsp butter
1 tbsp olive oil
1 cup freekeh
½ tsp ground cinnamon
1¼ cups vegetable broth
salt and black pepper
½ cup greek yogurt
3 tbsp tahini
1½ tsp lemon juice
½ garlic clove, grated
2 tbsp chopped parsley
2 tbsp chopped mint
⅔ cup chopped cilantro
2 tbsp toasted pine nuts, chopped
Instructions
For the cauliflower and halloumi
Heat oven to 500F.
In a large bowl, toss the cauliflower florets with the cumin seeds and 3 tbsp olive oil. Spread on a parchment-lined baking sheet and season with salt and black pepper. Nestle the halloumi slices in-between the cauliflower. Roast until just starting to brown, 10-15 minutes. Flip the halloumi and add the dates to the pan, tossing to coat with the olive oil and cumin. Continue roasting for another 10-15 minutes. Remove from the oven.
Toast the pine nuts in a small skillet until golden, shaking the skillet as needed so that they brown evenly. Remove from the heat. Once cool enough to touch, coarsely chop.
In a small bowl, mix together the pine nuts, scallions, mint, cilantro, vinegar, and the remaining 2 tbsp olive oil. Season to taste with salt and black pepper.
For the freekeh
Combine the onions, butter, and olive oil in a large heavy-bottomed pot over medium heat. Saute for 15-20 minutes, or until soft and golden.
Meanwhile, soak the freekeh in cold water for 5 minutes. Drain.
Add the freekeh and cinnamon to the onions, followed by the vegetable broth. Season to taste with salt and black pepper. Stir to combine, then bring to a boil. Cover and lower the heat to a simmer. Cook for 15 minutes. Remove from the heat and let sit, covered, for 5 minutes. Remove the lid and allow to cool for 5 minutes.
Meanwhile, in a small bowl, mix together the yogurt, tahini, lemon juice, garlic, and salt to taste.
Stir the herbs and pine nuts into the pilaf. Taste and adjust the seasoning.
For the bowls
Divide the freekeh pilaf among serving bowls. Top with the cauliflower and halloumi mixture, pine nut-herb mixture, tahini, and greek yogurt sauce. Serving immediately.