A cozy lemon, tomato, and cardamom dal that is filled with warm spices and topped with a bright cashew lemon salsa.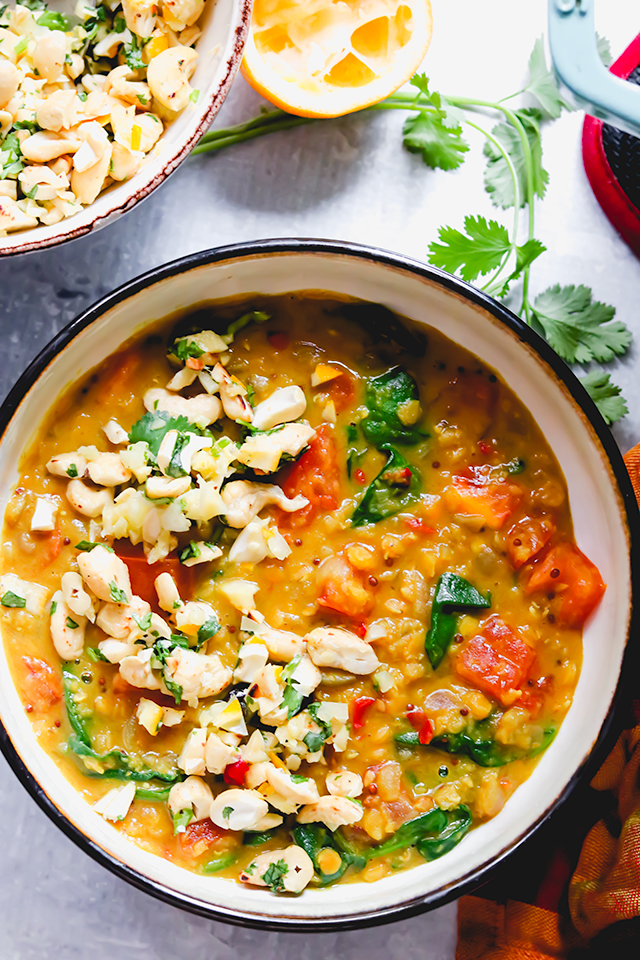 Big energy Takeout-But-Better vibes happening right now and it is glorious!
Maybe it's pregnancy or the fact that my child is having major new baby anxiety (and the baby won't even be here for another ten weeks just send wine to the delivery room, mmmkay?) or that we spent all weekend picking out new furniture from IKEA only to discover that it will be out of stock until an unspecified and indefinite point in time or, you know, life in year three of a pandemic.
Whatever it is, I am craving big bowls of sunshine comfort in a truly intense way.
Give me all the citrus, the tarter the better, and no one will get hurt.
Bonus if it comes in the form of a big cozy hug of warmly spiced lentils enveloped in a creamy coconut broth and topped with a salty tangy spicy cashew lemon salsa.
There is nothing better.
Honestly this recipe, which comes from Anna Jones's latest cookbook, "One: Pot, Pan, Planet", was such a happy surprise. I went into making it for lunch on a recent weekend with pretty mild expectations, for a few reasons, and was blown away by how much we enjoyed it.
The seasoning of the dal was on point, the spice level was perfect (for me…Remy wouldn't taste it due to it bearing a close resemblance to soup, which she won't eat and I'm pretty sure Mike was sweating bullets but pushed through), and the cashew lemon salsa added the perfect finishing crunch. We absolutely loved it and I knew I just had to share it on here as soon as possible.
One of the things that initially gave me pause about this recipe is that it is a recipe for a highly traditional Indian dish written by a very non-Indian woman. In Indian cuisine, dal is a generic term that refers to all dried split legumes (lentils, peas, and beans) as well as to the preparation of these beans into the aromatic soup-like dish that accompanies most meals.
Each Indian household makes their dals slightly differently, with the seasonings and ingredients varying across regions, homes, and even within families. At its simplest, dal is made from split legumes that have been simmered in water or broth with simple spices and aromatics (often onion, garlic, ginger, and turmeric) and then seasoned with salt.
Other vegetables or spices may be added in at the end of cooking or the dal might be topped with a spice-infused oil mixture called tadka, chutney, or pickle. 
This version of dal is more elaborate that your typical, everyday version, with spices being added into the mix at the beginning of cooking but what it lacks in authenticity, it makes up for in how tasty the finished dish is.
Though the ingredient list seems long, most of the spices are pretty standard pantry staples, especially if you have cooked Indian food at home before. The base of this dal is made from split red lentils or masoor dal, which are quick to cook, high in protein, and extremely satisfying to eat. They are simmered in a mix of coconut milk and vegetable broth until they are fall-apart tender and have almost disintegrated in their cooking liquid.
Spinach and tomatoes are added in the last few minutes of cooking, bringing extra nutrients and flavor, and a fresh curry leaf tadka is stirred in just before eating.
Probably the most surprising part of this meal for me was the cashew lemon salsa, which added the perfect punch of brightness and crunch to the meal. 
The salsa is made from a mix of chopped toasted cashews, a finely chopped lemon half, spicy green chili pepper, and cilantro. I used a Meyer lemon, which has a thinner and less bitter rind than a regular lemon. If using a regular lemon, you may want to adjust to taste.
Cozy Lemon, Tomato, and Cardamom Dal with Spicy Cashew Lemon Salsa
A cozy lemon, tomato, and cardamom dal that is filled with warm spices and topped with a bright cashew lemon salsa.
Ingredients
For the dal
2 tbsp + 1 tsp coconut oil, divided
2 red onions, finely chopped
salt and black pepper, to taste
1 red chili, finely chopped
1 green chili, finely chopped
2¾ tsp ground cumin
1 tsp ground coriander
1 tbsp black mustard seeds
1 tsp ground turmeric
¼ tsp ground cardamom
1 cup (200 g) dried split red lentils
1 (13.5 oz) can coconut milk
2 cups vegetable broth
5 oz baby spinach, washed
4 vine ripe tomatoes, roughly chopped
juice of 1 meyer lemon, plus more to taste
16 fresh curry leaves
For the spicy cashew lemon salsa
1 cup (100 g) toasted cashews
1 green chili
½ meyer lemon
small bunch of cilantro, minced
Instructions
For the dal
Heat 2 tbsp of the coconut oil in a Dutch oven until melted. Add the onions to the pan along with a pinch of salt. Saute for 5 minutes, stirring occasionally. Add in the chilies and cook for another 2-3 minutes or until soft and fragrant. Stir in the cumin, coriander, and mustard seeds. Once the mustard seeds start to pop, stir in the ground turmeric and cardamom.
Pour the lentils, coconut milk, and broth into the pot and stir to combine. Bring to a boil. Reduce the heat and simmer, covered, for 25-30 minutes or until the lentils are soft and cooked through.
Pour the spinach into the pot along with the chopped tomatoes and stir to combine. Cook for another 5 minutes to allow the spinach to wilt and the flavors to come together. Add the lemon juice and season to taste with salt and black pepper.
In a small nonstick skillet, heat the remaining coconut oil over medium-high heat. Once hot, add the curry leaves and fry for 15 seconds or until crisp. Pour over the dal just before serving.
For the spicy cashew lemon salsa
Coarsely chop the cashews, green chili, and whole lemon half (rind included), discarding any seeds. Stir in the cilantro along with a pinch of salt. Season to taste. Spoon onto the dal just before serving.