Cheesecake ice cream is layered with butter cake pieces that have been soaked in a sweet and salty honey butterscotch sauce.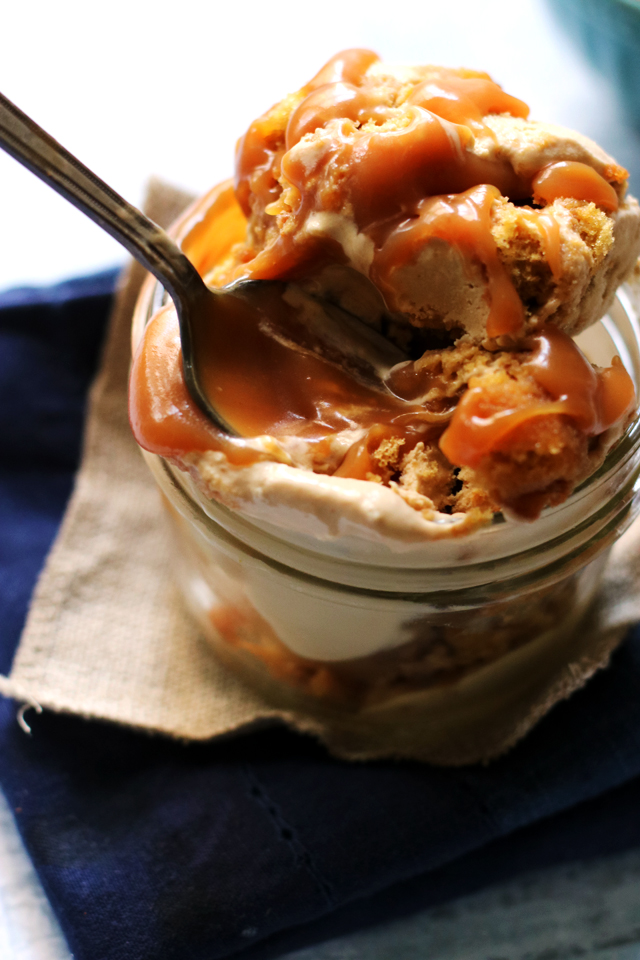 In case you were worried about my seeming lack of ice cream consumption this summer.
Ahem. SO not a problem.
I mean, I completely forget/don't have time to eat lunch most days, but ice cream hour (you know, the time in-between dinner and bed, when your child is asleep so you don't have to share with her) IS SACRED.
I will do anything for that.
Even sacrifice sleep. So you know I'm serious.
Most of our ice cream hour indulgence is filled with spoonfuls of storebought Jeni's ice cream (<– if I could live inside a pint of her Brown Butter Almond Brittle, I would) but eeevvveeerrryyy once in a while, I push myself out of my comfort zone and make it myself,
I actually have no idea why ice cream making scares me so much because every time I make it, I'm like "hmmmmm, that wasn't so bad".
Maybe it has something to do with the (too many to count) batches of failed rock hard ICE (<– emphasis on the ice) cream lurking in my past. That was before I discovered Jeni's cookbooks, though, which WORK.
Every. Time.
The key to why Jeni's recipes are so user-friendly likely stems from the fact that they don't require any eggs…so there's no opportunity for them to overcook or undercook or hard boil in your custard. #WINNING.
My latest homemade ice cream experiment involved (of course) a Jeni's recipe for this ooey gooey honey butterscotch and butter cake ice cream.
G L O R I O U S.
In full disclosure, the name of the recipe alone caused me to believe it was made with Louisiana butter cake, so I feel like it is my duty to warn you – IT IS NOT.
It is literally made of just regular yellow butter cake cubes that have been soaked in honey butterscotch sauce and then layered into a cheesecake ice cream base. The butterscotch soak allows the butter cake to stay soft and creamy even after being frozen into the ice cream. And the cheesecake-on-smoky sugar flavor of the butterscotch is basically to die for.
It's kind of like a sundae built into itself.
<– Multitasking. In the best possible way.

Ooey Gooey Honey Butterscotch Butter Cake Ice Cream
Cheesecake ice cream is layered with butter cake pieces that have been soaked in a sweet and salty honey butterscotch sauce.
Ingredients
For the butter cake
3 tbsp unsalted butter
1½ tsp vanilla extract
2 large eggs
2 large egg yolks
¼ cup sugar
¼ cup packed light brown sugar
¼ tsp fine sea salt
¼ cup cake flour
For the honey butterscotch
1 cup sugar
⅔ cup honey
1½ cups heavy cream
4 tbsp unsalted butter
pinch of sea salt
For the ice cream
half of the butter cake, cut into ½-inch cubes
¾ cup honey butterscotch sauce
2 cups whole milk
1 tbsp + 1 tsp cornstarch
4 oz cream cheese, softened
½ tsp fine sea salt
1¼ cups heavy cream
⅔ cup packed light brown sugar
2 tbsp light corn syrup
3-4 drops butter flavoring
Instructions
For the butter cake
Heat oven to 350F. Grease the bottom of a 9-inch square baking pan (but not the sides).
Melt the butter in the microwave. Stir in the vanilla and set aside.
In the bowl of a stand mixer fitted with the whisk attachment, combine the eggs, egg yolks, sugars, and salt. Whip for 8-10 minutes, or until tripled in volume. Fold in the flour, followed by the melted butter mixture.
Pour batter into the baking pan and bake for 20 minutes, until golden brown and starting to pull away from the sides of the pan. Let cool for 10 minutes in the pan. Remove to a wire rack to cool completely.
For the honey butterscotch sauce
Combine the sugar and honey in a medium saucepan over medium heat. Heat until the sugar is melted, stirring constantly. Then continue to cook without stirring until the sugar begins to brown. Once it turns a deep amber, remove from the heat and drizzle the heavy cream into the pan. Continue to stir until any hardened pieces have dissolved. Add in the butter a tablespoon at a time, stirring until melted and smooth. Stir in the salt to taste.
For the ice cream
Put the cake cubes in a large bowl. Pour the butterscotch sauce over them and toss together until evenly coated. Allow to sit while you prepare the rest of the ice cream.
Whisk together 2 tbsp of the milk and the cornstarch in a small bowl to make a slurry.
Whisk the cream cheese and salt together in a medium bowl.
Fill a large bowl with ice and water.
Combine the remaining milk, cream, sugar, and corn syrup in a medium saucepan. Bring to a boil over medium-high heat. Boil for 4 minutes. Remove from the heat and slowly whisk in the cornstarch mixture. Place back on the stove and return to a boil over medium-high heat. Cook until slightly thickened. stirring constantly, about 1 minute. Remove from the heat.
Slowly whisk the hot milk mixture into the cream cheese mixture until smooth. Pour the ice cream custard into a Ziploc freezer bag. Seal the bag and submerge in the ice water bath. Let chill until cold, about 30 minutes.
Pour the ice cream custard into the frozen canister of an ice cream maker. Turn on the machine and start churning. Drop the butter flavoring through the opening of the machine. Churn until thick and creamy, about 30 minutes.
Pack the ice cream into a freezer-safe storage container, layering with the cake pieces. Close the container with an airtight lid and place in the freezer. Freeze until firm, about 4 hours.
Notes
Recipe from
Jeni's Splendid Ice Creams at Home
For more ice cream inspiration: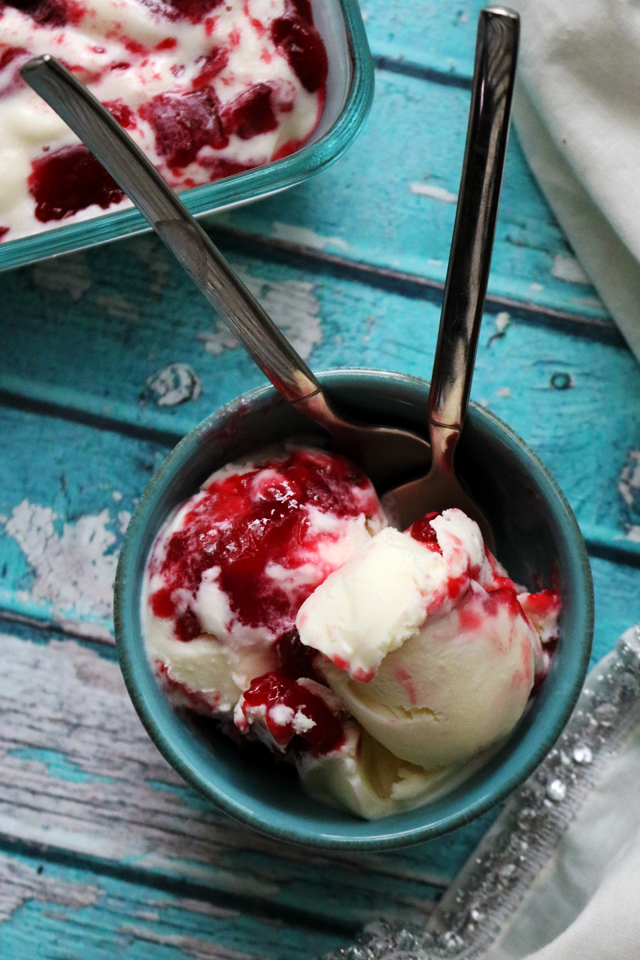 Sweet Corn and Raspberry Swirl Ice Cream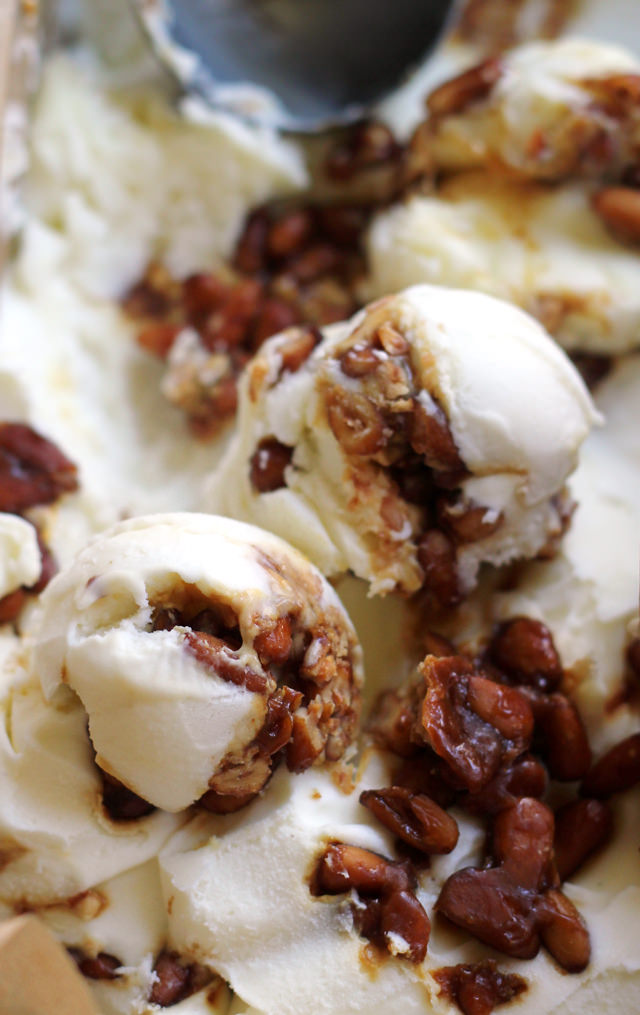 Cinnamon Basil and Pine Nut Praline Ice Cream