Thank you Village Harvest for sponsoring this post. Every day Village Harvest is planting seeds of change and growing possibilities, one bag of goodness at a time.
A hearty ancient grain blend made up of millet, red and white quinoa, and buckwheat is tossed with fresh heirloom tomatoes, green beans, and a lemony vinaigrette.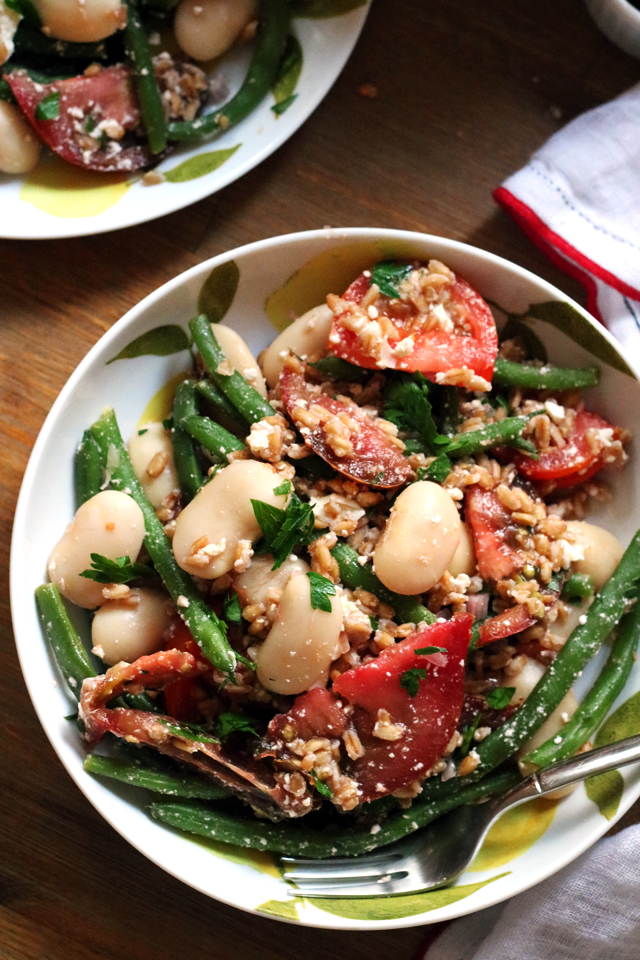 Pinch me, it's heirloom tomato season!!!
That's like….my most longed for time of the year.
GREEN ZEBRA TOMATOES.
Enough said.
I swear, I love it more than Christmas.
I've actually had the biggest problem getting my hands on heirlooms lately!! We order our groceries from Instacart and for some reason the "shoppers" are always substituting my heirloom tomatoes with roma tomatoes.
HELLO?!?!?
Not. Even. Close.
I mean, if I were an heirloom tomato….I'd be insulted.
I was finally able to get my hands on some a few weeks ago when I got home in time to go to the local farmer's market.
JACKPOT. Total heirloom tomato heaven.
I snatched up more than a few, ate most of them raw on my walk home (across the street –> I have no self control), and turned the rest into this summer grain salad!
Grain salads, in my mind, are like the little black dress of the food world.
You can make them for any occasion.
At any time.
For lunch, for dinner, (for breakfast if you top them with an egg).
And they are absolutely perfect for showcasing the best of the season's produce section.
This obsession has grown such that I've been especially interested in finding the perfect grain blend lately. A little of this, a little of that, good texture, even better nutrition….
…and then Village Harvest sent me some samples of their new Organic Benefit Blends to try!!
And then I fell in love.
And the rest is history.
There are three blends in this new set of offerings, including the organic antioxidant blend, the organic protein blend, and the organic ancient grain blend. While they are all delicious, my favorite is the ancient grain blend, which is made up of a combination of milllet, two types of quinoa, and buckwheat. It is gluten free, cooks up in about 20 minutes, and is a total feel good food.
I also really like that Village Harvest makes a huge effort to support sustainability, not only on a global level, but also at the level of the workers who make it possible for these grains to exist. As such, it pledges 1% of its profits to run programs that give back to the farmers and local communities from which they source their products and a second 1% of their employees' time is donated to charitable causes and sustainability efforts.
Head here to check out their offerings and submit a Product Request Form!
Like I said, I'm all about letting these summer tomato jewels shine, and so I paired them with a simple summer grain salad comprised of the Village Harvest Ancient Grain Blend, crisp-tender string beans, creamy white beans, and feta cheese in a lemony vinaigrette. The tomatoes are left raw so that you can enjoy them in their most robust, unadulterated state.
If, that is, you can compose yourself long enough to not devour them on your way home from the market.
Good luck with that.

Summer Grain Salad with Heirloom Tomatoes, Green Beans, and Feta
A hearty ancient grain blend made up of millet, red and white quinoa, and buckwheat is tossed with fresh heirloom tomatoes, green beans, and a lemony vinaigrette.
Ingredients
1 cup Village Harvest Organic Ancient Grain Blend
½ cup Village Harvest Farro Perlato
1 lb string beans, trimmed
2 large heirloom tomatoes, cored and cut into ¼-inch thick slices
Salt and black pepper, to taste
2 tbsp olive oil
Juice of 1 lemon
1 shallot, minced
2 cups royal corona beans or white beans
8 oz feta cheese, crumbled
Instructions
Fill a medium saucepan with salted water and bring to a boil over high heat. Once boiling, stir in the ancient grain blend and farro. Cover, ower heat, and simmer for 7 minutes. Add the string beans to the pan with the grains and cover again. Continue to simmer for another 5 minutes, or until string beans are tender and grains are cooked through. Remove from the heat and drain.
Meanwhile, arrange the heirloom tomato slices on a cutting board or baking pan. Sprinkle with salt and let sit while the farro cooks.
Combine the olive oil, lemon juice, and shallot in a small bowl. Whisk thoroughly to combine. Season to taste with salt and black pepper.
Toss together the grains, green beans, white beans, and tomato slices in a large bowl. Stir in the lemon vinaigrette and the feta cheese until well combined. Season to taste with salt and black pepper. Serve warm or at room temperature.
Notes
An Eats Well With Others Original
I was selected for this opportunity as a member of CLEVER and the content and opinions expressed here are all my own.