Black forest naked cake made with layers of rich devil's food chocolate cake, homemade whipped cream, and fresh cherry compote.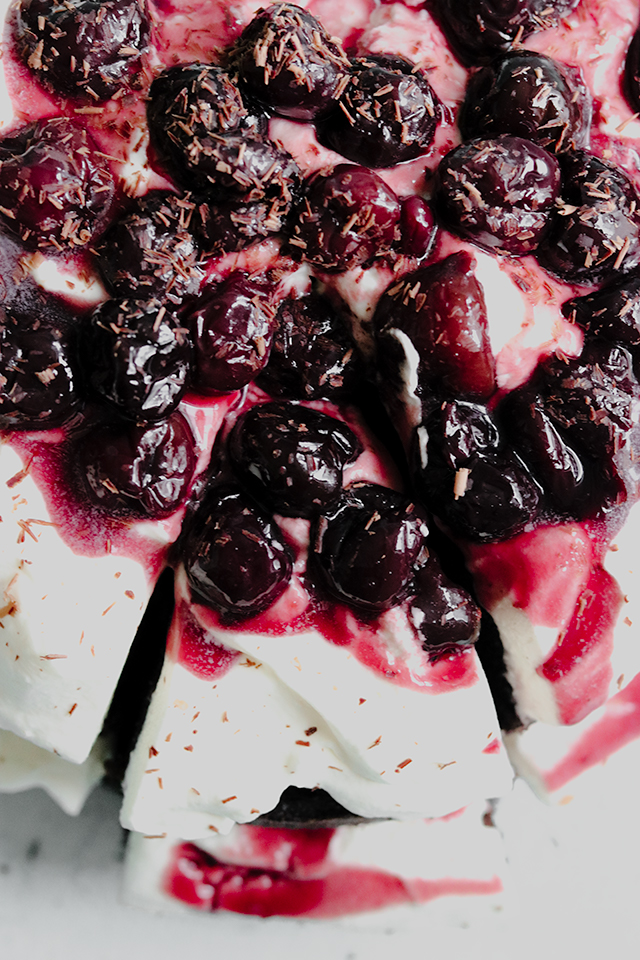 If we were on a dating app, you would be swiping right on this cake SO HARD.
It ticks all the cake love boxes:
super rich and SO MOIST dark chocolate cake – CHECK!
homemade sweet tart cherry compote – CHECK!
soft and fluffy lightly sweetened whipped cream – CHECK!
basically every you've ever dreamed of in a black forest cake – CHECK CHECK CHECK CHECK
It's a catch, plain and simple.
If you're a longtime reader, then you've heard me say this a gazillion times already – I am NOT a chocolate cake lover. But it's not for the reason you think!
Most chocolate cakes are actually not chocolatey enough for me. They're usually kind of bland, with a half-assed chocolate flavor, and dry. So, so, so dry.
My chocolate cake dreams include rich, BIG chocolate flavor that feels and tastes like total decadence. This devil's food chocolate cake from the Zoe Bakes Cakes book delivers on ALL OF THOSE FRONTS. And then some. It is basically the chocolate cake I've always wanted but never thought I could achieve at home. But if I can do it, you can too!
This is an oil-based cake that relies on good quality cocoa powder and some secret ingredients for its enhanced chocolate flavor.
The oil keeps the cake moist with a velvety, lush texture. I like using grapeseed or safflower oil for baking, but canola or vegetable oil will also work.
Since the cake is relying mostly on cocoa powder for its chocolate flavor, you want to make sure you use something good and dark. I am obsessed with the Double Dutch Dark Cocoa from King Arthur Baking, but any dark Dutch cocoa powder will work. Two other ingredients that make this extra chocolatey are a whole lot of coffee and a few tablespoons of brandy. While you can't explicitly taste either of these ingredients in the final cake, they work to enhance the chocolate flavor, making it taste deeper and richer. I am all about that.
Two other must-have components of black forest cake are the whipped cream and cherry compote fillings!
These are both homemade and so delicious.
If you've never made whipped cream at home, then you are in for a treat. It tastes so much better than the storebought aerosolized versions and really could not be easier. Because we're making it at home, we can control the sweetness and the texture so that it is light, fluffy, and barely sweet.
The cherry compote is also super simple and I love that it can be made with fresh OR frozen cherries, meaning we can have it in our lives year-round. It's cooked on the stovetop with water, sugar, a bit of kirschwasser (cherry liqueur), and cornstarch to thicken. If you don't have the kirschwasser, you can substitute with an equal amount of brandy or just leave it out. This needs to cool completely before adding it to the cake, so make sure to get it ready ahead of time.
To assemble this cake, we are making it naked cake style meaning that the sides will be left bare for all to see. You'll alternate layers of the cake with the whipped cream and cherry compote, finishing it off with a sprinkle of shaved chocolate. 
This is a cake of dreams and SO MUCH BETTER than any black forest cake I've ever gotten from a grocery store or bakery. Enjoy!
Black Forest Naked Cake
Black forest naked cake made with layers of rich devil's food chocolate cake, homemade whipped cream, and fresh cherry compote.
Ingredients
For the cake
2⅓ cups (280 g) all purpose flour
2 cups (400 g) sugar
⅔ cup (50 g) Dutch-process cocoa powder
1 tsp baking soda
1 tsp kosher salt
1¼ cups hot strong coffee
2 tbsp brandy
2 large eggs
1 cup buttermilk
½ cup neutral oil
1 tsp vanilla extract
For the whipped cream
2 cups heavy cream
2 tbsp powdered sugar
1 tsp vanilla
For the cherry compote
4 cups (550 g) fresh or frozen cherries, pitted
¼ cup water
2 tbsp kirschwasser
½ cup (100 g) sugar
1½ tbsp cornstarch
To assemble
Instructions
For the chocolate cake
Heat oven to 350F. Grease two 8-inch cake pans and line with parchment paper. Set aside.
In a large bowl, whisk together the flour, sugar, cocoa powder, baking soda, and salt.
In a small bowl, whisk together the coffee and brandy.
In a separate bowl or measuring cup, whisk together the eggs, buttermilk, oil, and vanilla. Add the egg mixture and half of the coffee mixture to the dry ingredients. Mix until smooth. Slowly add in the remaining coffee mixture and whisk until completely combined.
Divide the batter among the prepared baking pans. Place in the oven and bake for 30 minutes or until a tester inserted in the center comes out clean. Allow to cool completely in the pans on a baking rack.
For the whipped cream
In a stand mixer fitted with the whisk attachment, combine the heavy cream, powdered sugar, and vanilla. Beat on medium speed until thick. Remove from the mixer bowl from the mixer and use the whisk to beat by hand for a few seconds or until it reaches the desired consistency.
For the cherry compote
In a medium saucepan, combine the cherries, water, and kirschwasser over medium heat. Cover and cook until the cherries are tender (10 minutes for frozen cherries, 15 minutes for fresh cherries).
Meanwhile, in a small bowl whisk together the sugar and cornstarch. Set aside.
Strain the cherries through a fine-mesh sieve, reserving the juice. Return the juice to the pan and stir in the sugar mixture. Turn the heat back to medium and cook until boiling and thickened, about 3 minutes. Add the fruit back to the pan and cook for another 30 seconds.
Pour into a bowl and allow to cool completely.
To assemble
Level the cake layers as needed so that they are flat on top.
Place a cake layer on a serving plate or cardboard cake round.
Use an offset spatula to spread half of the whipped cream over the top of the cake. Spoon half of the cherry compote over the cream.
Repeat with the remaining cake layer, whipped cream, and filling. Top with the chocolate shavings.
Serve immediately or store in the refrigerator for up to 24 hours.