This is a Sponsored post written by me on behalf of McCormick & Company for SocialSpark. All opinions are 100% mine.
Turn lasagna into a weeknight meal with the cheesy delicious recipe!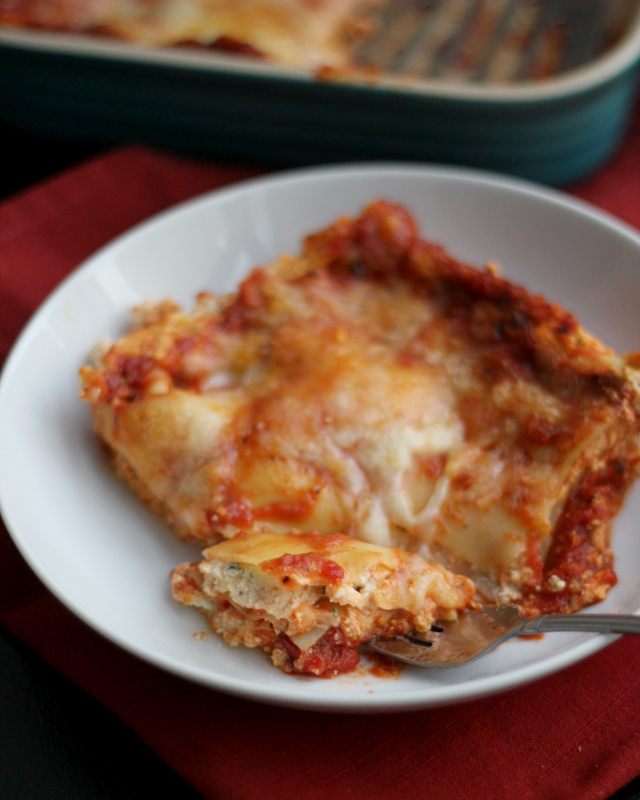 Layers can be intimidating.
I know it, you know it.
The myriad of lopsided triple layer cakes that I've tried frantically to "fix" with excess buttercream and lots of sprinkles know it.
In fact, I could see why one might think, when it comes to weeknight lasagna-making, "eh, I'll save those pesky layers for a more laid back kinda day".
But why should such a family-friendly, crowd-pleasing, comfort-filled kinda dish be relegated to one, maybe two nights a week?!
A veritable tragedy if ever I've heard of one.
Lasagna should be an any and every night/morning/afternoon/midnight snack kind of thing!
And with McCormick.com's recipe for Lasagna Formaggio – it totally can be.
Essentially all it requires is a little bit of mixing, some seasoning with McCormick garlic powder, Italian seasoning, parsley flakes and black pepper, popping open a jar of tomato sauce, pouring, layering.  And boom.
Throw it in the oven.
Done.
And pro tip – no need to spend extra money on no-boil noodles. All noodles are no-boil noodles when you cover them in enough sauce and cheese.
Weeknight lasagna, for the win.
AND just to make this even EASIER for you to make, McCormick has offered to give away a McCormick gift set to one of my readers! All you have to do to enter is leave a comment telling me what your favorite McCormick spice is.

One year ago…Barley Risotto with Butternut Squash and Gruyere
Lasagna Formaggio
Turn lasagna into a weeknight meal with the cheesy delicious recipe!
Ingredients
15 oz part-skim ricotta cheese
8 oz mozzarella, shredded, divided
1 egg
½ tsp garlic powder
½ tsp Italian seasoning
½ tsp parsley flakes
¼ tsp salt
⅛ tsp black pepper, ground
13 oz marinara sauce
6 lasagna noodles
⅛ cup grated parmesan cheese
Instructions
Preheat the oven to 350.
In a bowl, whisk together the ricotta, ¾ cup of the mozzarella, egg, garlic powder, Italian seasoning, parsley flakes, salt and black pepper.
Spread about ½ cup of the sauce on the bottom of a 9x9-inch baking pan. Top with 2 of the lasagna noodles.Spread half the cheese mixture over the noodles. Add more sauce, another layer of noodles, and the remaining cheese mixture. Top with the remaining noodles and sauce, making sure to really cover the noodles with the sauce so they'll cook. Top with the remaining mozzarella and parmesan cheese.
Cover the pan with aluminum foil and bake for 45 minutes. Remove the foil and bake for 15 minutes more. Remove and let stand for 15 minutes before cutting.
Nutrition Information
Serving size:
⅙th of recipe
And if that wasn't easy enough, click here to see an instagram video of me making it: