Pumpkin crepes are topped with cinnamon and pumpkin beer-stewed apples and a milk chocolate drizzle!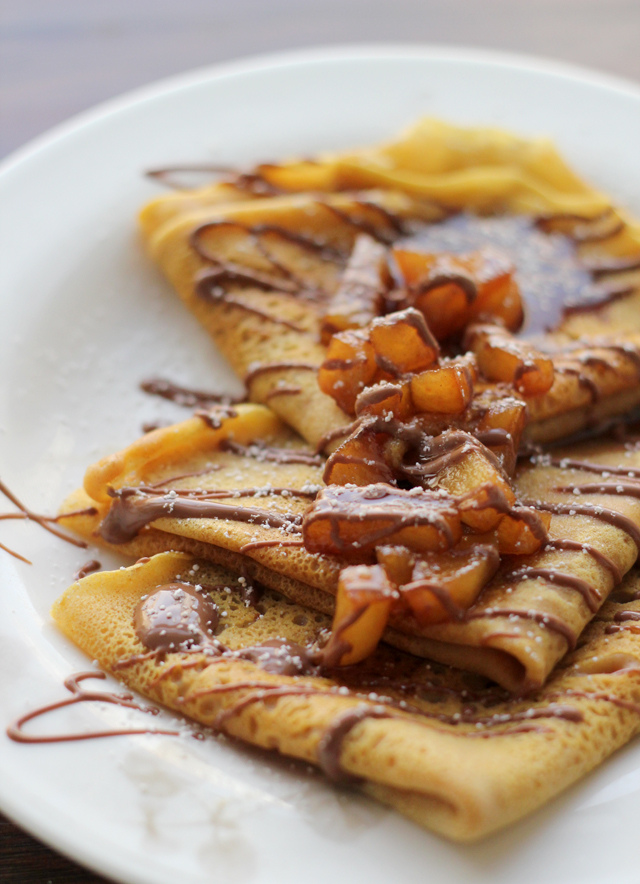 When you decide to take on, oh, only your biggest cooking fear of all time.
Breaking open a beer at 11AM. Required.
In my defense, it was 5PM in Paris. The land of crepes. (And wine. And cheese. And croissants. And ALL THE DELICIOUSNESS. Where no one ever gets fat.) So there.
After my failed crepe cake disaster of August 2012 that left me covered in batter with crepe shreds all over my kitchen, it was really a miracle I didn't break out the tequila in preparation for this.
(Crepe pre-gaming? I'm sure there's a drinking game in here somewhere.)
So what was my secret for going from the Jackson Pollack version of these thin pancakes to a perfectly coiffed plate of pumpkin deliciousness?
Truth?
I cheated.
I took a little poll on facebook as to what everyone else's secret is. A lot of people mentioned really nonstick nonstick skillets, uber expensive Le Creuset crepe pans (I wish), or….a super INexpensive electric crepe maker. Done and done.
So…moral of the story is that, though I still have absolutely zero crepe skillz. I know how to dip a hot pan in batter, click my heels together three times, and take all the crepe credit.
And trust me. You'll want to take credit for these.
I think the.boy's exact words were that they gave him chills. (The good kind.)
And I don't blame him. Deliciously pumpkin spiced crepes covered in apples that were stewed and caramelized in brown sugar, cinnamon and pumpkin ale. And then drizzled in Divine Milk Chocolate.
Now, I might never have successfully made crepes before…but I'm pretty sure it doesn't get any better than that.
Disclosure: While I received free products to sample and use in these recipes, I was not compensated for this post and all thoughts and opinions are my own!
Pumpkin Crepes with Beer and Cinnamon Apples and a Chocolate Drizzle
Pumpkin crepes are topped with cinnamon and pumpkin beer-stewed apples and a milk chocolate drizzle!
Ingredients
For the pumpkin crepes:
2 cups milk
2 tbsp butter
2 eggs
½ cup pumpkin puree
1 tsp vanilla
1½ cups flour
1 tbsp sugar
½ tsp baking powder
½ tsp salt
1 tsp cinnamon
¼ tsp ginger
¼ tsp nutmeg
For the filling:
1 tbsp butter
1 honey crisp apple, peeled and diced
¼ cup brown sugar
½ cup pumpkin ale (I used Captain Lawrence Brewing Company)
½ tsp cinnamon
1 (5.3 oz) Divine Milk Chocolate bar
Instructions
For the crepes, in a small saucepan over medium-low heat, warm the milk and butter until the butter is melted. While the milk is warming, whisk together the eggs, pumpkin, and vanilla. Stir the warm milk in the pumpkin mix, slowly.
In a separate bowl, whisk together the flour, sugar, baking powder, salt, cinnamon, ginger, and nutmeg. Stir the wet ingredients into the dry ingredients, whisking until totally smooth.
Cook the crepes on a crepe pan on the stove (1/3 cup batter at a time) or use this fabulous electric crepe maker .
When all the crepes are done, make the filling. In a small saucepan, saute the apple with the butter, brown sugar, pumpkin ale, and cinnamon, simmering until the beer has reduced to a thick sauce.
Melt the chocolate bar in a microwave safe bowl in 30 second intervals, stirring after each.
Fold the crepes into quarters and served topped with the apples and drizzled with the chocolate.
Notes
Crepe recipe adapted from
Take A Megabite
. Filling is an Eats Well With Others Original Recipe.