Traditionally savory summer flavors go sweet in this delicious cinnamon basil and pine nut praline ice cream.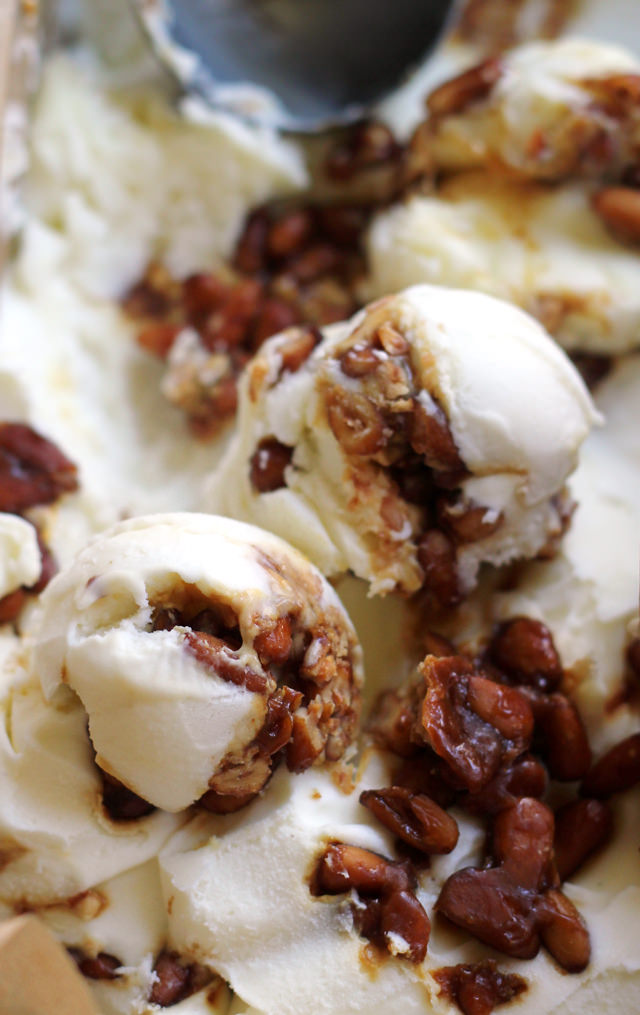 I know what you're thinking.
And YES these are the lengths I have to go through to get my husband to eat his greens. Let's just say we're all lucky this isn't kale ice cream, okay?
Also, it is incredibly good. So there's that.
Half of you are dying for a bowl right now and the other half are backing away slowly. I get it.
But when you really think about it, is putting basil in sweet things so weird?
I just can't imagine it's that much crazier than mint chocolate chip or lemon rosemary, and my taste buds consider those to be the highest caliber of flavors. Like, maybe they should be their own food group or something.
(Hint hint.)
My point being that I think we should all keep an open mind and not judge an ice cream by its herbal infusion, mmkay?
One scoop and you'll be riding the basil ice cream train right along with me. And scooping up honey pine nut praline clusters for crunch and smoky sweetness as we go.
If anything, what I would say this ice cream tastes most like is SUMMER. It has some herbal basil notes, of course, but it's also just: refreshing, sweet, nutty, crunchy, creamy, smooth, and exactly want you want to cool off on a hot night. Or hot afternoon. Or hot morning.
Speaking of which: green (basil ice cream) smoothies. Let's make it a thing.
Cinnamon Basil and Pine Nut Praline Ice Cream
Traditionally savory summer flavors go sweet in this delicious cinnamon basil and pine nut praline ice cream.
Ingredients
For the ice cream
2 cups whole milk
1 tbsp + 1 tsp cornstarch
3 tbsp cream cheese, softened
¼ tsp fine sea salt
1¼ cups heavy cream
⅔ cup sugar
2 tbsp light corn syrup
large handful of fresh cinnamon basil leaves, torn into small pieces
¼ cup Pine Nut Pralines (recipe below)
For the pine nut pralines
1 cup pine nuts
2 tbsp light brown sugar
2 tbsp honey
1 tbsp unsalted butter, melted
¼ tsp fine sea salt
Instructions
In a small bowl, mix together 2 tbsp of the milk with the cornstarch. Set aside. Whisk the cream cheese and the salt in a medium bowl until smooth and set aside. Fill a large bowl with ice and water.
In a 4-quart saucepan, combine the remaining milk, heavy cream, sugar, and corn syrup. Bring to a rolling boil over medium-high heat. Boil for 4 minutes, making sure to keep an eye on it so it doesn't boil over. Remove from the heat. Whisk in the cornstarch mixture. Return to a boil over medium-high heat. Cook, stirring constantly, until slightly thickened, about 1 minute. Remove from the heat.
Slowly whisk the hot milk into the cream cheese until smooth. Stir in the basil. Pour into a 1 gallon Ziploc bag, seal, and submerge in the ice bath. Let stand until cold, about 30 minutes.
Strain the basil out of the custard. Pour the custard into a frozen ice cream maker canister and churn until thick and creamy, according to manufacturer's instructions.
Pack the ice cream into a cold storage container, folding in the pine nut pralines as you go. Store in the freezer in an airtight container.
For the pine nut pralines
Heat oven to 350F.
Combine the nuts, brown sugar, honey, butter, and sea salt in a bowl. Spread on a parchment-lined baking sheet in an even layer. Bake for 8 minutes. Stir and bake for another 5-6 minutes, stirring twice. Remove from the heat and let cool, stirring the nuts frequently to break them up.
Notes
Recipe from
Jeni's Splendid Ice Creams at Home
More savory-sweet twists!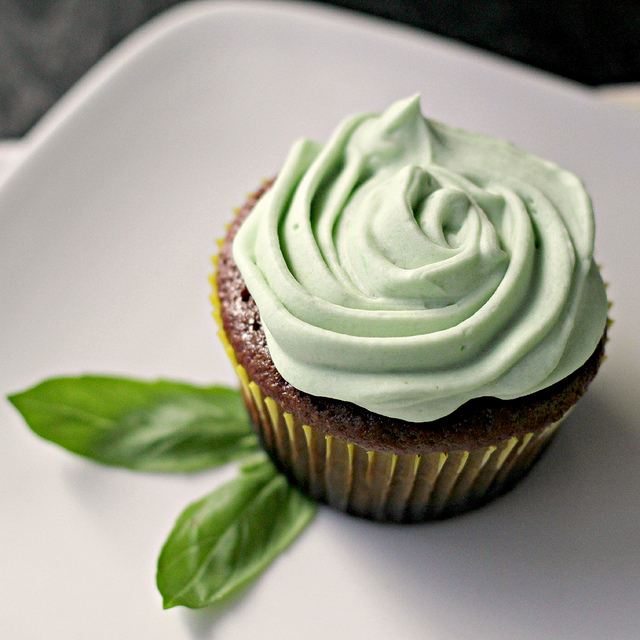 Chocolate Cupcakes with Basil Buttercream Frosting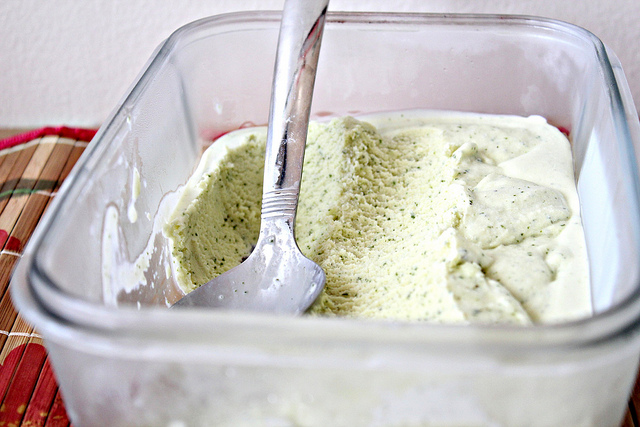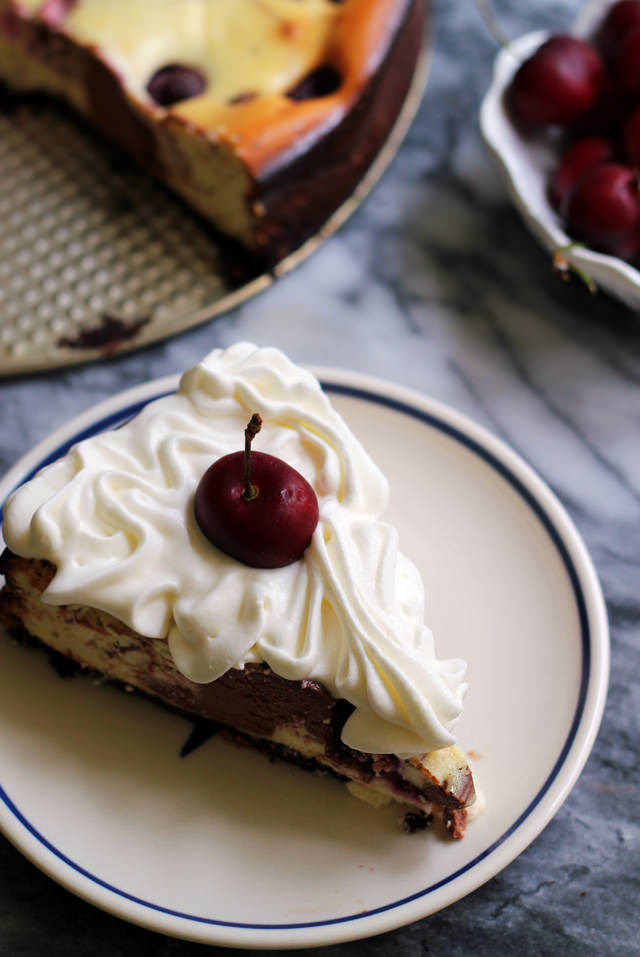 Black Pepper and Black Cherry Marble Cheesecake
From Around the Web:
Avocado Semifreddo with Strawberries and Basil from Healthy Nibbles and Bits
Strawberry Basil Cupcakes with Basil Buttercream from The Cupcake Project
Blueberry, Basil, and Goat Cheese Hand Pies from Local Milk
Vegan Blackberry Basil Ice Cream from Snixy Kitchen
Strawberry Basil + Cream Popsicles from Local Haven