Cook once eat twice with this richly spiced fava bean soup with string beans and tomato that makes enough to feed an army!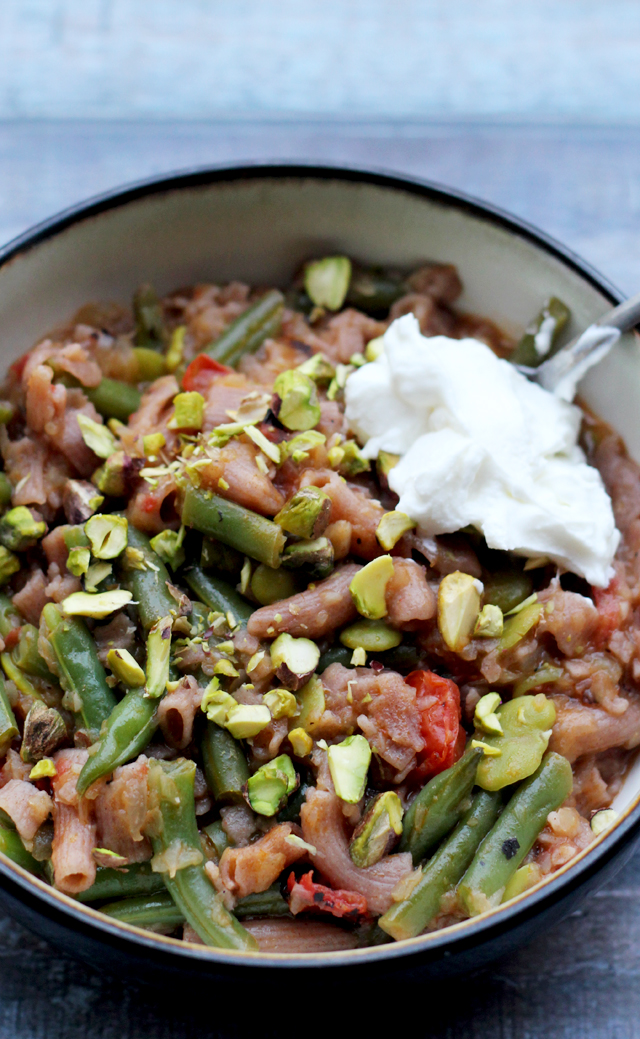 I always forget just how high maintenance fresh favas are until I get them in my fridge and, not only do they demand some VIP shelf space, but they want to be shelled.
TWICE.
It's like, you give them an inch and they try to steal your entire afternoon.
Those rascals.
So, why keep buying them, spring after spring?
Fava bean high.
It's the only logical explanation.
Just like new moms have endorphins to help them forget labor pain and athletes have runner's highs that convince them to sign up for more half marathons mere hours after they've wheezed their way through the last one, the sight of fava beans elicits some sort of visceral response that keeps me coming back year after year.
They're just such an auspicious little legume, heralding the start of all that is right in this world. Like ice cream season and figs and fresh local strawberries.
So how can one be anything but euphoric when one spots them at the market? And then how can one not bring an oversized bag full of them home?
And then promptly turn it into soup because while the season on the calendar says spring, the cold and rain outside would beg to differ.
This soup in particular is a tomato-based, veggie-stuffed soup that is spiced rather than being spicy, so it warms you up from the inside out. After just one delicious bite you'll realize that all that double shelling you had to go through to get it? Totally worth it.
Spiced Fava Bean Soup with String Beans and Tomato
Cook once eat twice with this richly spiced fava bean soup with string beans and tomato! It makes enough to feed an army!
Ingredients
1 lb fresh fava beans
2 medium onions, peeled and quartered
4 garlic cloves
2 tbsp olive oil
kosher salt and freshly ground black pepper
2 tsp ground cumin
½ tsp ground coriander
14.5 oz canned crushed tomatoes
8 cups vegetable broth
1 lb string beans, trimmed and cut into ½-inch pieces
½ lb gluten-free pasta
⅓ cup plain Greek yogurt
⅓ cup chopped unsalted roasted pistachios
Instructions
Remove the fava beans from their pods. Fill a pot with water and bring to a boil. Add fava beans and boil for 1 minute. Drain and then rinse with cold water. Peel second skin off of fava beans. Set beans aside.
Put onions and garlic in a food processor and pulse until finely chopped.
Heat the olive oil in a large pot. Add the onions and garlic to the pot, season with salt and black pepper and cook over medium heat until softened, about 3 minutes. Add in the cumin and coriander and cook, stirring frequently, until the onions begin to brown. Add the tomatoes and cook until the mixture is jammy, about 5 minutes, stirring frequently.
Stir in the broth and bring to a boil. Add in the string beans and fava beans. Reduce heat and simmer for 10 minutes. Add in the pasta and cook until tender. Season to taste with salt and black pepper.
Serve topped with yogurt and pistachios.
Notes
Adapted from
Bon Appetit
For more fava bean recipes, check out these:
Warm Fava Shallot Barley Salad
Sauteed Radishes with Fava Beans from Gourmande in the Kitchen
Mashed Fava Bean and Smoked Salmon Flatbread from Taste Love and Nourish
Creamy Fava-Dill Soup from An Edible Mosaic
Fava, Radish and Shaved Fennel Salad from The Lemon Bowl