A light, summery pappardelle pasta with corn, cherry tomatoes, and parmesan cream sauce – your soon-to-be favorite pasta of summer!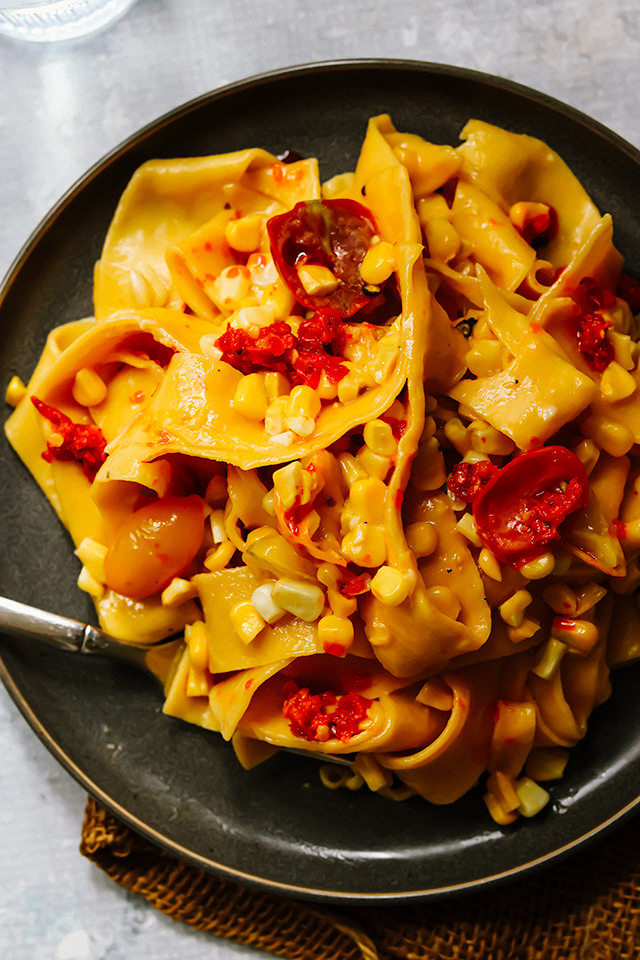 It's the week before our first vacation in OVER TWO YEARS and it feels kind of like Christmas but also like there are a million things to get done before we go and just not enough hours in the day. 
All I have to say about that is this: the carb loading starts NOW.
Might seem a little strange to eat a diet of pasta, pasta, bread, and more pasta when you're about to wear a bathing suit for 144 hours straight, but I'm a card carrying member of the All Bodies Are Bathing Suit Bodies Society, so bring it on.
Plus I just can't get this pappardelle pasta, with it's thick chewy noodles, sweet summer corn, and burst cherry tomatoes out of my brain. It is the ultimate pasta of summer and I've been thinking about it nonstop since I made it a few weekends ago.
Call it obsession, call it love, call it THE POWER OF PASTA. I don't know what it is, but it is a force to be reckoned with.
If you've never had pappardelle before, then you are in for a real treat. These super wide noodles have the perfect amount of surface area for holding on to thick, creamy sauces and catching summer veggies in all of their folds and crevices. 
They are usually made with lots of egg yolks (hence the gloriously golden hue) and I like to use fresh noodles when I can get my hands on them for the optimal flavor and texture. However, there are also some really good quality dried noodles out there (Delallo brand is a favorite) if you can't find fresh. 
The sauce for these noodles could not be easier and is made with a simple mix of cherry tomatoes and corn that have been sauteed in butter and (my secret ingredient) CALABRIAN CHILI PASTE. If you haven't stumbled across this magical condiment / flavor enhancer, then get thee to the Italian food aisle of your local supermarket immediately. It's smoky, salty, and (above all) SPICY. As someone who pours crushed red pepper flakes over any and everything, this is kind of my new favorite thing in life. Mixed in with the mascarpone and parmesan cream sauce, it adds more of a sultry hint of heat rather than a mouth-numbing blast, but you can always spoon more over the top if you're looking for a bolder flavor. 
Pappardelle Pasta with Corn, Cherry Tomatoes, and Parmesan
A light, summery pappardelle pasta with corn, cherry tomatoes, and parmesan cream sauce - your soon-to-be favorite pasta of summer!
Ingredients
4 tbsp butter
5 garlic cloves, minced
kernels from 4 ears of corn
1 pint cherry tomatoes, halved
1 tbsp Calabrian chili paste (plus more to taste)
salt and black pepper, to taste
2 lb fresh pappardelle pasta
2.5 oz grated Parmigiano-Reggiano cheese
4 oz mascarpone cheese
Instructions
In a medium pan, heat the butter until melted over medium heat. Add the garlic and saute until fragrant, about 1 minute. Stir in the corn kernels and saute for 3 minutes. Add the cherry tomatoes, Calabrian chili paste, and salt and black pepper to taste. Cook for 5 minutes, or until the tomatoes just start to break down.
Meanwhile, bring a large pot of salted water to a boil. Cook the pappardelle according to package directions. Drain, reserving ¼ cup of the pasta cooking water.
Add the Parmigiano-Reggiano, mascarpone cheese, and pasta cooking water to the pan with the vegetables. Allow to thicken slightly in the pan, then pour over the cooked pasta. Toss to combine. Season to taste with more chili paste, Parmigiano-Reggiano, salt and black pepper.
Notes
An Eats Well With Others Original