Caramelized fig salad with arugula, ricotta, and Shaoxing vinaigrette achieves the perfect balance of sweet and savory. It makes for a delicious starter course or light summer meal.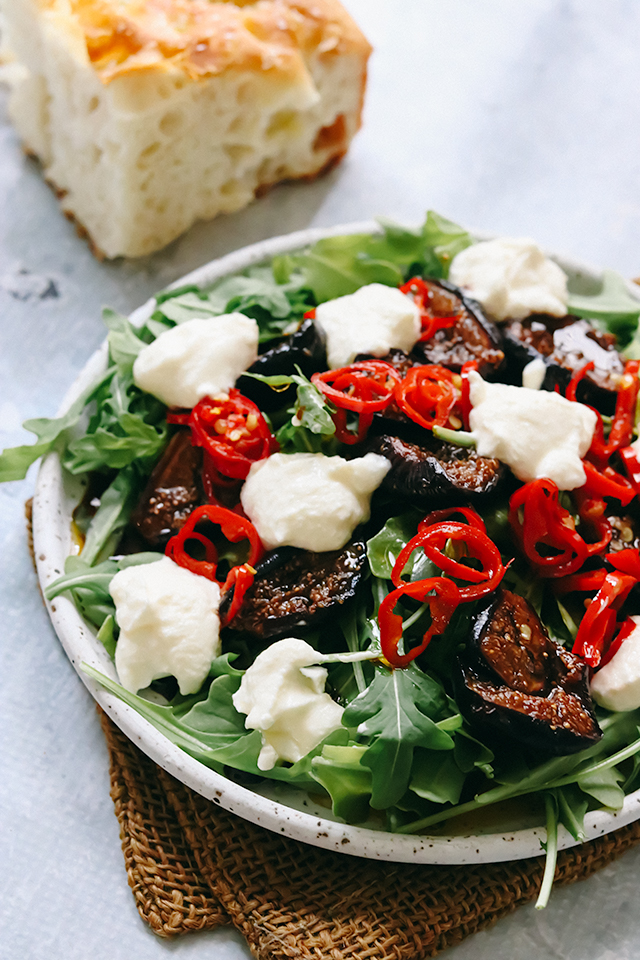 FIGS!!! FIIIIIGGGSSSS!!!!
They're here they're here they're here.
You guys know I am a meal plan fanatic, right? Some might call it pathologically compulsive, but I make a plan every week without fail and stick to it no matter what even if it means we're eating dinner at ten pm some nights. You don't even want to know what happens if for some reason I have to abandon a meal or pivot to a different recipe on a whim.
It is not pretty.
BUT FIGS!!! For figs I will drop everything, completely rearrange all my life plans, and *gasp* toss my meal plan aside in favor of a recipe from the running fig list I keep in my brain at all times. (You have one too, right?)
Fig season is super fleeting so if you stumble across them at the market, you don't just caress them and say "oh great, I'll be back for these next week".
NO. You scoop them up, purchase as many as you can afford/carry and scour your cookbooks for all of the fig recipes you've been meaning to make in your lifetime but had to wait on because the timing was never right.
I have a few tried and true fig salads in the blog archives if you're looking for inspiration, but this caramelized fig salad is a new obsession that you're not going to want to sleep on. 
One of the best things about it is that the figs are tossed with soy sauce and maple syrup and then roasted. In the oven they become deeply caramelized with a rich, sweet flavor, so you don't need to start out with perfectly ripe figs in order for them to taste good. Then after roasting they get tossed in a sweet / salty / tangy vinaigrette and marinate for about an hour (or longer if you want to prep ahead of time!). This makes them taste that much more intense and infuses them with so much juicy flavor. 
Honestly, I could snack on the figs just like that but if you want to turn them into a complete meal then the rest of this salad is here for you.
The figs and their marinade are tossed with arugula, a chile- and lemon-infused oil, and dollops of fresh ricotta. I made my own ricotta for this and it was so incredibly dreamy, I may never go back to buying ricotta again. That being said, if you don't have the time, energy, or cheesecloth a good quality storebought ricotta will do. 
The sweetness of the figs and the creaminess of the ricotta helps to offset the bitterness of the arugula, with the lightly spiced and citrus oil bringing everything together.
This recipe is meant to serve four as a starter or appetizer course, but good luck sharing it with anyone else. We ended up piggishly eating it all between the two of us and may or may not have told Remy that it was "too spicy" for her (it wasn't). No comment, and I have exactly zero regrets on that life choice. 
Caramelized Fig Salad with Arugula, Ricotta, and Shaoxing Vinaigrette
Caramelized fig salad with arugula, ricotta, and Shaoxing vinaigrette achieves the perfect balance of sweet and savory. It makes for a delicious starter course or light summer meal.
Yield:
4 as a start, 2 as a main dish
Ingredients
1 pint purple figs, halved
1 tbsp soy sauce
7.5 tsp maple syrup, divided
2 tbsp Shaoxing wine
1¼ tsp balsamic vinegar
¼ cup olive oil
2 hot red chiles, finely sliced
1 lemon, finely shaved to get 5 strips of lemon peel
3 cups arugula
½ cup ricotta
Instructions
Heat oven to broil or heat it to its highest setting. Line a baking sheet with parchment paper. Set aside.
In a medium bowl, combine the soy sauce and 4.5 tsp maple syrup. Add the figs to the bowl and toss to combine. Spread the figs on the prepared baking sheet, cut side up, and roast for 12 minutes. Return the figs and any juices to the bowl that you mixed them in, leaving any residual marinade. Add the Shaoxing wine, balsamic vinegar, and remaining 1 tbsp of maple syrup to the bowl. Toss gently to combine. Allow to rest for at least 1 hour.
Meanwhile, heat the olive oil in a small saucepan over medium heat until shimmering. Add the chiles and fry for 3 minutes, stirring frequently. Add in the lemon peel and cook for another 30 seconds, or until fragrant. Pour the infused oil into a heatproof bowl and allow to rest for at least 30 minutes.
To serve, divide the arugula among serving bowls. Top with the figs and the dressing. Dollop with spoonfuls of the ricotta and pour the infused oil, along with the chiles and lemon peel over the top. Serve immediately.