Tender whole grain raspberry jam thumbprint scones that are flaky and buttery with a delicious spoonful of jam in their centers.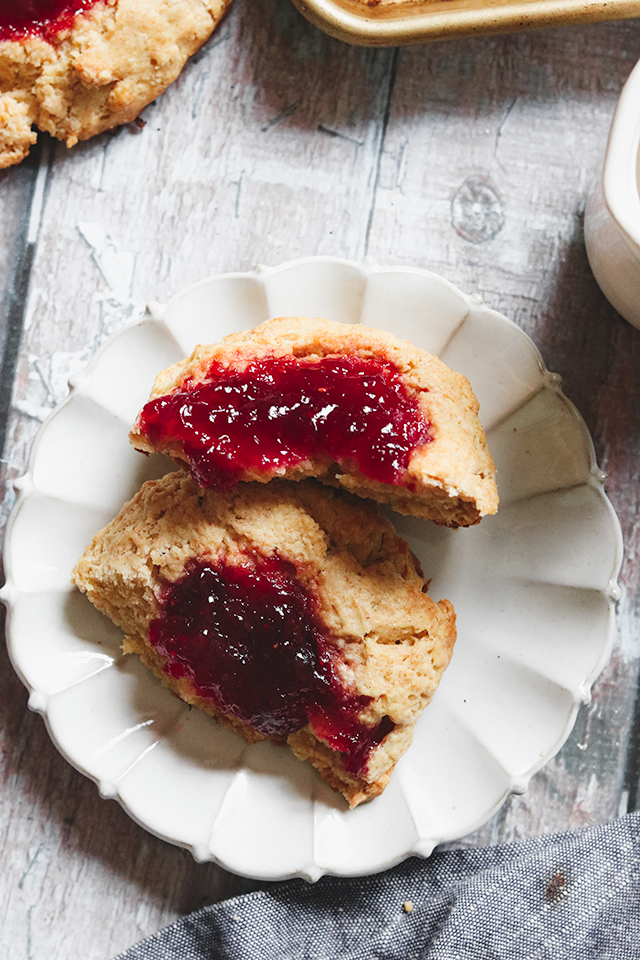 Is it just me or is it feeling like a raspberry thumbprint scone kinda day?
We're leaving for vacation in two days and I have a gazillion loose ends to tuck in, am living on four hours of sleep because my husband thought last night at 12AM was the perfect time to try to get Remy to not come into our bed in the middle of the night which resulted in them having a 2 hour screaming match (and in case you're wondering if that lack of sleep caused her to sleep in – never, how could you suggest such a preposterous thing?), oh and our nanny isn't coming in because she has to take her teacher certification exam.
I stand corrected. It's actually a raspberry thumbprint scone with a side of bottomless mimosas kind of day. Who's with me?
Don't let these completely unassuming scones fool you – they are GEMS.
Simple, but perfect with a lightly sweet tender, flaky crumb and a pool of raspberry jam filling worth diving into mouth-first. 
Oh, and did I mention that they're chock full of spelt flour, which is my personal favorite of the whole grain baking world.
I find it to behave really similarly to all purpose flour in baked goods but with a kick of sneaky whole grain goodness. It has a pretty mild flavor, which is perfect for the whole grain skeptics in your life – they'll never even know it's there!
Unless, of course, you blab it to them as soon as they take their first eyes-rolling-back-in-their-head scone bite. Your choice.
Scones tend to get a bad rep as being the dry, sandy, flavorless side of the breakfast pastry family. I blame this on far too many bakeries that leave their scones on their counters a few days past their shelf lives, serving up bland rocks to guileless consumers.
Once you have a bad scone, it is understandable that you would feel scarred for scone consumption for life. Unlike bad chocolate chip cookies or cake, there is no saving a bad scone – it's unforgiving. 
On the flip side, once you've discovered really really good scones, it's impossible to forget them. They are flaky, tender, buttery, and almost melt on your tongue. Definitely a breakfast pastry worth getting excited about.
I love stuffing my scones with fresh fruit for a little extra insurance against a dry crumb, but these raspberry thumbprint scones are the perfect alternative for when you're running low on summer berries or stone fruit and happen to have three different jars of jam open in your fridge. Not that I would know anyone like that.
The scone centers are filled with jam thumbprint cookie-style so that if you go at it the right way, you can get a little bit in every bite. The scone dough itself is pretty mild-flavored and will go with just about any jam flavor you choose. I went with raspberry here (Bonne Maman ALWAYS) but feel free to substitute it with whatever jam flavor you have on hand.
Whole Grain Raspberry Jam Thumbprint Scones
Tender whole grain raspberry jam thumbprint scones that are flaky and buttery with a delicious spoonful of jam in their centers.
Ingredients
½ cup (125 g) buttermilk
2 large eggs
2 cups (240 g) all purpose flour
2 cups (210 g) spelt flour
¼ cup + 1 tbsp (63 g) sugar
1 tsp baking powder
2 tsp (12 g) fine sea salt
20 tbsp (283 g) cold unsalted butter, cubed
¾ cup (218 g) raspberry jam
Instructions
In a small bowl, whisk together the buttermilk and the eggs. Set aside.
Combine the flour, spelt flour, sugar, baking powder, and salt in the bowl of a stand mixer fitted with the paddle attachment. Mix on low speed to combine, about 30 seconds. Add the butter to the stand mixer ad mix on low until the butter and flour look like moist crumbs. Turn off the mixer and add in the buttermilk-egg mixture. Mix on low just until the dough comes together. Cover and refrigerate for 2 hours to allow the dough to rest.
When ready to bake, heat oven to 375F. Line two baking sheets with parchment paper.
Divide the dough into ½ cup portions, spacing them out evenly on the prepared baking sheets. Use your thumb to make an indent in the center of each scone. Scoop 1 tbsp of jam into each.
Place the baking sheets into the oven and bake for 25-30 minutes, rotating halfway through. Allow to cool for 5 minutes on their baking sheets and then remove to a wire rack to cool completely.