This elegant tart has a crisp cookie crust that is filled with a layer of salted caramel and topped with a thick decadent ganache.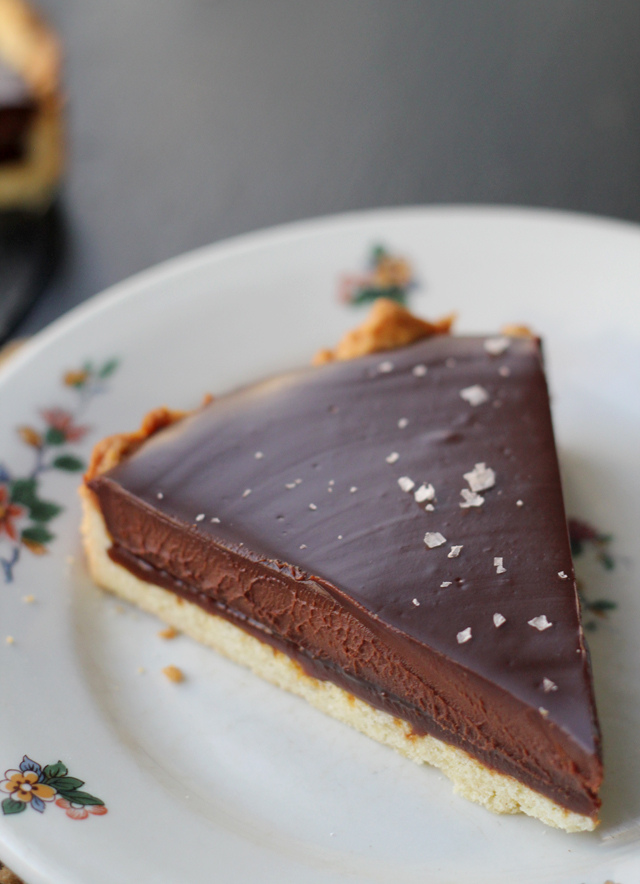 I feel a leeetttllle bit bad about depriving you of your normal Wednesday health-full post.
But totally NOT because today a group of other bloggers and I are celebrating our friend Audra of The Baker Chick, who is giving birth to her first baby in January!!
And such a ridiculously fabulous event as that deserves the most decadent of the decadent.
And the most saltiest of the caramels.
Okay, not the most saltiest. But the just sweet-saltiest enough to make your taste buds happy.
Especially Audra's, whose first words out of her mouth when I met her at a blog conference three years ago were something like, "Hi I'm Audra and I live for salted caramel".*
*Not exaggerating.
I was super lucky to get to go to Audra's real life baby shower and it was too fun. She was positively glowing the entire time with her seven month baby belly that looks suspiciously like my negative gazillion month belly. But that's really neither here nor there.
It was apparent from all of the family and friends that turned out for this event that this baby will be loved. So so so loved.
And I am just so excited for Audra and her baby to get to meet each other in just a few more weeks!
This ridiculously decadent tart with it's creamy sweet salty caramel filling and it's rich chocolate ganache topping is perfect for celebrating such a happy occasion. All it takes is one bite, to definitely put a smile on your face.
Check out the tasty treats that the other ladies attending today's shower brought to the party!
Cocktails:
Grapefruit Rosemary and Sage Spritzer from Nutmeg Nanny
Small Bites:
Sausage and Cheese Wonton Cups from The Spiffy Cookie
Honey and Tangerine Whipped Goat Cheese Crostini from The Lemon Bowl
Desserts!
Bananas Foster Cupcakes from Culinary Couture
Chocolate Chip Oatmeal Cookies with Brown Butter from Warm Vanilla Kitchen
Chocolate Mousse Mini Cupcakes from Bake or Break
Cinnamon Nut Stuffed Persimmons from Running to the Kitchen
Coconut-Cream Meringue Cupcakes from Tracey's Culinary Adventures
Espresso Salted Caramel Buttercream Brownie Bites from Keep It Sweet Desserts
Gluten-Free Cranberry Bread from The Dusty Baker
Mini Eggnog Bundt Cakes with Salted Caramel Icing from The Corner Kitchen
Mini Gingerbread Whoopie Pies from Table For Two
Mini Vanilla Cupcakes with Peppermint Buttercream from Baked By Rachel
Sugar & Spice Layer Cake from Girl Versus Dough
One year ago…Tuscan Bean and Wheatberry Soup with Cabbage and Winter Squash, Swiss Chard and Saffron Tart
Four years ago…Crockpot Butternut Squash Soup
Chocolate-Caramel Tart with Sea Salt
This elegant tart has a crisp cookie crust that is filled with a layer of salted caramel and topped with a thick decadent ganache.
Ingredients
For the tart shell
10 tbsp unsalted butter, room temperature
½ cup sugar
2 large eggs
2 cups all purpose flour
1 tsp salt
For the caramel
½ cup heavy cream
1 cup sugar
pinch of sea salt
For the chocolate ganache
12 oz bittersweet chocolate, coarsely chopped
pinch of sea salt
2 cups heavy cream
Instructions
For the tart shell, in the bowl of a stand mixer fitted with the paddle attachment, cream together the butter and sugar until fluffy. Add in the eggs and mix until just incorporated. Add in the flour and salt, and mix just until the dough comes together, on low speed. Scrape the dough into a flat disc and then wrap in plastic wrap. Refrigerate for at least 1 hour or overnight.
On a lightly floured work surface, roll out the dough to an ¼-inch thick round. Press it into a 9-inch tart pan, trimming the excess dough. Place the shell in the freezer until ready to bake.
Preheat the oven to 350. Line the tart shell with parchment paper and fill with dried beans or pie weights. Bake for 30 minutes. Remove the paper and foil. Bake for another 10 minutes. Allow to cool while you make the filling.
For the caramel, bring the cream to a boil and then turn off the heat.
In a heavy saucepan, combine the sugar with 5 tbsp of water and cook, stirring, over high heat until the sugar dissolves. Bring to a boil and let cook for about 4 minutes, until it reaches 374F, swirling the pan as needed.
Remove the pan from the heat and whisk in the hot cream. Stir until smooth. Add the salt.
Pour the caramel into the tart shell so that the bottom is evenly covered. Let cool. Refrigerate until ready to pour in the ganache.
For the ganache, place the chocolate and salt in a heatproof bowl. Bring the cream to a boil.
Pour the cream over the chocolate and let sit for 3 minutes. Whisk the chocolate into the cream until they are melted together. Pour the ganache into the tart shell. Allow to set at room temperature. Sprinkle with sea salt before serving.
Notes
Adapted from
The Perfect Finish: Special Desserts for Every Occasion