These oreo-like cookie sandwiches are all grown up with their hint of spice and sprinkling of salt! They will be a definite WOW on your cookie tray!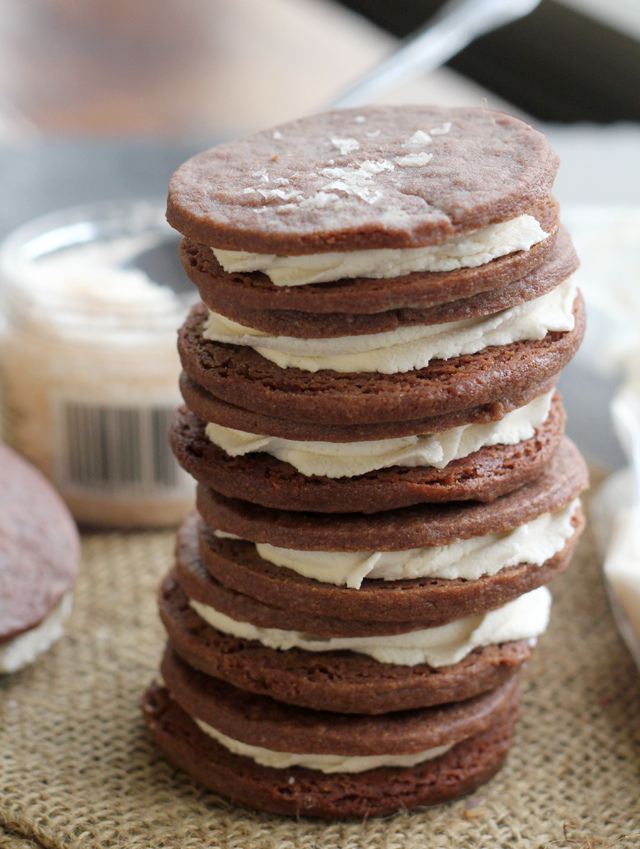 You know how sometimes you wake up in the morning and put on a purple shirt and dark blue jeans.
And then you get into lab and find that EVERYONE ELSE IS WEARING PURPLE SHIRTS AND DARK BLUE JEANS.
Whoa!!!! Coincidence. (Or conspiracy. ??)
And you're all like OMG! We sOoOoOoOoO didn't plan this.
Well, this whole sweet/salty/savory (but mostly sweet) thing two days in a row?
I sOoOoOoOoO didn't plan this.
I mean, I guess I technically did since I menu plan like a neurotic person. But it wasn't intentional.
Just a happy coincidence.
Or a conspiracy against my skinny jeans.
(I'm betting on the latter.)
Part of the "problem" is that I received this Murray River Salt from Whole Foods and now I feel strongly compelled to sprinkle it all over all of my life. And/or use it sparingly so that I never run out, ever. I'm very conflicted over it. But to date I have put it on my chocolate-caramel tart with sea salt, eggs sunny side up, eggs scrambled, and these cookies.
These cookies that seem like Oreo wannabes until that first bite of subtly sweet cookie with crunchy salt shards on top, silky sweet buttercream filling and an aftershock of spice. When you then realize that, actually, it's Oreos that wannabe these cookies.
Them's fighting words.
But without going to such lengths, I'm just not sure how to convey just how much you need these in your Cookie Season.
I would mail them to you if I could, but that seems kind of impractical on such a large scale.
Though I did mail them to my Leftovers Club partner this month – Marissa of Pinch and Swirl!
I hope they got there in one piece. With sandwich cookies it's always a little iffy.
Do you guys know what The Leftovers Club is? It's basically a blogger "club" that lets you connect goods and share your baked goods with other food fanatics, as well as receive some in return! Anyone is welcome to join so definitely look into it if it seems like it's something you'd be interested in!!
And be sure to check out what the other Leftovers Club bloggers shared with each other this month:

Speaking of getting things in the mail, as I mentioned before, Whole Foods was super generous to send me the Murray River salt used in these cookies, along with a bunch of other special holiday items available at Whole Foods right now! There was a bag of chocolate drizzled kettle corn that disappeared all too quickly, some tasty shortbread vanilla cookies that are absolutely fabulous dunked in milk, their Celebration Coffee, a holiday baking spice grinder, and the cutest wine tote bag. If you're looking for something to help get you in the holiday mood, one of these items might just be it!
In addition, I was lucky enough to get to enjoy a lunch full of Pret A Manger's new holiday offerings! The cranberry and goat cheese sandwich (with STUFFING IN IT) is pretty much all I crave at noontime these days, especially when topped off with a warm chewy chocolate peppermint cookie.  ANNNNDDD (feel good bonus) if you purchase Pret's Holiday Lunch, 50 cents will go to the Pret Foundation, which aims to alleviate poverty and hunger.
PS - If you want the recipe for these salt-n-pepper cookies, head on over to Culinary Covers to check out my latest post!
Disclosure: While I received goods from Whole Foods and lunch at Pret A Manger for free, my thoughts and opinions, as always, are my own.