A cozy apple bake with warm spices and a double ginger cookie crumble on top. Perfect with a scoop of ice cream or dollop of whipped cream.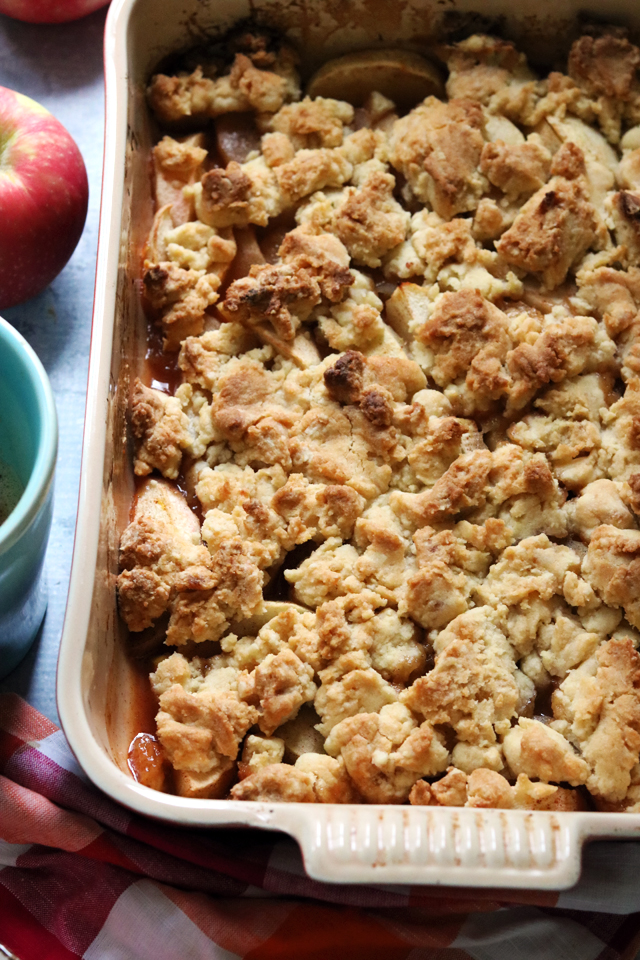 The way I see it there are two kinds of people in this world:
those who obsessively bake apple crumbles just to ensure the perpetual smell of just-from-the-oven apple spice permeating their living space at all times.
and those who buy Yankee candles. Lots of Yankee candles.
I'll let you guess which one I am.
Actually, I really didn't think myself much of a crumble person until I made this apple bake from the Smitten Kitchen Every Day cookbook. Somehow (and really, I don't know how) I thought that making pie was easier?!?!
Does not compute.
Don't get me wrong, I love a good flaky pie and crust and always always always will but guys, I also really like a cookie-esque crumble that is double ginger spiced and requires no forethought at all whatsoever. Like, I decided on a Saturday afternoon to make this and it was done in an hour. You just can't do that with pie. Sad, but true.
In the same vein of all the other recipes from Deb's latest cookbook, this cozy apple bake is wholeheartedly weeknight friendly because we all know that apple dessert cravings don't always wait for the weekend. A simple filling of thinly sliced apples, warm spices, and just a *touch* of sugar assemble on the bottom of a baking pan where they'll wait for you to stir up a batch of double ginger cookie crumble. This entails: melting butter in the microwave, stirring together the spices, (more) sugar, and flour, then plopping it on top of the apples in crumble-ish forms.
A forty to forty-five minute stint in the oven (perhaps best done while you're eating dinner) and you have a fall dessert on your hands, ready and waiting to be topped with a dollop of vanilla ice cream or freshly whipped cream.
You can just put those Yankee candles to the side, we are not going to need them anymore.

cozy apple bake with double ginger cookie crumble
A cozy apple bake with warm spices and a double ginger cookie crumble on top. Perfect with a scoop of ice cream or dollop of whipped cream.
Ingredients
For the filling
3 large firm honeycrisp apples
zest and juice of ½ lemon
¼ tsp ground cinnamon
pinch of grated nutmeg
pinch of ground cloves
1 tsp vanilla extract
3 tbsp sugar
pinch of salt
For the topping
⅔ cup unsalted butter
¼ cup turbinado sugar
¼ cup granulated sugar
¼ tsp kosher salt
1½ tsp baking powder
½ tsp ground ginger
2 cups all purpose flour
1 tbsp minced candied ginger
Instructions
Heat oven to 375F.
For the filling
Peel and core the apples. Cut into 1-inch slices and arrange in the bottom of a 9x13-inch baking dish.
Whisk together the lemon zest, lemon juice, cinnamon, nutmeg, cloves, vanilla, sugar and salt in a small bowl. Pour over the apples and toss to combine. Spread apples in an even layer in the pan and set aside.
For the crumble
Melt the butter in the microwave in a microwave-safe bowl. Stir in the sugars, salt, baking powder, and ground ginger until combined. Add in the flour and candied ginger stirring until combined and dough clumps start to form. Sprinkle on top of the apples.
To bake
Place in the oven and bake for 40-45 minutes, or until the crumble is golden brown and the apples are fork-tender.
Allow to cool for 10-15 minutes or to room temperature. Serve with ice cream or whipped cream.