A hearty easy weeknight kidney bean curry.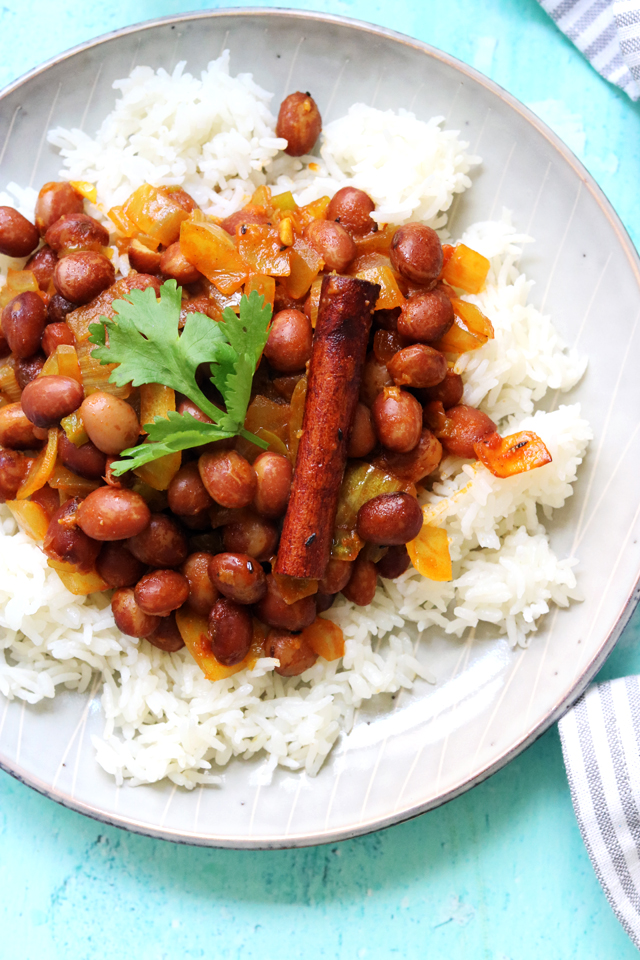 I mean, I'm pretty sure my husband and family think I'm joking when I REPEATEDLY and NOT ANNOYINGLY AT ALL tell them that I could eat Indian food every day, every meal of my life and not be mad about it.
And because my Indian food cravings are more of an all day every day, weeknights-not-excluded phenomenon I *had* to go and find a curry that can be made in 30 minutes out of mostly pantry ingredients.
It's real. It's here. We're doing it!!!!
Just a little bit excited to share this recipe with you because it is LIFE CHANGING.
I think home-cooked Indian food gets a bad rep because most people assume that it requires all kinds of exotic spices and hours of simmering. I mean, yes and yes, some meals do but you'll find that with food from just about any culture! Once you build up your Indian spice arsenal with a few staples (cumin, coriander, garam masala, turmeric, a good curry powder) then you can really make a lot of things. And honestly, more often than not I'm pleasantly surprised about how quickly most Indian meals come together. It's really only a lengthy cooking process when you need to cook various small dishes to make a complete meal.
But let's get back to this kidney bean curry. It's a one pot kind of meal and super quick so long as you're using canned kidney beans and don't need to cook your beans from scratch. If you ARE cooking your beans from scratch then do what I do and make them the night before while you're sitting on the couch watching the TV before bedtime. Most of the time I even do it in the Instant Pot so it's really a set-it-and-forget-it kind of situation. It's my favorite form of multi-tasking.
The recipe for this curry comes from one of my favorite Indian cookbooks called Made In India. The recipes from this book are super approachable and I love that Meera Sodha (the author) uses the bare minimum amount of ingredients to achieve big flavors. Serve it with a big scoop of steaming basmati rice and you have a perfect cozy weeknight meal!
Easy Weeknight Kidney Bean Curry (Junjaro)
A hearty easy weeknight kidney bean curry.
Ingredients
8 oz dried kidney beans soaked overnight or 2 (14 oz) cans kidney beans
2 tbsp canola or grapeseed oil
1 cinnamon stick
½ tsp cumin seeds
1 large onion, minced
1¾-inch piece of ginger, peeled and grated
2 garlic cloves, minced
1 fresh green chili pepper, seeded and minced
2 tbsp tomato paste
1 tsp sugar
1¼ tsp salt
1 tsp garam masala
¼ tsp ground turmeric
Instructions
If using dried kidney beans, place them in a large pot of cold water so that they are covered by a few inches. Season the water with salt and bring to a boil. Cook for 40-50 minutes or until tender. Drain then set aside.
Heat the oil in a large nonstick skillet over medium heat. Add in the cinnamon stick and cumin seeds. Saute for 3 minutes, then add the onion. Stir fry for 8-10 minutes, or until the onion is soft and starting to brown. Add in the ginger, garlic, and chili pepper. Saute for another minute.
Stir in the tomato paste, sugar, salt, garam masala, and turmeric. Cook for another 2 minutes, stirring to combine. Add in the cooked kidney beans and ¾ cup of warm water. Stir until well combined and bring to a simmer. Cook for another 5 minutes. Remove from the heat.
Season to taste with salt. Serve over hot basmati rice.