A surprisingly craveworthy lentil salad topped with roasted caramelized tomatoes and brie.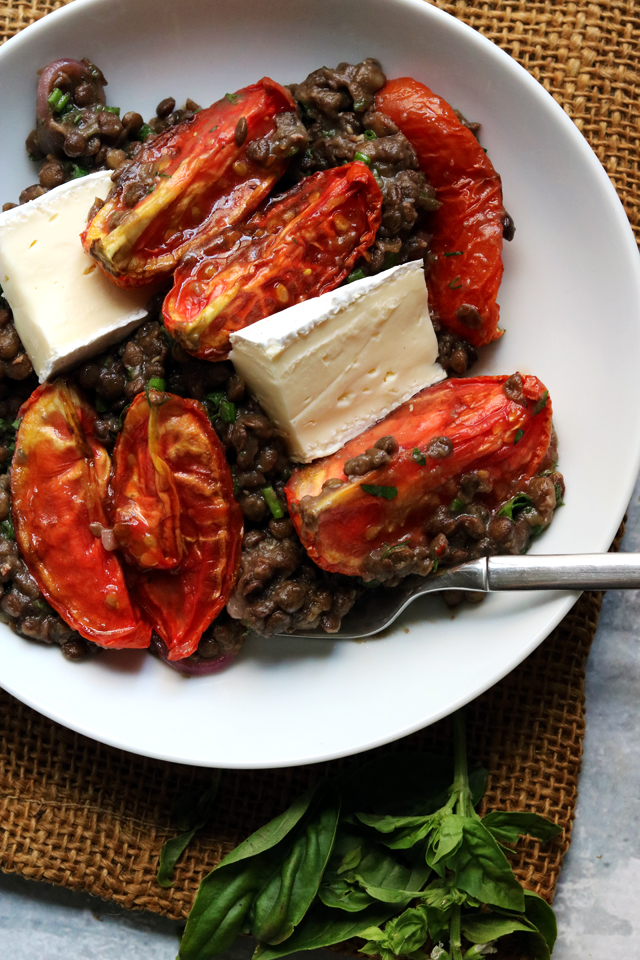 If I had a penny for every time I pass over lentil salads in vegetarian cookbooks (and food blogs), I'd be a rich woman by now.
Just being honest!!!!
And I don't mean any disrespect to the mighty lentil. I actually love the damn things. They are inexpensive, super healthy and wholesome, and are basically the underrated workhorse of the vegetarian kitchen. Like, who needs synthetic fake meat burgers when you can eat a superfood that comes straight from the earth?!?!
BUUUUUTTT the peanut gallery that is my family is never quite as enthused as I am about them
And they don't tend to photograph well.
Womp womp.
Then I made it a personal goal for the year to cook my way through every recipe in Ottolenghi's Plenty cookbook and let me tell you – there are a LOT of lentils.
I have heard some moaning and groaning from my husband when I sent him with lentil salads for lunch (especially when they ALSO contained eggplant – his arch-nemesis) but not a peep when I sent him with this salad.
As it turns out the secret to a magical lentil salad is slow-roasted caramelized tomato wedges made from summer perfect tomatoes. And brie – OF COURSE, BRIE.
The tomato wedges are doused in olive oil and balsamic vinegar, then roasted at a low temperature of 300F for one and a half hours. They become insanely sweet and absolutely burst with flavor. They're basically like candy. It's pretty amazing.
The lentil salad itself is pretty simple and is comprised of lightly pickled onion slices and a basic olive oil-garlic vinaigrette. Top them with the magic tomatoes and brie slices and you've got yourself a great meatless lunch or dinner worth craving.
Lentil Salad with Caramelized Tomatoes and Brie
A surprisingly craveworthy lentil salad topped with roasted caramelized tomatoes and brie.
Ingredients
For the tomatoes
5 plum tomatoes
8 thyme sprigs
1 tbsp olive oil
2 tbsp balsamic vinegar
salt, to taste
For the salad
1 small red onion, thinly sliced
1 tbsp red wine vinegar
1 tsp Maldon sea salt
1⅓ cups French lentils
3 tbsp olive oil
1 garlic clove, grated
black pepper, to taste
3 tbsp minced parsley
3 tbsp minced chives
4 tbsp minced dill
4 oz brie, thinly sliced
Instructions
For the tomatoes
Heat oven to 300F. Quarter the tomatoes vertically and place skin-side down on a parchment-lined baking sheet. Sprinkle the thyme sprigs over the tomatoes. Drizzle with olive oil and balsamic vinegar. Season with salt, to taste. Roast for 1.5 hours, or until wrinkled and caramelized but still plump and juicy. Remove the thyme and allow to cool slightly.
For the salad
While the tomatoes are cooking, place the red onion slices in a bowl with the red wine vinegar. Sprinkle with sea salt. Toss to combine. Let sit while you prepare the rest of the salad.
Place the lentils in a medium pot of salted boiling water. Cook for 20-30 minutes, or until the lentils are tender. Drain well and toss with the sliced onion while still warm. Stir in the olive oil, garlic, and black pepper. Stir to mix and then set aside to cool completely.
Once the lentils are at room temperature, stir in the parsley, chives, and dill. Season to taste with salt and black pepper.
Divide the lentils among 4 bowls. Top with equal amounts of the tomatoes and brie slices. Serve.