The classic Italian lace cookie gets a holiday twist in this recipe for eggnog florentines!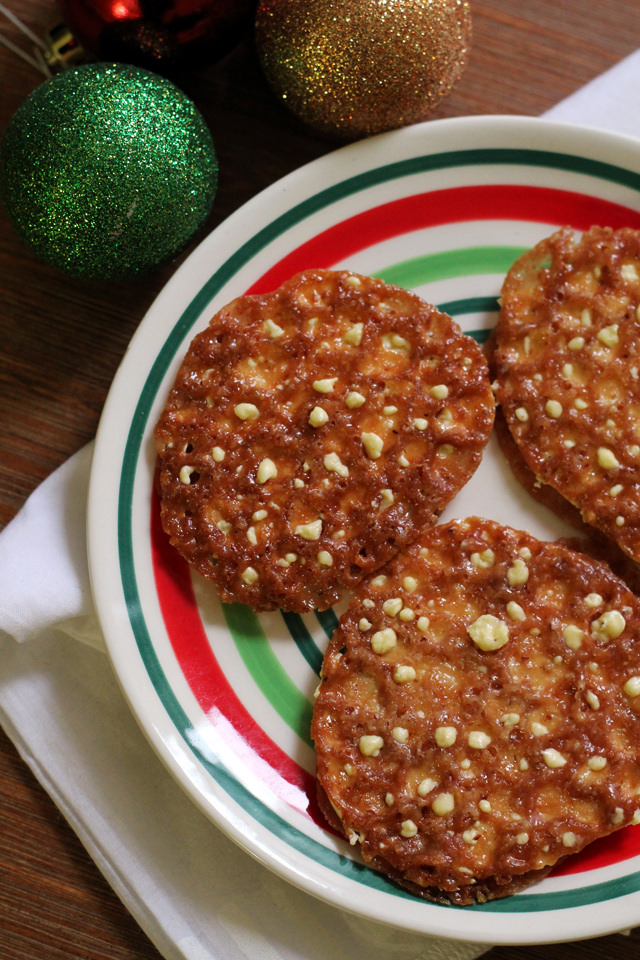 The.Boy and I did something so dirty yesterday.
I almost hesitate to tell you, but YOU GUYS. We share everything. Obviously.

Here goes. We ordered paper towels and toilet paper from Amazon Prime Now all because we didn't feel like walking down the stairs and across the street to the nearest convenience store.
And had them delivered just over an hour after ordering (at no extra charge!!).
Is that the height of laziness or what? I feel like I should go climb a flight of stairs just for thinking about this, let alone ACTUALLY DOING IT. I disgust myself.
What I find most appalling is that I could spend hours scooping cookies, but ask me to run a five minute errand and I will just go bonkers. It's incomprehensible.
Or actually totally comprehensible given the cookie in question. These eggnog florentines, for instance, did not take hours to scoop, though if they haaddd…I would have chalked it up to 50 shades of "WORTH IT".
Crispy nutty lacy on the outside with eggnog cream filling on the inside. On a scale of 1 to 10, that's a WOW.
Eggnog is actually my least favorite child of the holiday bunch. You see, my mom wasn't really into giving raw eggs and alcohol to her children, so I never really had it until adulthood and by then it was too late.
And too thick. But mostly too late.
The flavor of eggnog, though, is a whole other story. Slightly custardy with a strong sense of spice, and something no Christmas should go without. The buttercream filling in this recipe mimics that flavor by having you mix hard-boiled egg yolks into the buttercream, along with a heavy hand of nutmeg and cloves, and just enough butter to bring it all together. It's weird, but it works.

Eggnog Florentines
The classic Italian lace cookie gets a holiday twist in this recipe for eggnog florentines!
Yield:
3 dozen sandwich cookies
Ingredients
For the pecan florentines
6 tbsp (45 g) all purpose flour
½ cup (55 g) pecan halves
⅛ tsp ground cinnamon
¼ tsp kosher salt
½ cup unsalted butter
⅔ cup (130 g) sugar
2 tbsp heavy cream
1 tbsp corn syrup
¼ tsp vanilla extract
For the eggnog filling
4 large eggs, hard-boiled
4 tbsp unsalted butter, room temperature
2½ cups (300 g) confectioner's sugar
1 tbsp whole milk
½ tsp vanilla extract
¼ heaping tsp ground nutmeg
⅛ tsp ground cloves
⅛ tsp kosher salt
Instructions
Heat oven to 350F.
In a food processor, pulse together the flour, pecans, cinnamon and salt, until the nuts are very finely chopped, about 1 minute. Pour the nut mixture into a large bowl.
In a medium saucepan, combine the butter, sugar, heavy cream, and corn syrup over high heat. Bring to a boil. Allow it to boil for one full minute. Remove from the heat and stir in the vanilla. Pour the liquid ingredients over the dry ingredients and stir together until well-combined. Set aside to cool for at least 30 minutes.
Line two baking sheets with parchment paper. Using a 1 tsp measure, scoop the dough into small balls and arrange them on the cookie sheets so that they are about 3 inches apart. Bake until the cookies are thin and golden brown, 8-9 minutes. Let cool for 5 minutes on the baking sheet and then remove to a wire rack to cool completely. Repeat with remaining cookie dough.
For the filling, peel the hard-boiled eggs and separate the yolks from the whites. Set aside the whites for another use. Press the egg yolks through a fine-meshed sieve so that they achieve a powdery texture. Pour into the bowl of a stand mixer along with the butter, confectioner's sugar, milk, vanilla, nutmeg, cloves, and salt. Beat together until smooth. Raise the mixer speed to high and mix for 3 minutes, or until light and fluffy.
Spread a spoonful of eggnog filling onto the bottom of a cookie. Gently press a second on top of it. Repeat with the remaining cookies and filling.
Nutrition Information
Serving size:
1 sandwich cookie
 For more holiday treats, check out these: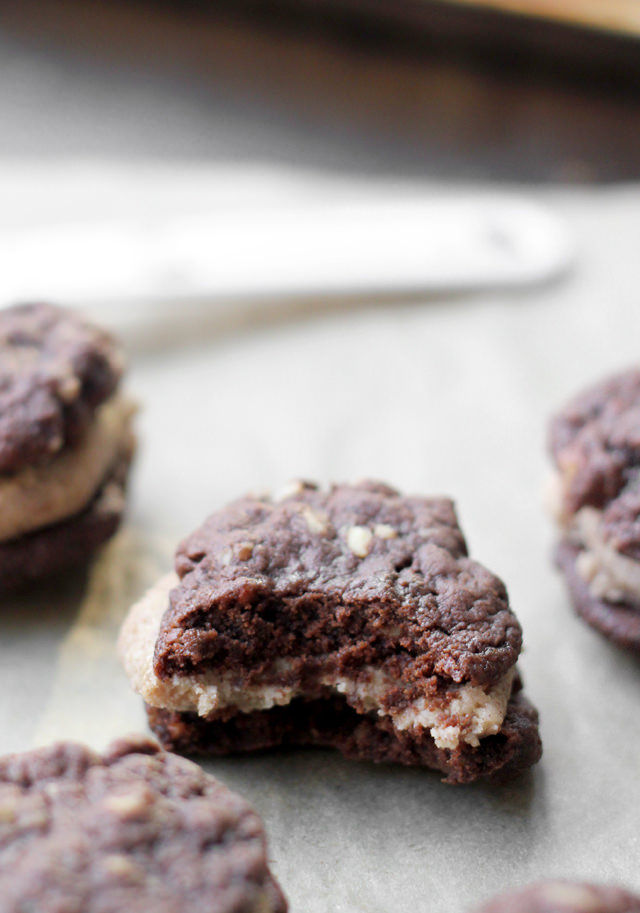 Chocolate Butter Pecan Sandwich Cookies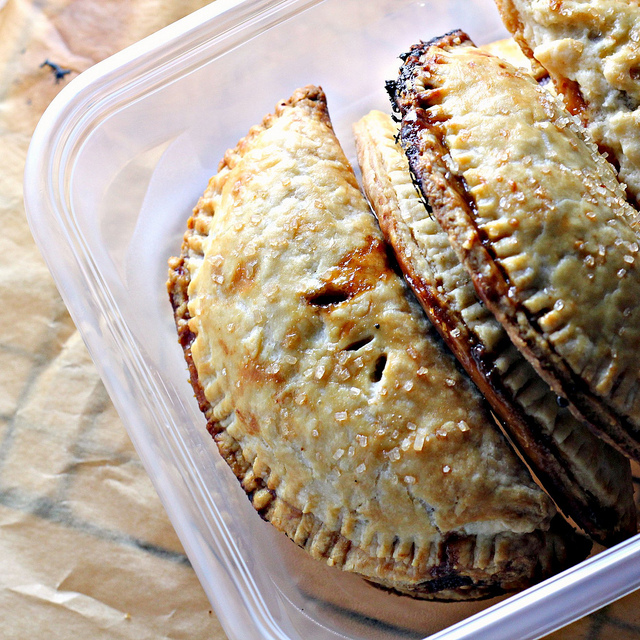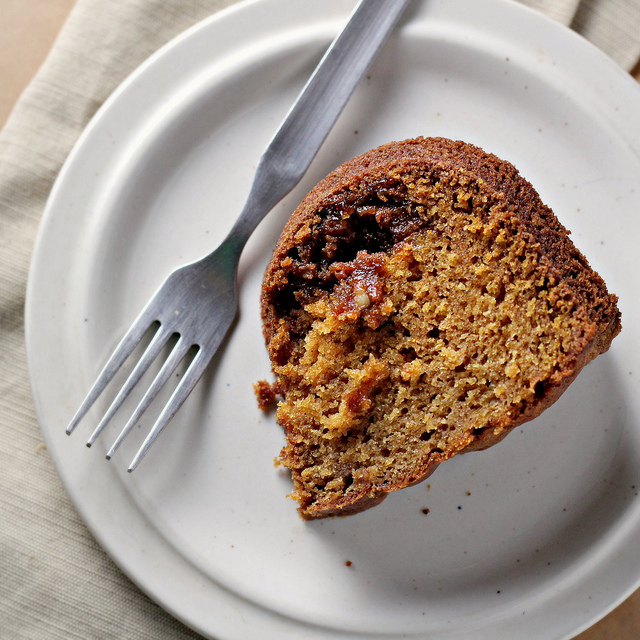 Pumpkin Cake with Caramel Pecan Pie Streusel
From Around the Web:
Chocolate Bourbon Pecan Pie Cupcakes with Butter Pecan Frosting from Half-Baked Harvest
Pecan Pie Cheesecake Bars from Buns In My Oven
Pecan Pie Cake from Shugary Sweets
Pecan Linzer Cookies from Annie's Eats
Brown Butter Chocolate Maple Pecan Cookies from The Flourishing Foodie