Meatless Monday meets Monday Night Football! These loaded vegetarian sloppy joe baked sweet potatoes are hearty enough to satisfy even the most carnivorous of eaters.
Disclosure: This post was sponsored by Silk. As always, my thoughts and opinions are my own. Thank you for supporting the brands that keep me inspired in the kitchen!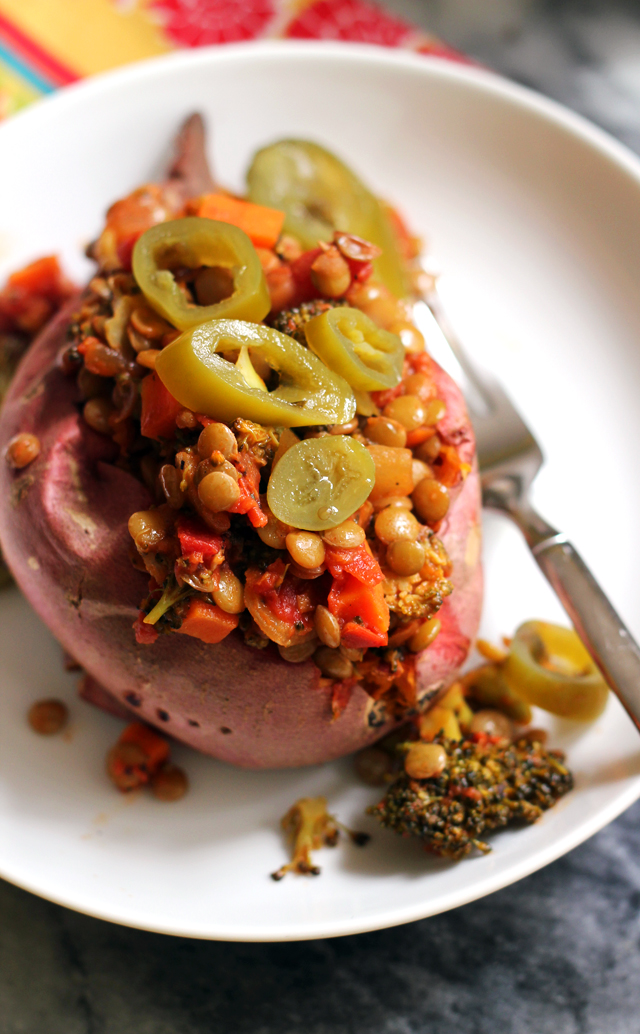 For the record, this is NOT me conceding to the truly irresistible allure of fall flavors.
It will be summer so long as I say it's summer! And I refuse to hear a single word to the contrary.
Buuuuuttttt rumor has it that certain irrevocably fall-like things are happening whether I like it or not. Like: football season, leaves changing, pine cones falling right in front of my face in Central Park, pumpkin spice lattes being sold on every street corner.
What's a girl to do in the midst of such truancy!?!
Other than compromise. Compromise is the key.
So, these positively LOADED baked sweet potatoes are just a hint of fall with a lot of summer flair to them.
And a big scoop of vegetarian lentil sloppy joe on top.
You guys know I'm all for Meatless Mondays (and Meatless Everydays, in fact!), but in the midst of Monday Night Football season, it can definitely fall to the wayside as people start to feel like if it doesn't have meat in it, it ain't football food. Right?
WRONG.
And just to prove it, I've revamped not one, but TWO, typically meaty comfort food classics into one totally meat-free meal that will satisfy your most carnivorous taste buds. Think loaded baked potato meets SWEET POTATOES (!!!) meets hearty lentil sloppy joe filling meets ALL THE TOPPINGS YOUR HEART DESIRES.
Meat? Who needs meat? Exactly my point.
I topped my loaded lentil sloppy joe sweet potato hot glorious mess with pickled jalapenos, but I'm guessing olives, cheddar cheese, regular pickles, and an extra dash of hot sauce would be equally as worthy.
Want to get in on some #MeatlessMondayNight action also? Head on over to the Silk Sideline Meat "headquarters" for some awesome recipe inspiration and a chance to win a pretty crazy awesome giveaway!
Loaded Vegetarian Sloppy Joe Baked Sweet Potatoes
Meatless Monday meets Monday Night Football! These loaded vegetarian sloppy joe baked sweet potatoes are hearty enough to satisfy even the most carnivorous of eaters.
Ingredients
6 medium sweet potatoes
1 cup uncooked green lentils
1 tbsp olive oil
1 onion, chopped
1 medium carrot, chopped
4 cups broccoli florets, chopped
1 tsp smoked paprika
1 tbsp ancho chili powder
1 (15 oz) canned fire roasted diced tomatoes
¼ cup tomato paste
2 tbsp apple cider vinegar
1½ tbsp maple syrup
1 cup vegetable broth
¼ cup unsweetened almond milk
pickled jalapenos, to taste
Instructions
Heat oven to 450. Prick sweet potatoes all over with a fork and place on a parchment-lined baking sheet. Roast for 45 minutes to an hour, or until fork tender, flipping over halfway.
Meanwhile, place the lentils in a pot and cover with cold water. Bring to a boil and lower heat, simmering, for 25 minutes. Drain.
While the lentils are cooking, heat the oil in a large pot. Stir in the onion, season with salt, and saute, stirring frequently until tender, about 6-8 minutes.
Stir in the carrot and broccoli and saute for another 2-3 minutes. Add the smoked paprika and cumin to the pan. Stir for 30 seconds, or until fragrant. Slowly stir in the tomatoes, tomato paste, apple cider vinegar, maple syrup, vegetable broth, and almond milk. Bring to a simmer.
Stir in the lentils and simmer for 15-20 minutes , or until thickened. Season to taste with salt and black pepper.
Cut the sweet potatoes in the center to make a pocket for holding the sloppy joe mixture. Spoon sloppy joe mixture evenly into all of the sweet potatoes. Serve topped with pickled jalapenos.
Nutrition Information
Serving size:
1 loaded sweet potato
This conversation is sponsored by Silk. The opinions and text are all mine.