Parmesan and black pepper biscotti are the perfect salty, savory, cheesy soup dunkers.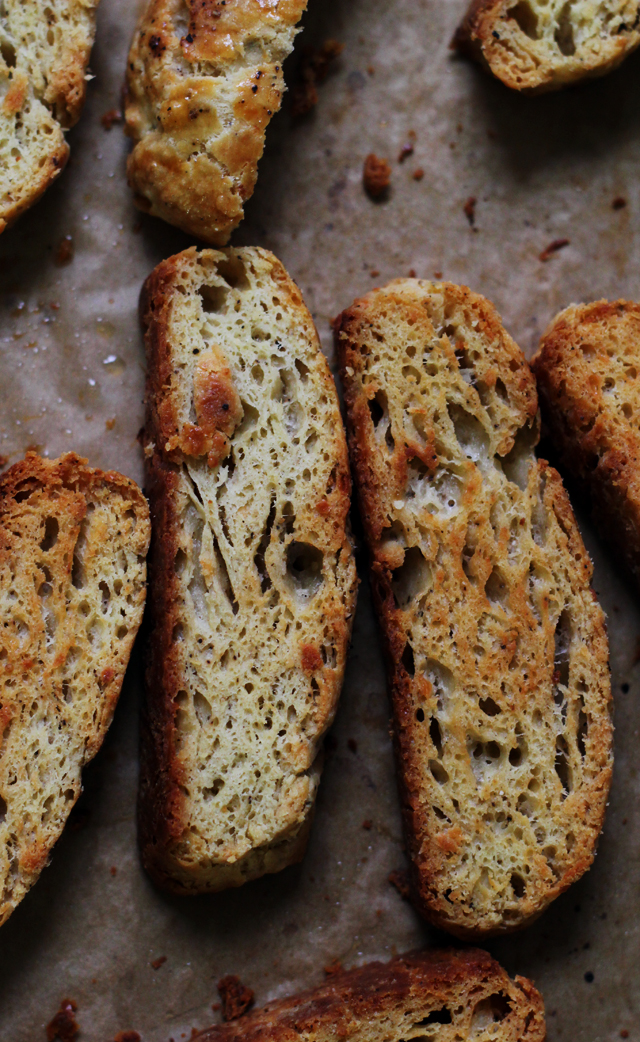 We can't be expected to just quit cookies cold turkey, you know.
One minute they're breakfast, lunch, dinner, and second dinner (aka dessert)…and the next we're cleaning our pantries to make way for quinoa and lentils and all things virtuous, and tossing them in the trash like they're yesterday's news.
We appall me. Really.
Well I, for one, am taking a stand.
There will be cookies in my kitchen and I WILL LIKE IT.
I will really like it when they're cheesy and salty and the perfect dunkers for tomato soup, chili, and pretty much all the hot belly-warming things I want to be eating right now because WINTER.
Parmesan and black pepper biscotti = you complete me.
This recipes makes a SURPLUS of biscotti (in a good way), so I sent some of the extras to my Leftovers Club partner, Ginger of Stark Raving Delicious. She sent me THE MOST FABULOUS almond sugar cookies. I won't tell you how many of them the.boy and I ate within the first 24 hours of having them (all of them). You probably want to go get the recipe from her. Just saying.
Parmesan and Black Pepper Biscotti
Parmesan and black pepper biscotti are the perfect salty, savory, cheesy soup dunkers.
Ingredients
1½ tbsp whole black peppercorns
4 cups all purpose flour
2 tsp baking powder
2 tsp salt
4 oz Parmigiano-Reggiano, finely grated
1½ sticks cold unsalted butter, cut into ½-inch cubes
4 large eggs
1 cup whole milk
Instructions
Heat oven to 350F.
Pulse the peppercorns in a spice or coffee grinder until coarsely ground.
In a large bowl, whisk together the flour, baking powder, salt, cheese, and 1 tbsp of the black pepper. Cut the butter into the flour mixture until it resembles coarse sand. Mix three of the eggs and milk into the dough with a fork until the dough comes together.
Divide the dough into quarters. Form each piece into a 12-inch log. Transfer to two parchment-lined baking sheets (two logs on each).
Whisk the remaining egg and brush it onto the surface of the logs. Sprinkle with the remaining pepper. Put in the oven and bake, rotating the sheets halfway through baking, until the logs are pale gold, about 30 minutes total. Cool for 10 minutes.
Lower oven to 300F.
Cut each log on a diagonal into ½-inch thick slices. Arrange on the baking sheets, cut side down. Bake, turning biscotti once, until golden and crisp, 35-45 minutes. Cool on baking sheets for 15 minutes before removing to a wire rack to cool completely.
 Looking for soup to dunk these in? Check out these: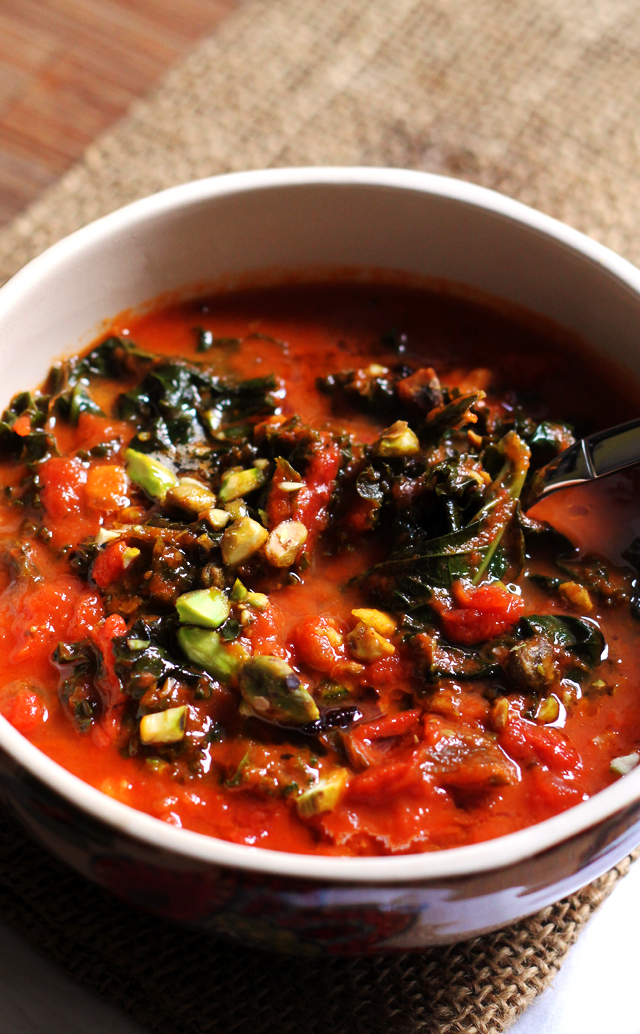 Tomato Soup with Brown Butter, Kale, and Pistachios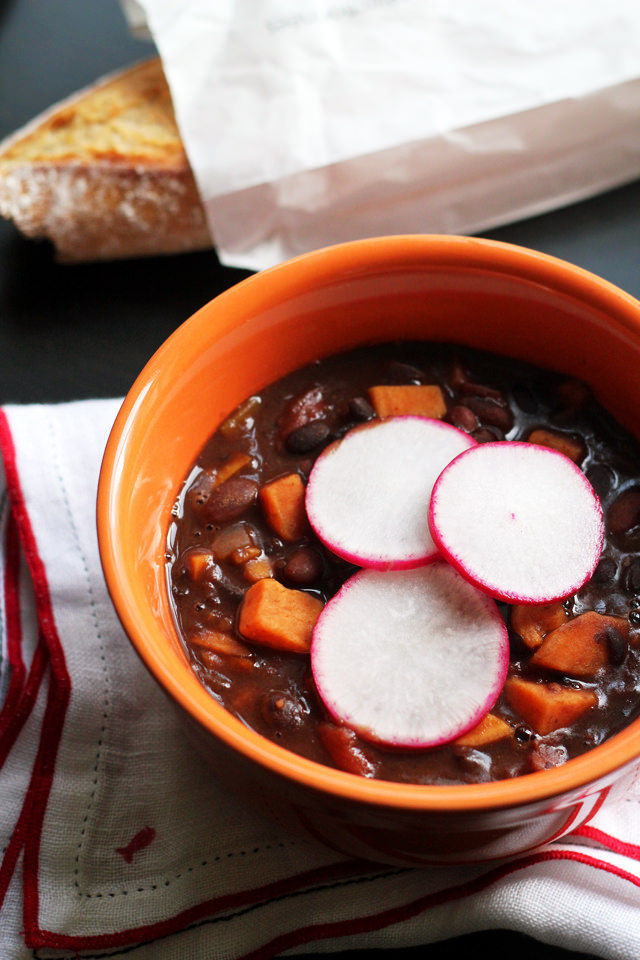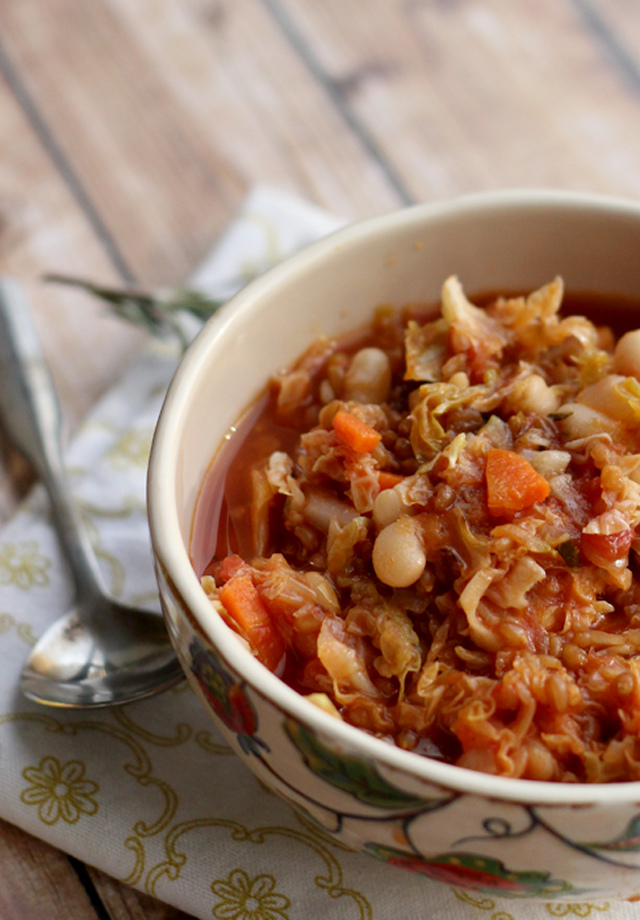 Wheat Berry and White Bean Soup with Savoy Cabbage
From Around the Web:
Farro and Quinoa Sriracha Chili from Bakeaholic Mama
Cauliflower Roasted Red Pepper Soup from Gal On A Mission
Vegan Carrot Jalapeno Soup from Joy the Baker
Fall Harvest Vegetarian Chili from The Roasted Root
Smoked Paprika Sweet Potato Soup from Naturally Ella