Almost like a savory cheesecake, this meyer lemon and black pepper quiche is creamy and decadent. It is great for an Easter morning breakfast or a light lunch or dinner.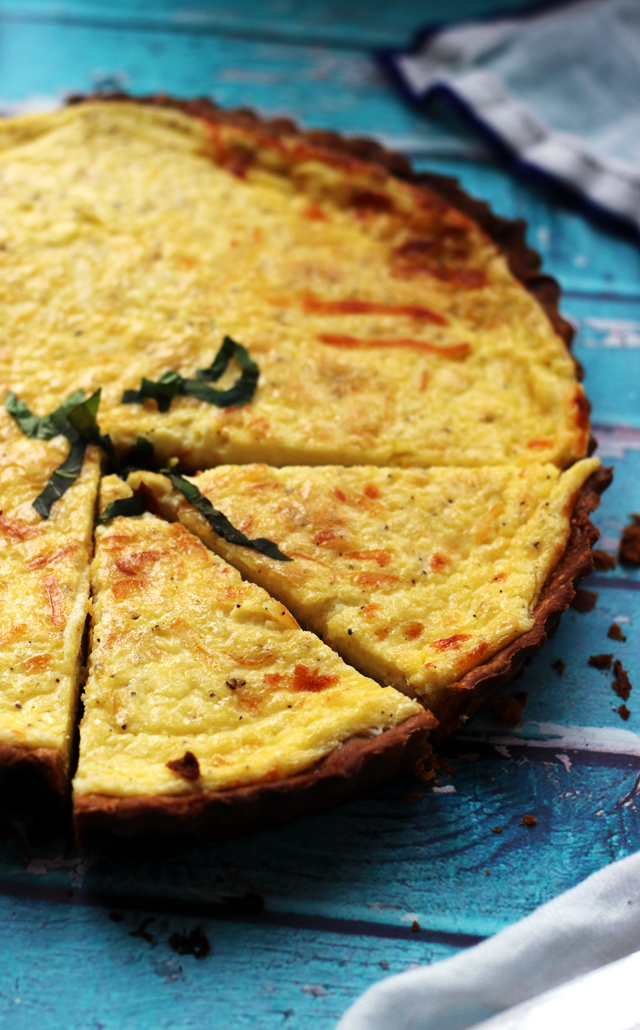 I'm beginning to realize that when you do it right, quiche is actually code for
SAVORY CHEESECAKE.
So, basically I've been doing it wrong my whole life. And eating it wrong my whole life.
But now. I'm a changed woman.
And because of this, I'll probably never be able to order quiche in a restaurant again or eat it at a baby shower (because where else do people really eat quiches?!).
Please don't be offended if it's your baby shower and your mom made it from scratch.
But unless it has half a pound of cheese in it and a whole lotta creme fraiche and way too much half and half for anyone's good…I'm not biting. Literally.
Again. Sorry.
So, yeah, this quiche is super rich and filled with all the best things we know we shouldn't be eating, but did I also mention the lemon juice and zest???
They totally cut the decadence while the black pepper scattered throughout adds just enough spice to keep your tongue buzzing. In a good way, obviously.
The original recipe is from the good old Baked boys and while I normally try not to make a practice of googling the cookbook recipes I'm planning to make to see what others thought of them  (at least until after I make them and have experienced them firsthand)….I totally did with this one. I don't even know why.
And honestly….it got really mixed reviews. A lot of people felt the lemon flavor was way too overpowering. Off-puttingly so.
I really can't imagine the flavor of lemon having such an effect on me because I downright adore it, but the.boy is not its biggest fan and Remy's taste bud opinions fluctuate on an hourly basis, so I decided to make it with a meyer lemon instead of a regular lemon to try to see if that would help it to appeal to more palates.
Suffice it to say, I definitely think going with the meyer helped. The juice is fruitier, the skin is thinner, and its just an all-around better lemon in this context.
So if you're tempted to switch out the meyer for a regular lemon….DON'T DO IT!!!
Unless you really love lemon. In which case: proceed at your own risk.
But don't say I didn't warn you.
Creamy Meyer Lemon and Black Pepper Quiche
Almost like a savory cheesecake, this meyer lemon and black pepper quiche is creamy and decadent. It is great for an Easter morning breakfast or a light lunch or dinner.
Ingredients
For the pie crust
1½ cups flour
½ tbsp sugar
½ tsp fine sea salt
4 oz (1 stick) cold unsalted butter cut into ½-inch cubes
⅓ cup ice water
For the quiche
3 tbsp flour
2 large eggs and 2 large egg yolks
1 cup half and half
1 cup creme fraiche
juice of ½ meyer lemon
zest of 1 meyer lemon
1 tsp salt
1½ tsp ground black pepper
½ lb grated mozzarella
Instructions
For the crust
Whisk together the flour, sugar, and sea salt in the bowl of a food processor. Pulse a few times to combine. Add the butter and pulse again until the butter is broken down into pea-sized pieces.
Slowly drizzle the water into the food processor while continuously pulsing. As soon as the dough starts to come together into a ball, stop adding the water.
Remove the dough from the food processor and flatten into a disk. Wrap in plastic wrap and refrigerate until firm, about 1 hour or overnight.
For the quiche
Grease the bottom and sides of a 9-inch tart pan with a removable bottom.
Remove the chilled dough from the fridge and roll it out to an 11-inch circle on a floured work surface. Transfer the dough to the prepared pan and carefully press it into the bottom and up the sides. Cover with plastic wrap and place in the freezer for 2-3 hours or overnight.
When ready to bake, heat oven to 375F.
Remove the chilled tart pan from the freezer and prick the bottom all over with a fork. Line the inside of the tart shell with aluminum foil or parchment paper and fill it with pie weights or baking beans. Bake for 25-30 minutes, or until the edges just start to brown. Remove the foil and weights and bake for another 7-10 minutes, or until lightly golden. Allow to cool on a wire rack.
While the tart crust cools, make the quiche filling. Whisk together the flour, eggs, and egg yolks in a large bowl until smooth. In a separate bowl, whisk together the half and half, creme fraiche, and lemon juice until well combined. Add the half and half mixture to the flour mixture, whisking gently until combined. Stir in the lemon zest, salt and black pepper. Whisk until combined.
Wrap the outside of the cooled tart pan with aluminum foil.
Sprinkle the mozzarella over the crust. Pour the egg mixture over the cheese, filling to the lip of the tart shell even if you have extra filling. Carefully place on a large baking sheet. Put in the oven and bake for 25-30 minutes, or until the filling is set and a small knife inserted in the center comes out clean. Remove from the oven and allow to cool for at least 30 minutes.
Serve warm.
Notes
Adapted very slightly from
Baked Elements: The Importance of Being Baked in 10 Favorite Ingredients