Hot summer nights call for light dinners, like these caramelized onion, spinach, roasted red pepper and ricotta salata crostini!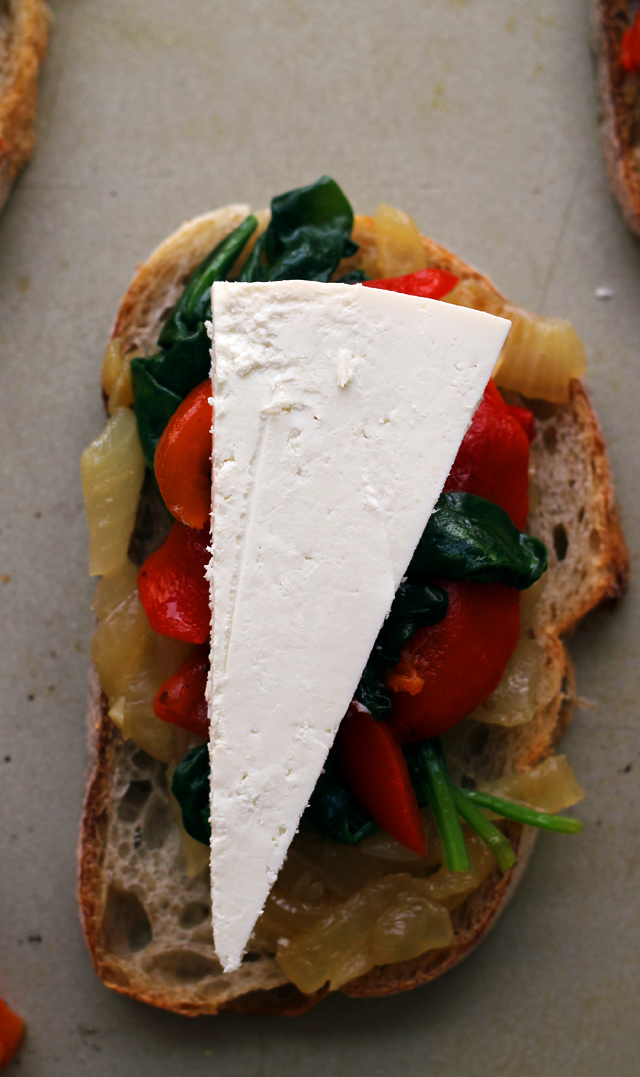 Often times at work, when I'm in the middle of an experimental lull or just need a break from staring at fat cells, I'll daydream about what kind of cookbook I'd write if someone walked into the lab at that second, put a gun to my head, and screamed "WRITE A COOKBOOK. NOW."
Well, twist my arm, why don't you.
For awhile I was really gung-ho about the idea of an entire cookbook devoted to vegetarian brunch, and I even have a Google Keep list of recipe ideas to prove it. I strongly considered developing all the recipes for it in secret, and then mailing a "finished" version to a publishing house along with a note that said, "Take me now!", but common sense combined with the fact that I have no time to develop non-secret recipes, let alone secret recipes, dictated against it.
And now it is summer, and I am fixated on crostini, so that pipedream has been put on hold so I can spend my unoccupied waking hours figuring out all the possible combinations of bread+vegetables+cheese that I want to eat over the course of the next 90 days.
FYI – there are many.
This week's fantasy involved a sweet caramelized onion base, topped with lightly wilted spinach, roasted red peppers and a slice of ricotta salata to tie it all together. And luckily, because of the simple nature of crostini, it didn't take multiple attempts to get it right. Bingo on the first try.
Move aside vegetarian brunch. There's a new imaginary cookbook proposal in town.
You know, until fall comes along, and I take up with my "Pumpkins, Winter Squashes, and Gourds – Oh My!" idea again.
But until then. Crostini. Where it's at.
Caramelized Onion, Spinach, Roasted Red Pepper and Ricotta Salata Crostini
Hot summer nights call for light dinners, like these caramelized onion, spinach, roasted red pepper and ricotta salata crostini!
Ingredients
3 tbsp olive oil
2 large Vidalia onions, thinly sliced
salt and black pepper, to taste
5 oz baby spinach, washed
1 loaf ciabatta bread, sliced
½ lb roasted red peppers, thinly sliced
½ lb ricotta salata
Instructions
Heat the olive oil over medium-high heat. Add the onions to the pan and stir to coat with the oil. Cook for 20 minutes, stirring every five minutes or so, and then turn the heat down to low and cook for another half hour, stirring frequently, or until onions are brown. Season to taste with salt and black pepper.
Meanwhile, in a large pan, saute the spinach until wilted, adding a tablespoon of water to the pan to help steam it. Set aside.
Set out 12 slices of ciabatta bread. Divide the caramelized onions, cooked baby spinach, and roasted red peppers among the bread slices, layering them on top of each. Top with a slice of ricotta salata and serve.
Notes
Recipe adapted from
Vegetable Literacy: Cooking and Gardening with Twelve Families from the Edible Plant Kingdom, with over 300 Deliciously Simple Recipes
For more summer appetizer ideas, check out these: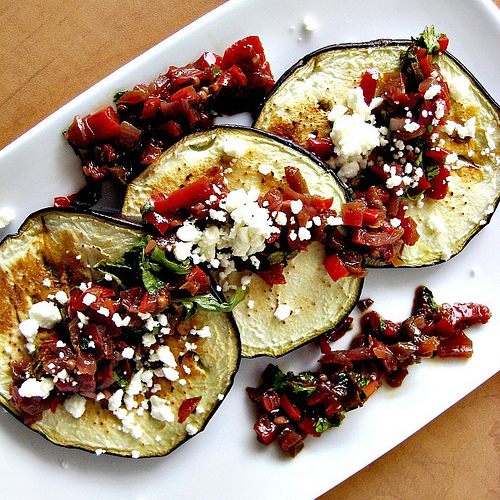 Eggplant Crostini with Red Pepper Relish and Feta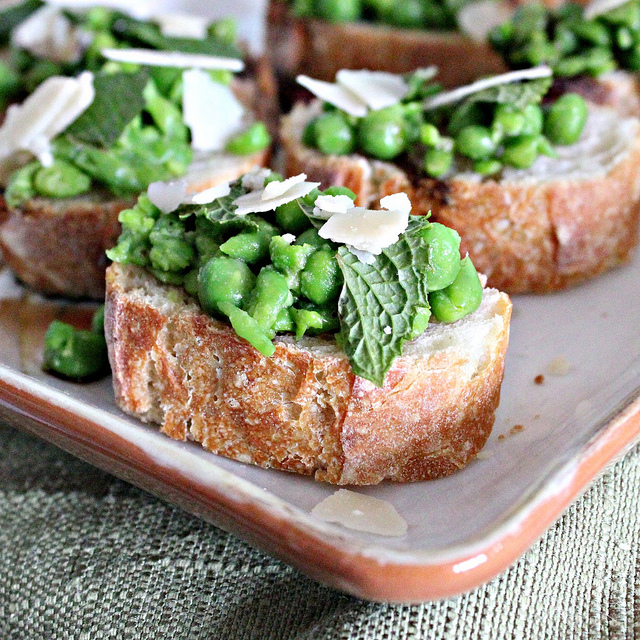 Pea, Mint and Parmesan Crostini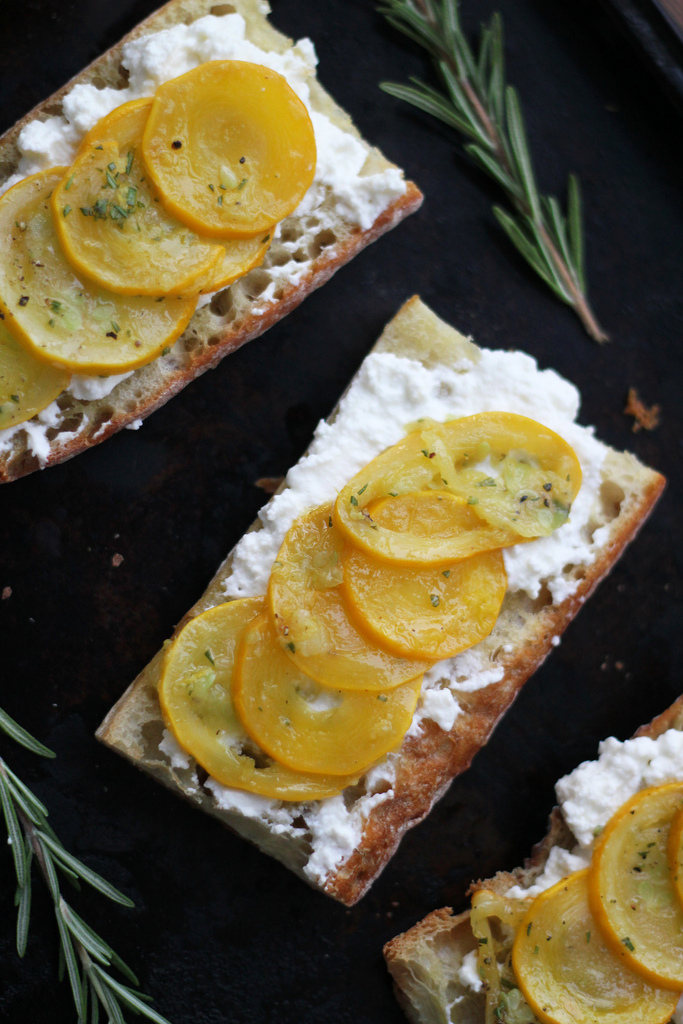 Summer Squash Tartines with Ricotta, Rosemary and Lemon
From Around the Web:
Strawberry, Brie Cheese, Honey and Basil Crostini from Cookin Canuck
Crostini with Peaches, Blue Cheese and Honey from Bev Cooks
Nectarine and Burrata Bite Crostini from Foodiecrush
Smoky Lemony Chickpea Crostini from Casa Yellow
Roasted Beet, Arugula, Goat Cheese and Honey Crostini from Gimme Some Oven