Silk chocolate cream pie encased in a salty buttery pecan crust and topped with a whipped cream cloud.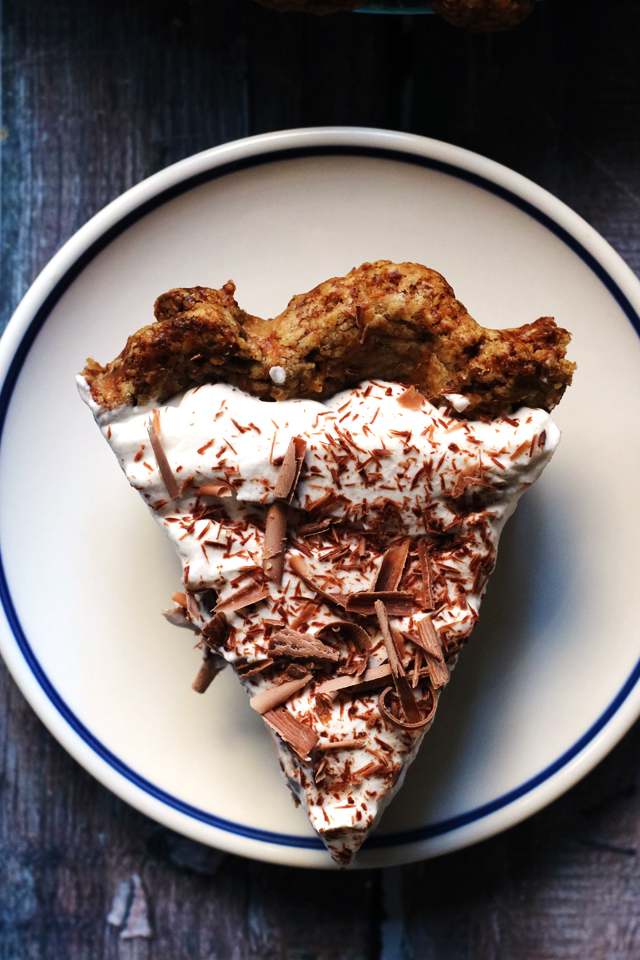 I was hit with the stark realization yesterday that Thanksgiving is in TWO WEEKS.
That's 14 days. 336 hours. Basically no time at all.
And here I am with like 12 pie recipes in my draft folder, apparently twiddling my thumbs instead of sharing them with you.
Denial chocolate cream pie, anyone?
It's a good one.
I actually probably won't even get to celebrate Thanksgiving this year.
That hospital medicine life, yo.
Apparently people don't not get sick just because it's a national holiday. What can you do.
BUT that won't stop me baking all the pies as if I were getting to celebrate.
And subsequently holing myself up in a call room somewhere while eating all my feelings.
One silk chocolate cream pie slice at a time.
Growing up, we always always had chocolate pudding pie on the Thanksgiving table.
But we're talking pie made with a pre-made Keebler graham cracker crust and filled with Jello pudding.
Zero percent fancy, but still pretty good especially when topped with squirts of Reddi-whip straight from the can.
This is the from-scratch version of that pie memory.
But approximately six trillion times better.
The filling is dark, silky, smooth – the absolute definition of melt-in-your-mouth. It's encased in a crisp, salty, nutty pecan-based crust and smothered in a fluffy whipped cream cloud.
Should you make it for Thanksgiving, be forewarned that it will likely elicit sounds from your friends and family that you'll wish you'd never heard. Guttural, animal, involuntary sounds. Brace yourself.
Silk Chocolate Cream Pie with Salty Pecan Crust
Silk chocolate cream pie encased in a salty buttery pecan crust and topped with a whipped cream cloud.
Ingredients
For the pecan pastry dough
½ cup pecans, halves or pieces
1⅓ cups all purpose flour
1 tbsp + 2 tsp brown sugar
1½ tsp kosher salt
½ cup + 2 tbsp unsalted butter, cut into ½-inch dice, very cold
3-4 tbsp ice-cold water
1 tsp distilled white vinegar
For the chocolate filling
5 oz chopped milk chocolate
3 oz bittersweet chocolate, chopped
¼ cup light corn syrup
2 tsp vanilla extract
½ tsp kosher salt
5 large egg yolks
¼ cup + 1 tbsp brown sugar
¾ cup milk
¾ cup heavy cream
3 tbsp unsweetened cocoa powder
For the whipped cream topping
1½ cups heavy cream
2 tbsp + 1 tsp brown sugar
1 tsp pure vanilla extract
chocolate shavings or curls
Instructions
For the crust
Place the pecans in the bowl of a food processor. Pulse until finely ground. Add the flour, brown sugar, and salt to the food processor bowl. Pulse another 2-3 times. Scrape down the sides of the bowl and pulse again, then add the butter cubes and pulse for 10 or so times, until the butter is just smaller than the size of peas.
Combine 3 tbsp of the ice water with the vinegar in a small bowl. Slowly pour the water-vinegar mixture through the feed tube of the food processor and pulse 3-4 more times, or until the dough is starting to look shaggy. Remove the lid and try to squeeze the dough between your fingers. If it clumps then it is good to go. If it is still too dry, add the remaining tbsp of water.
Place the dough onto a piece of plastic wrap and gather into a disk. Flatten and wrap in the plastic wrap. Refrigerate for at least 2 hours.
Unwrap the chilled dough and place it on a lightly floured work surface. Roll the dough into a 12-inch round. Transfer to a 9-inch pie pan. Press the dough into the sides of the pan to set it into place.
Trim the excess dough to a 1-inch overhang. Fold the overhang up and over, pinching to form a crimped pastry rim. Chill for 2 hours or overnight before blind baking.
To blind bake the crust, heat oven to 350F. Line the chilled pastry shell with parchment paper and fill with dried beans. Bake until the bottom of the dough is baked through but not yet brown, about 55-60 minutes. Remove from the oven and remove the beans and paper. Return to the oven and bake until lightly golden, about 15 minutes. Remove from the oven and allow to cool completely.
For the chocolate filling
To make the filling, place both chocolates, the corn syrup, vanilla, and salt in the bowl of a food processor. Set aside.
In a separate bowl, whisk together the egg yolks and brown sugar until combined and slightly pale. Set aside.
Combine the milk, cream, and cocoa powder in a heavy-bottomed saucepan over medium-high heat. Whisk frequently. Once hot and about to simmer, add a third of the cream mixture to the yolk-sugar mixture, whisking immediately afterward. Add the yolk-sugar mixture to the saucepan, reduce the heat to medium, and stir immediately with a heatproof spatula. Switch to a whisk and continue to cook, whisking until thickened, about 4 minutes.
Pour the hot yolk mixture through a fine-mesh sieve set over the food processor with the chocolate in it. Force it through with a rubber spatula, if necessary. Place the lid on the food processor and run it for 1 minute. Scrape it down with a rubber spatula and run it until smooth, about 1 more minute.
Transfer the chocolate filling to the prebaked pastry shell. Smooth the top into an even layer. Refrigerate for at least 2 hours, or until set.
Once filling is set, make the topping. Combine the cream, brown sugar, and vanilla in the bowl of a hand mixer fitted with the whisk. Beat until stiff peaks form. Pour the whipped cream over the pie and use a rubber spatula to spread it so that it covers the pie completely. Top with the chocolate curls and serve.
Notes
Recipe from
The Dahlia Bakery Cookbook: Sweetness in Seattle
More pies for Thanksgiving: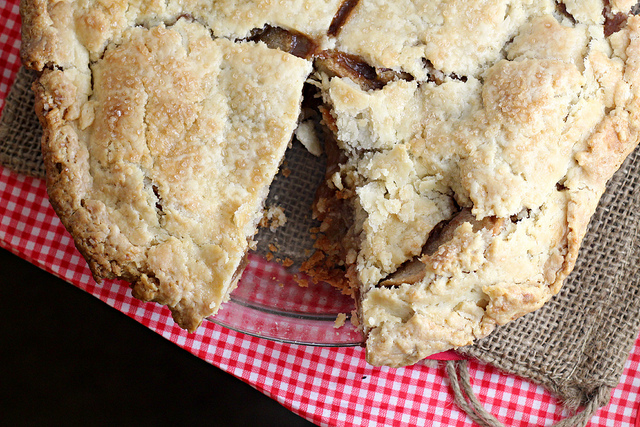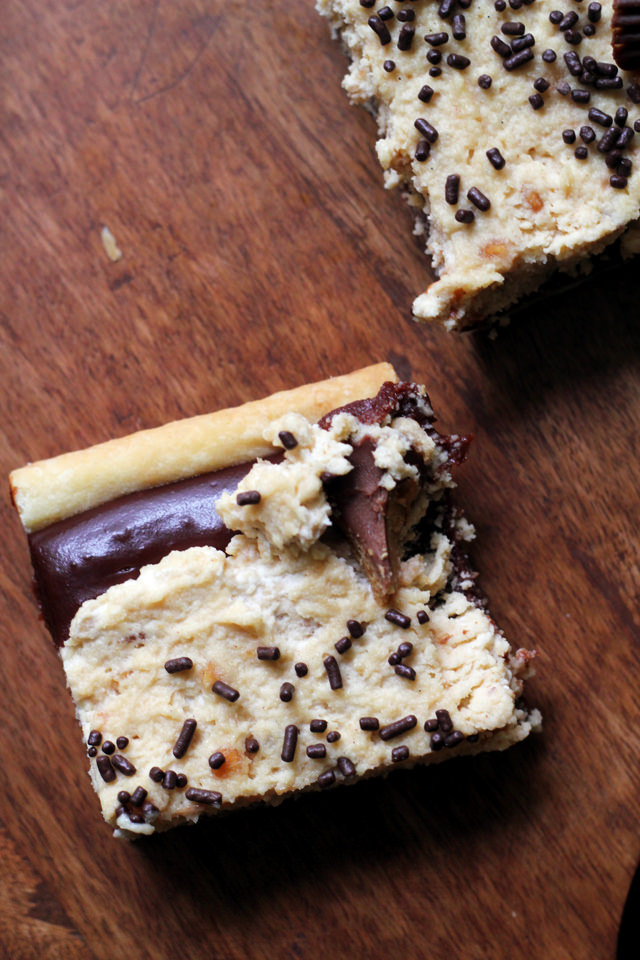 Chocolate Pudding Slab Pie with Peanut Butter Mascarpone Whipped Cream