Eggplant meatball parm heroes are a vegetarian twist on a comfort food classic.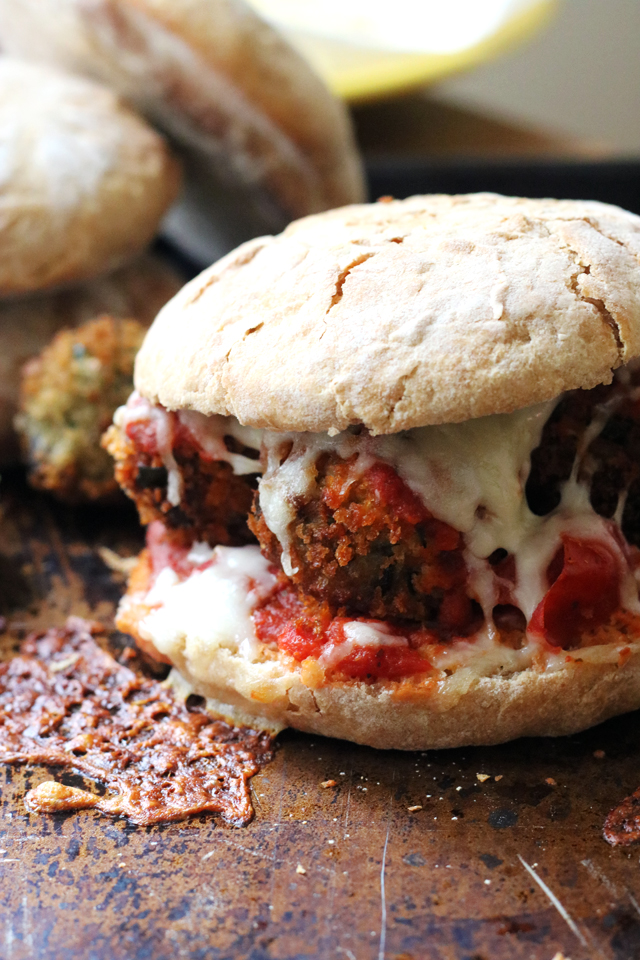 Because I officially put all of Remy's summer clothes away yesterday and restocked her dresser with 50 shades of corduroy, denim, and flannel, now I am legit in fall mode.
Just in time for winter!!!
JK. Time, SLOW DOWN.
Honestly, I really think I spent the last two months in total denial that summer had come and gone. It obviously doesn't help the situation that the weather is still intermittently in the 80s.  Like, I'm pretty sure I tried to order heirloom tomatoes with my groceries last week and was irate when no one was still carrying them. Who can crave pumpkin spice under conditions like these?!
Anyway, I'm finally ready to accept that it's actually November, which means that all the comfort food, pies, dessert, casseroles that have been lurking in the back of my mind can finally come to fruition. Starting with these eggplant parm "meat"ball heroes!!
If you've spent some time around these parts in the past few years then you know that my eggplant ball obsession knows no bounds. I've turned them into burgers, mixed them into soup, and now I'm reinventing them as these LOADED comfort food sandwiches. One bite was exactly the reality check I needed to remind myself that, yes it's fall. And yes, I'm okay with it.

Eggplant Meatball Parm Heroes
Eggplant meatball parm heroes are a vegetarian twist on a comfort food classic.
Ingredients
For the eggplant balls
1 large eggplant, unpeeled
salt, to taste
1 cup + ⅓ cup panko breadcrumbs, divided
¼ cup grated parmesan cheese
2 tbsp minced parsley
1 garlic clove, minced
freshly ground black pepper
1 large egg, lightly beaten
extra virgin olive oil, for frying
For the sandwiches
24 oz marinara sauce
8 oz mozzarella, grated
4 sandwich buns
Instructions
For the eggplant balls
To make the veggie balls, cut the eggplant into 1-inch cubes. Bring 2 quarts of water with 1 tbsp salt mixed in to a boil over high heat. Add the eggplant and boil, uncovered, for 10 minutes or until the eggplant is cooked, pressing them down into the water regularly. Drain in a colander and push out as much water from them as you can using the back of a spoon. Finely chop the eggplant.
In a bowl, combine the eggplant, 1 cup of panko, cheese, parsley, and garlic. Season to taste with salt and black pepper. Mix in the egg.
Roll the eggplant mixture into small balls that are about 1-inch in diameter and set them on a platter. Put the remaining panko in a small bowl and roll each ball in the breadcrumbs to coat evenly. Set the coated balls on a clean tray.
Pour the olive oil into a 10-inch skillet to a depth of ½ inch. Turn the heat to medium and when the oil begins to shimmer, put a test ball in the skillet. If it sizzles immediately, then the oil is hot enough. When the oil is ready, carefully put the balls in the skillet in a single layer.
Fry, turning gently with a spoon, until browned all over, about 3 minutes total. Remove with a slotted spoon to a paper towel-lined plate. Repeat with the remaining balls until all of them have been cooked. Set aside.
For the sandwiches
Heat oven to 400F.
Cut the sandwich buns in half. Top the bottom halves with the eggplant balls, a layer of marinara sauce, and a layer of mozzarella. Place on a parchment-lined baking sheet along with the sandwich bun top halves, cut-side up. Bake for 10-15 minutes or until the mozzarella is melted and the buns are crispy. Serve warm.
Notes
Eggplant balls adapted from
My Calabria: Rustic Family Cooking from Italy's Undiscovered South
More eggplant ball love: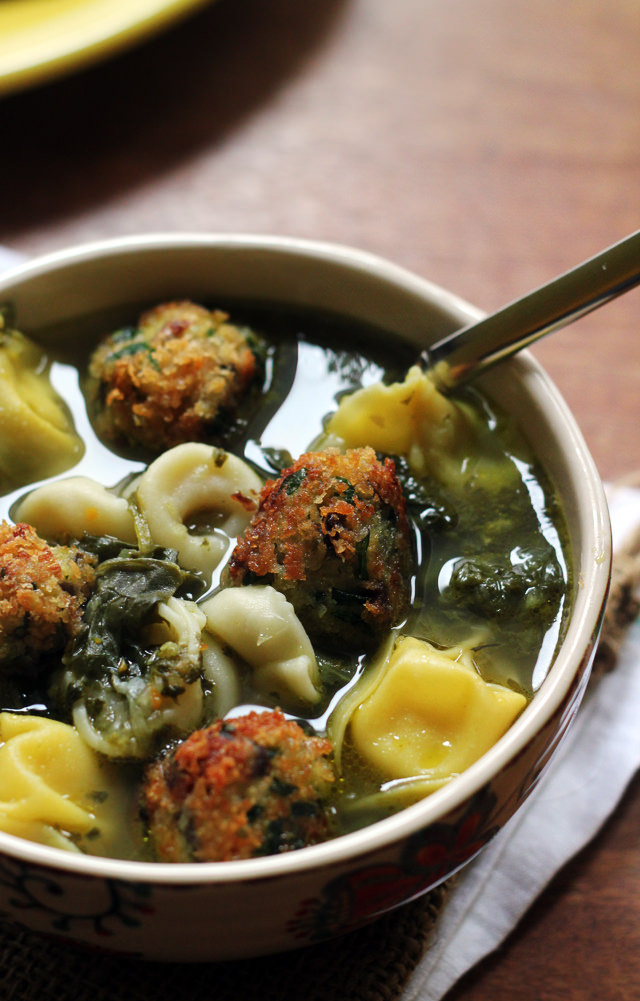 Italian Wedding Soup with Veggie Balls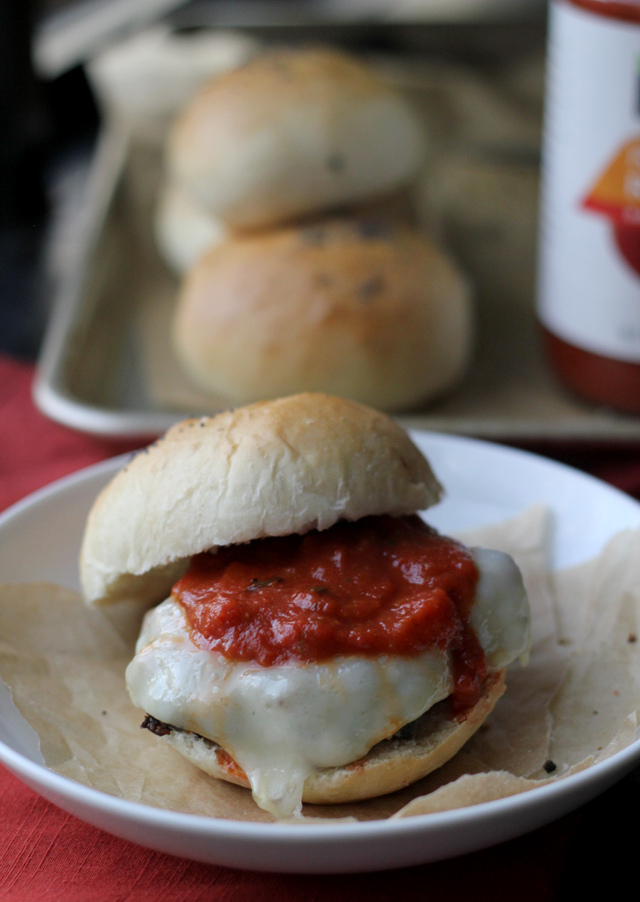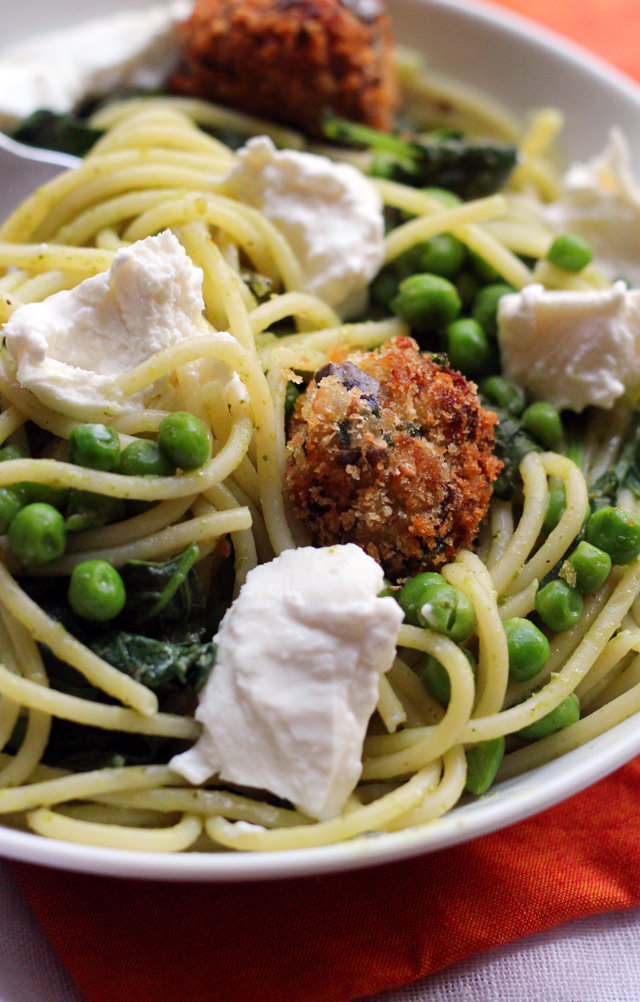 Spaghetti with Eggplant Balls, Pesto, Peas, and Greens