A rich dark chocolate cream pie with a buttery, cookie-like crust, a rich chocolate cream filling, and piles of homemade whipped cream on top.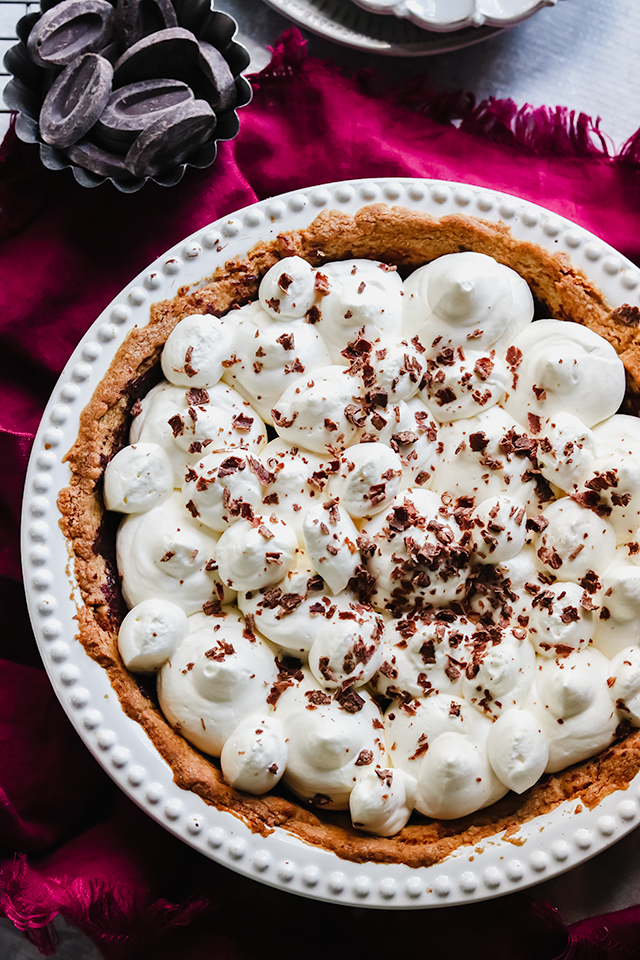 The frenzy that is Thanksgiving pie season may be over but the good news is that one does not need a reason to make dark chocolate cream pie!
However, in case you needed some, I have (at least) three.
There's a deep dark chocolate pudding-meets-ganache filling.
A buttery shortbread cookie-like crust.
Pillows of whipped cream for sleeping on eating.
Not to mention the extreme JOY it will bring to any and everyone you so deign to share it with (but no judgment if you eat it all yourself).
As a further ringing endorsement, I have to tell you that this is the ONE and ONLY pie I made for Thanksgiving this year. It was just the three of us and as much as I wanted to make a pie smorgasbord, common sense (and my husband) convinced me it might be a little excessive.
Chocolate pudding pie has been a staple at my family's Thanksgivings for as long as I can remember, so I couldn't even been surprised when Remy chose it for our Thanksgiving dessert. That's genetics for you.
As much as I will always have nostalgia for the pre-made Nabisco graham cracker crust and the Jell-O chocolate pudding packets my mom always used for her pies, I decided to step it up this year with the dark chocolate cream pie from the Flour Bakery cookbook by Joanne Chang. This is one of the baking books I turn to again and again for foolproof, high quality desserts (and some savory bakes, too!).
If you follow Joanne Chang on Instagram, then you have definitely seen the Flour Bakery version of this pie. Piled high with whipped cream and smothered in chocolate shavings, it is unmissable and truly the stuff that dessert dreams are made of.
This pie starts with a pate sucree crust, which is more like a cookie crust than anything else. This dough is a bit more difficult to work with than your usual pie crust because the extra sugar and egg yolk make it a bit more fragile and delicate. That being said, unlike typical pie dough it is not absolutely crucial that it be kept super cold when rolling it out so you can poke it and prod it to patch up any cracks or holes that inevitably form in the process. The pie crust is pre-baked and then covered with a thin layer of melted chocolate which acts as a protective barrier against the wet chocolate filling that will ultimately be poured into it. 
The chocolate filling is richer than a pudding and lighter than a ganache, falling somewhere in the middle. Make sure to use a good quality bittersweet chocolate (I used Valrhona Araguani) since the chocolate flavor is pretty much the star here. It should be at least 62% cocoa to get that really dark, deep flavor.
Also of note, the chocolate layer will need time to set after making it so be sure to plan accordingly. I made the pie the night before we planned to eat it so that it would have plenty of time to rest in the fridge overnight.
Homemade whipped cream is piled on top before serving and adds a lightness to the other rich components. This whipped cream is stabilized with a bit of cornstarch so that it will hold up even with extended time in the fridge. If you plan to serve (and eat all of it) immediately, then you can likely omit the cornstarch since the cream won't need as much staying power.
Dark Chocolate Cream Pie
A rich dark chocolate cream pie with a buttery, cookie-like crust, a rich chocolate cream filling, and piles of homemade whipped cream on top.
Ingredients
For the pate sucree
½ cup (114 g) unsalted butter, room temperature
¼ cup (50 g) sugar
½ tsp kosher salt
1 cup (140 g) all purpose flour
1 egg yolk
For the pie
6 oz (168 g) bittersweet chocolate, chopped
¾ cup (180 g) half and half
2½ cups (600 g) heavy cream
4 egg yolks
⅓ cup (70 g) sugar
¼ tsp vanilla extract
¼ tsp kosher salt
3 tbsp powdered sugar
1 tbsp cornstarch
slab milk chocolate, for decorating
Instructions
For the pate sucree
Combine the butter, sugar, and salt in the bowl of a stand mixer fitted with the paddle attachment. Cream together for 2-3 minutes on medium-high speed. Scrape down the sides of the bowl, then add in the flour and mix on low speed for 30 seconds or until combined. Add in the egg yolk and mix for another 30 seconds or just until the dough comes together.
Pat the dough into a disc and wrap tightly in plastic wrap. Refrigerate for 1 hour.
Remove the dough from the refrigerator and allow to soften at room temperature for 30 minutes. Roll the dough between two pieces of parchment paper into 10 to 11-inch pie shell, then fit into a 9 inch pie pan. If it breaks, then patch up any tears using dough from the edges or by gently pressing the dough back together in the pan. Trim the dough so that it is even with the rim of the pan.
Freeze for 30 minutes.
For the pie
Heat oven to 350F.
Bake the prepared, chilled pie crust for 30-35 minutes or until golden. While still warm, sprinkle with 1 oz (25 g) of the bittersweet chocolate. Return to the oven for 30 seconds. Then remove from the oven and brush the melted chocolate all over the bottom and up the sides of the pie shell. Set aside to cool.
Meanwhile, combine the half and half and 1 cup (240 g) of the heavy cream in a medium pan. Scald over medium-high heat (ie cook just until small bubbles form on the edges of the pan).
Pour the remaining 5 oz (140 g) of chocolate in a heatproof bowl and melt in the microwave or over a double boiler. Remove from the heat and pour the hot cream over the melted chocolate. Whisk until completely combined.
Place the egg yolks in a medium bowl and whisk in the sugar. Slowly pour the hot chocolate-cream mixture into the egg-sugar mixture a little at a time to temper it, whisking constantly. Once all of the chocolate-cream mixture has been incorporated into the eggs, pour the entire thing back into the saucepan that you used to scald the milk. Over medium-low heat cook, stirring constantly, for 6-7 minutes or until the mixture thickens enough to coat the back of a spoon.
Once ready, stir in the vanilla and salt and pour into the prepared pie shell. Refrigerate, uncovered, for 8 hours or overnight.
To make the whipped cream, combine the remaining 1½ cups (360 g) heavy cream, powdered sugar, and cornstarch in the bowl of a stand mixer fitted with the whisk attachment until stiff peaks form.
Spoon or pipe the whipped cream onto the chocolate filling. Shave pieces of the milk chocolate bar on top for decoration, if desired. Slice and serve.