Masala smashed potatoes are the ultimate side dish with a crispy potato skin exterior that is smothered in the perfect balance of spices and topped with a cooling cilantro yogurt sauce.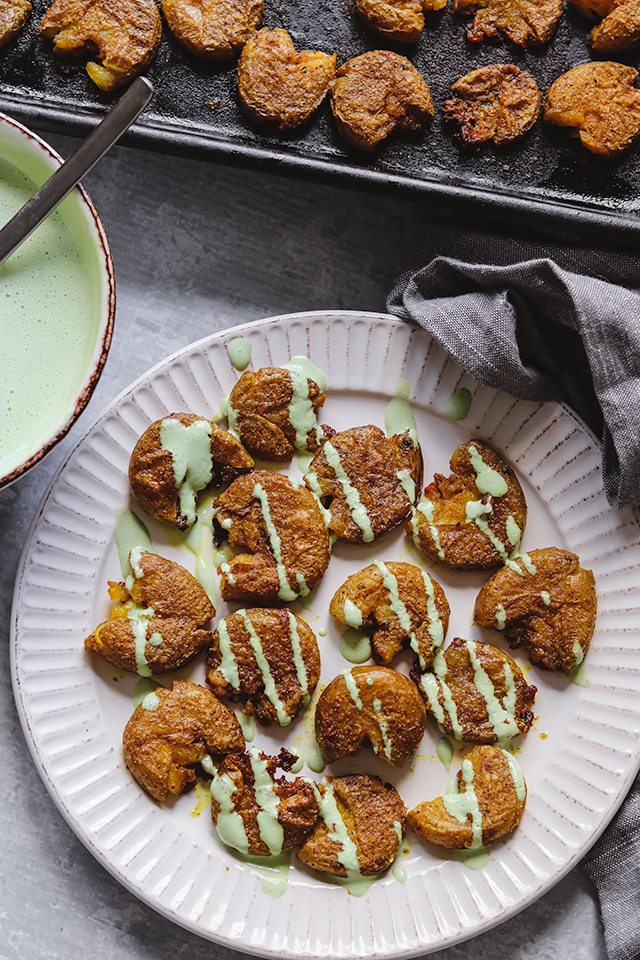 Crispy masala smashed potatoes are my absolute favorite way to potato!!
I may love them even more than fries. No, seriously.
They are everything a potato should be – crispy on the outside, creamy on the inside with a salty savory spicy exterior that keeps you coming back for more. No vats of hot oil required.
What a dreamboat.
I wish I could take credit for these little bites of heaven, but I can't. The recipe is from the newest addition to my cookbook collection – Mumbai Modern by Amisha Dodhia Gurbani of The Jam Lab blog. I first stumbled across Amisha's creations on Instagram where I was immediately captivated by her use of Indian flavors, both in traditional Indian recipes as well as in more fusion-y dishes. When I saw she was writing a (vegetarian!) cookbook, I raced to pre-order it as soon as it was available. 
When it finally arrived in early November, it was hard to decide what to make first since every recipe looks truly amazing. As much as I wanted to tackle one of the more complicated baked goods (Chocolate Cardamom Pastry Cream, Halvah, and Pistachio Danishes I'M LOOKING AT YOU), I just couldn't work up my baking mojo to do it (thanks pregnancy). 
So off to the savory chapters we go!
These masala smashed potatoes from the appetizer chapter immediately caught my eye, both for their ease of execution and for their use of chaat masala, which is one of my absolute favorite Indian spice blends.
Chaat masala is most often used in Indian cuisine as a finishing touch on street foods to give them one last hit of zing before eating. It's difficult to describe chaat masala if you've never had it, other than to say it is one of the most completely addictive flavor combinations that I've ever had. It is sour, funky, spicy, savory and just makes your taste buds sing.
I buy my chaat masala from a local Indian spice store, but you could totally make it yourself from recipes online (or order it!).
To make these potatoes, we're going to start by boiling baby potatoes in salted water on the stovetop. It is important to use small potatoes for this to maximize the crispy skin/surface area in the end result. 
Once the potatoes are fork-tender, drain them and let them cool for about ten minutes so that you can touch them without burning your fingers off. While they're cooling, mix up the spice and oil blend that will season the potatoes.
Spread the potatoes out on a greased baking sheet and use a measuring or drinking cup to smash them into a flat disc. Brush with the oil-spice mix and then roast them in the oven. The oil on both the bottom and top of the potatoes will help them to crisp up so that they have the absolute best texture.
The potatoes are finished with a cooling cilantro yogurt sauce drizzle just before serving.
I'd encourage you to serve them as appetizer bites during the holidays, but if you're like me then you won't want to share them because you'll be too busy eating them all yourself!
Masala Smashed Potatoes
Masala smashed potatoes are the ultimate side dish with a crispy potato skin exterior that is smothered in the perfect balance of spices and topped with a cooling cilantro yogurt sauce.
Ingredients
For the cilantro garlic yogurt sauce
1½ cups (345 g) Greek yogurt
½ cup (12 g) packed cilantro
2 tbsp (5 g) mint
1 tbsp fresh lemon juice
2 garlic cloves
kosher salt, to taste
For the masala smashed potatoes
1½ lb (680 g) baby potatoes, washed well
4 tsp kosher salt
½ cup olive oil
1 tsp ground turmeric
1 tsp kashmiri chili powder
1 tsp ground coriander
1.5 tsp kosher salt
1 tsp chaat masala
1 tsp garlic powder
Instructions
For the cilantro garlic yogurt sauce
Combine the yogurt, cilantro, mint, lemon juice, and garlic in a high-speed blender. Puree until completely smooth. Pour into a bowl and season to taste with salt. Set aside.
For the masala smashed potatoes
Place all of the potatoes in a medium or large pot. Add water to the pot so that it covers the potatoes by about an inch. Add the 4 tsp of salt to the water. Set the pot over high heat and cook for 20 minutes, or until the potatoes are fork-tender.
Remove the pot from the heat and drain the water. Allow the potatoes to cool for 10 minutes.
Meanwhile, heat the oven to 400F.
In a small bowl, whisk together the olive oil, turmeric, chili powder, coriander, 1.5 tsp salt, chaat masala, and garlic powder. Set aside.
Grease a baking sheet with cooking spray. Place the potatoes on the pan in an even layer. Using a flat-bottomed glass or measuring cup, press each potato to flatten slightly.
Using a pastry brush, brush the spice-oil mixture over all of the potatoes.
Place in the oven and bake for 15 minutes on the middle rack. Transfer to the bottom rack and cook for another 10 minutes.
Cool for 5 minutes on the pan. Move potatoes to a serving platter and drizzle with the cilantro garlic yogurt sauce before serving.