This chocolate pudding slab pie with peanut butter mascarpone whipped cream is the ULTIMATE holiday pie. It makes enough to feed an army, but it's so good you'll want to keep it all to yourself.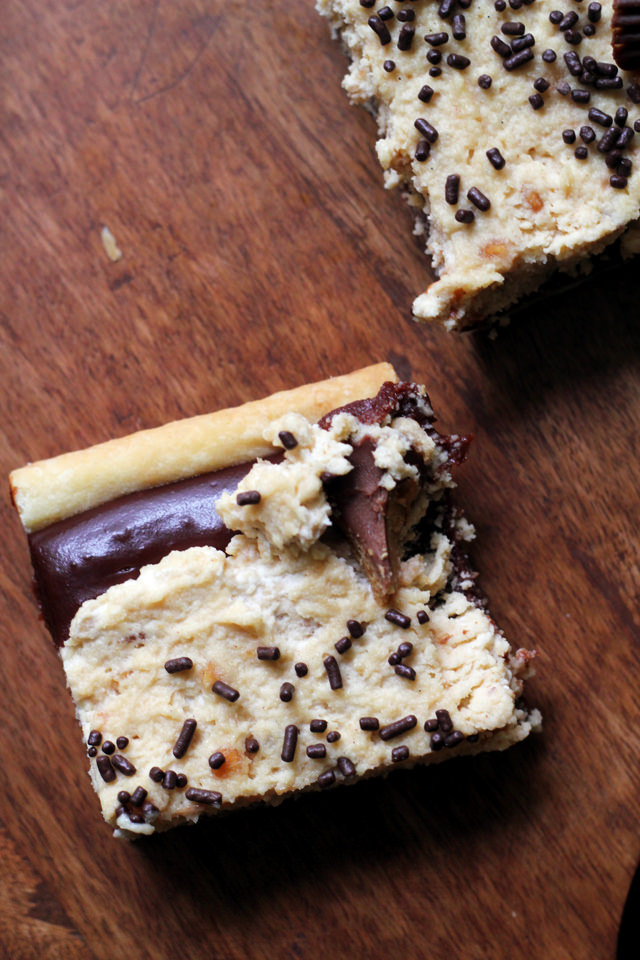 A dessert that's not PUMPKIN.
Are you shocked? Appalled? Already dialing 9-1-1 because the only explanation for this is that I'm having fever-induced hallucinations?
Fear not! Because the.boy already did all of these things.
Or, well, he tried. Until he got distracted by CHOCOLATE! PUDDING! PEANUT BUTTER! PIE THAT TAKES UP THE WHOLE WIDTH OF OUR TABLE!
Then I might as well have been roadkill because he was too busy stuffing his face to concern himself with my mental status.
He's going to be a real help during childbirth. I can tell.
It's just that, you guys, I have had a WEEK.
A week of failed experiments, lab drama, constant reminders that this wedding (and, coincidentally, one of my best friend's baby due dates) is less than a month away.
Plus girl stuff. Because that always makes things so much better. (<–said NO ONE EVER.)
And pumpkin is great and all…but when push comes to shove, it's no chocolate pudding slab pie.
Those are just the facts.
The first thing you should know about this pie is that it is ENORMOUS. It could feed an army and/or the Eats Well With Others clan on Thanksgiving. Probably and.
Also, it is RICH. Not so rich that you won't have three slices in a row (ask me how I know) but just rich enough that you'll want three slices in a row.
The filling is dark and sultry while the topping is light with a hint of salty.
Also, feel free to decorate the top with all of your child's Halloween Reese's stash and then post a video on YouTube with their reaction when you tell them it's all gone.
Cause I just can't get enough.
Chocolate Pudding Slab Pie with Peanut Butter Mascarpone Whipped Cream
This chocolate pudding slab pie with peanut butter mascarpone whipped cream is the ULTIMATE holiday pie. It makes enough to feed an army, but it's so good you'll want to keep it all to yourself.
Ingredients
For the crust
4 cups all-purpose flour
1 tbsp sugar
3 tsp salt
1 large egg, lightly beaten
1 tsp white vinegar
½ cup ice cold water
1½ cups cold unsalted butter, cut into small pieces
For the pudding filling
2 cups sugar
1½ cups heavy cream
1½ cups buttermilk
⅓ cup cornstarch
pinch of salt
8 egg yolks, lightly beaten
8 oz semisweet chocolate
2 tbsp butter
2 tsp vanilla extract
For the peanut butter mascarpone whipped cream
8 oz mascarpone
¾ cup chunky peanut butter
2 cups heavy cream
2 tbsp sugar
2 tsp vanilla extract
Instructions
For the crust, in the bowl of a food processor, pulse together the flour, sugar, and salt. In a small bowl, whisk together the egg, vinegar, and ice water. Set aside.
Add the butter to the food processor and pulse until it is broken up into small, pea-sized chunks. Slowly add in the egg mixture, pulsing just until the dough comes together. Turn out onto a piece of plastic wrap and form into a large disc. Refrigerate for 30 minutes.
Heat oven to 400. When it is chilled, roll the dough out to the size of an 18x13-inch rectangle. Line a large baking sheet with parchment paper. Place the rolled out dough on this baking pan. Cover with another piece of parchment paper and weigh down with pie weights or dried beans. Bake for 20-30 minutes, or until golden brown. Let cool completely.
Meanwhile, make the pudding. In a medium saucepan, combine the sugar, heavy cream, buttermilk, cornstarch, and salt over medium heat, until the sugar dissolves and the mixture comes to a boil, stirring occasionally. Continue to simmer until the mixture starts to bubble and thicken, about 5-6 minutes. Put all of the yolks in one bowl and add in ⅓ of the hot milk mixture, stirring the eggs constantly so that they don't cook. Pour the egg yolk mixture back into the pan with the remaining hot milk. Return to a simmer and cook for another 2-3 minutes, until REALLY thick, stirring constantly. Remove from the heat and stir in the chocolate, butter, and extract. Cover with plastic wrap and refrigerate for 30 minutes.
Spread the chocolate pudding over the prepared pie crust. Refrigerate while you make the mascarpone frosting.
In a medium bowl, whisk together the peanut butter and mascarpone until well combined. In a second bowl, combine the heavy cream, sugar, and vanilla. Using an electric mixer, beat until stiff peaks form. Fold the whipped cream into the peanut butter mixture a third at a time, until well-combined. Spread over the chocolate pudding. Refrigerate the pie for at least 6 hours before serving.
 Can't get enough chocolate and peanut butter? Check out these: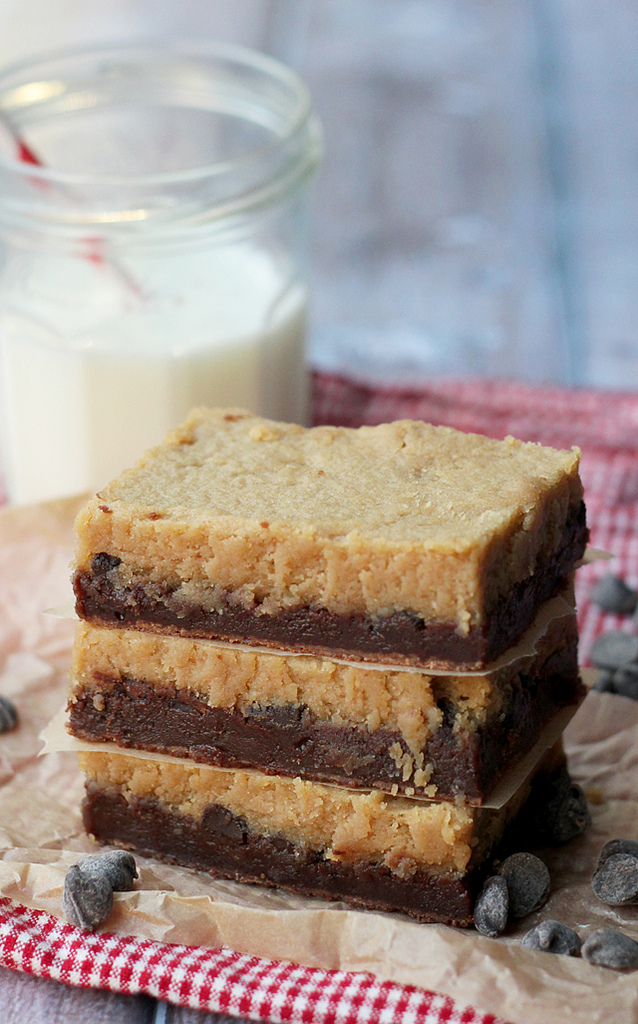 Peanut Butter Cheesecake Brownie Bars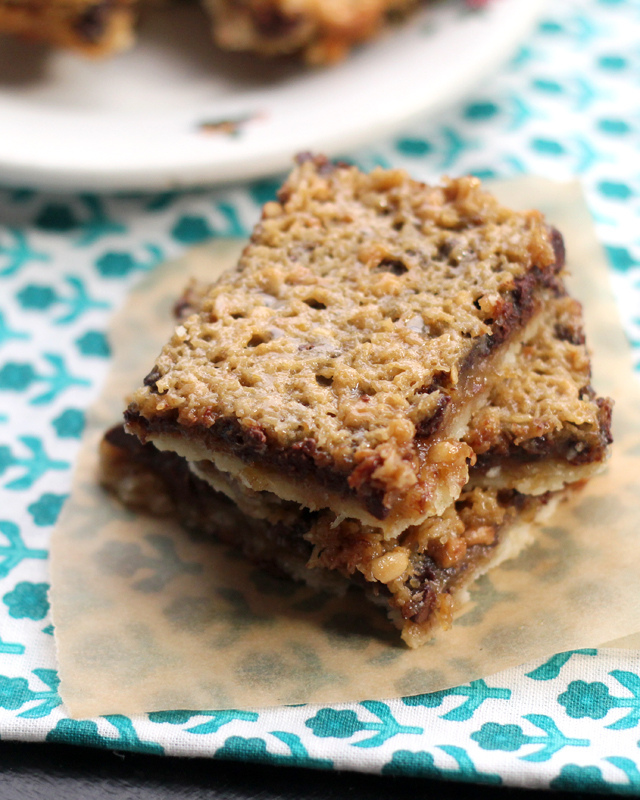 Gooey Chocolate Peanut Butter Bars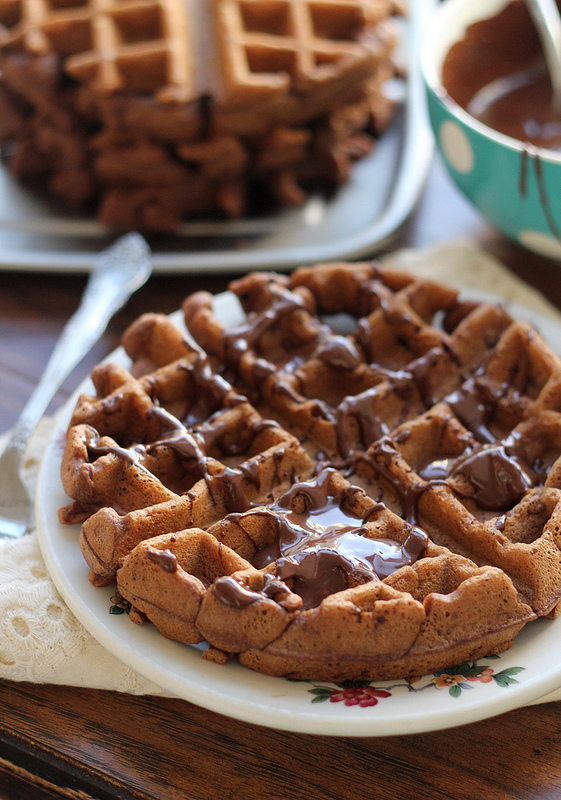 Chocolate Stout Waffles with Chocolate Peanut Butter Syrup
From Around the Web:
Peanut Butter Chocolate Chunk Cookies from Confections of a Foodie Bride
Chocolate Cupcakes with Whipped Peanut Butter Frosting from Cook Like A Champion
Peanut Butter S'mores Cookies from Buns in My Oven
Reese's Peanut Butter Chocolate Waffles from Krissy's Creations
Chocolate Peanut Butter Fudge from Tracey's Culinary Adventures