Cranberry goat cheese focaccia is so perfect for the holidays! It is topped with fresh rosemary, sweet-tart cranberries, and a rosemary oil drizzle that will have you effortlessly #TrendingInTheKitchen.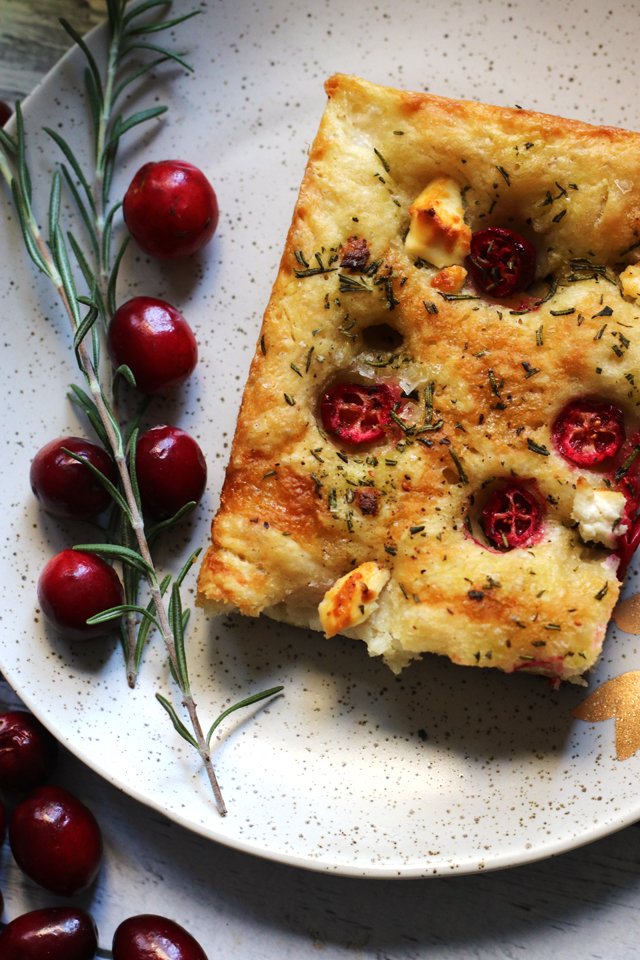 Despite my inherent grinchiness, we are taking baby steps toward holiday spirit around here.
The tree is fully decorated and Remy keeps going up to it and yelling, "Who made that?!", followed immediately by "Remy did it!"
She also keeps asking to "touch the tree", which really means her reaching out and grabbing whatever ornament is closest to her in an apparent attempt to fell the whole thing.
It's adorable. But also, now you know why we've blocked it off behind twelve baby gates.
We've also located our stockings (at my in-laws!) after a really touch-and-go 24 hours when we thought they were lost for good and it wasn't at all clear that we would be able to purchase new ones in time for the big day.
And I think we bought something on the order of two presents for people?
Yup. Big strides.
But, HAVE NO FEAR!
I've already started planning my Christmas menu because, PRIORITIES.
So far it's mostly cookies, maybe enchiladas if I can convince myself that my family won't be mad at me forever for not doing something more "traditional", and this cranberry goat cheese focaccia on repeat. I'm talking batch after batch lining up for some oven time because fresh baked bread + rosemary oil smell + cranberry goat cheese sweet-tartness is really just appealing to all the senses.
Tackling fresh baked bread may seem daunting when you're baking for a crowd, but this focaccia is so fool proof that you really don't need to worry. The dough comes together in a bowl with no stand mixer or hours of kneading time required. Just stir it up, dump it into a pan, and let it ride. The rise time also doesn't need to be super precise, so if you have to leave it for an extra hour or so to rest while you get other aspects of your life together, then so be it.
Everything will be okay.
As with most things in life, my favorite things about this bread are the toppings. The sweet-tart cranberry, the tangy goat cheese, the honey drizzle to bring it all together and, of course, I couldn't possibly forget the rosemary oil bath.
DRE.AMY.
I used Pompeian Robust Extra Virgin Olive Oil for the herb-infusion. With its full body flavor and low acidity it is perfect in dishes where it's really allowed to take the lead – like this bread! It's perfect on the bread but also served on the side for all of your bread-dipping needs. I also like it in cozy pasta dishes or as a drizzle on a bowl of soup at this time of year. The homely rosemary flavor really comes through and makes everything taste like a warm hug.
Flavor city.
Cranberry Goat Cheese Focaccia with Rosemary Oil and a Honey Drizzle
Cranberry goat cheese focaccia is so perfect for the holidays! It is topped with fresh rosemary, sweet-tart cranberries, and a rosemary oil drizzle.
Ingredients
1 tbsp dry active yeast
1 tbsp sugar
1½ cups warm water (~100F), divided
3¼ cups all purpose flour
2 tsp kosher salt
2 tbsp Pompeian Robust Extra Virgin Olive Oil
½ cup halved fresh cranberries
2 tbsp minced rosemary
2 oz goat cheese, crumbled
¼ cup rosemary oil
2 tbsp honey
freshly ground black pepper
flaky sea salt
For the rosemary oil
1 cup Pompeian Robust Extra Virgin Olive Oil
4 large sprigs rosemary
Instructions
To make the rosemary oil, combine the Pompeian Robust Extra Virgin Olive Oil and the rosemary sprigs in a medium pan. Heat over medium-high heat for 4-5 minutes. Remove from the heat and let cool to room temperature while you prepare the focaccia.
To make the focaccia, whisk together the yeast, sugar, and ¼ cup of warm water in a small bowl. Set aside for about 5 minutes to allow the yeast to become foamy and activated.
Meanwhile, whisk together the flour and salt in a large bowl. Pour in the remaining water, Pompeian Robust Extra Virgin Olive Oil and yeast mixture. Stir to combine.
Grease a 9x13-inch baking pan and transfer the dough to the pan. Grease your fingers with olive oil and then spread the dough out so that it reaches the corners of the pan. Cover lightly with plastic wrap and let rise in a warm place for 30-60 minutes, or until doubled in size.
Heat oven to 375F.
Once the dough has risen, grease your hands with olive oil again and press your fingers into the dough to make dimples in the bread. Sprinkle the cranberries, rosemary, and goat cheese evenly over the top. Drizzle with the rosemary oil and honey. Top with fresh ground black pepper and flaky sea salt, to taste.
Bake for 30 minutes, or until golden brown. Cool slightly and serve with remaining rosemary oil for dipping.
Notes
An Eats Well With Others Original
Disclosure: This post was sponsored by Pompeian. As always, my thoughts and opinions are my own. Thank you for supporting the brands that keep me inspired in the kitchen.