A salad worthy of a spot on your holiday table – arugula, apple, goat cheese and candied pecan salad with cider vinaigrette.
Disclosure: This post was sponsored by Pompeian. As always, my thoughts and opinions are my own. Thank you for supporting the brands that keep me inspired in the kitchen.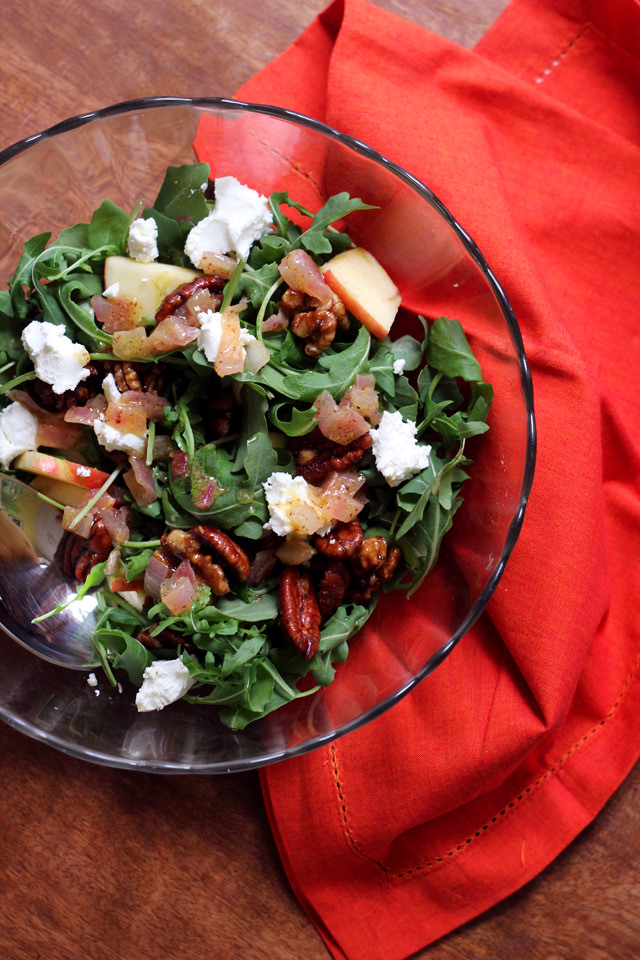 My coworkers saw this and were all like uh…you know the wedding was last week, right?
But look, a girl can eat salad even when she's not pretending to be on a please-god-let-my-dress-fit diet.
I mean, maybe she happened to eat two pies, three cupcakes, a partridge and a pear tree on Thanksgiving.
Maybe she "forgot" to work out for two weeks in a row and is now limping after doing one body pump class.
Maybe she's been drinking caramel macchiatos every afternoon because COFFEE BREAKS ARE HER LIFE.
Or maybe it's just a really. good. salad.
No, seriously, that is a possibility.
STOP LAUGHING.
So what makes this salad a cut above the rest?
Perfect crisp sweet honeycrisp apples.
Maple salty candied eat-the-whole-bowl pecans.
Creamy tangy goat cheese bites.
Sweet tart cider vinaigrette.
Arugula. Because our hips insist.
Every bite, though. It's like a fall party exploded all up in our salad bowls.
Have I won you over yet?
I always insist on having a salad on our Christmas table, but it had better be an exciting one if it's going to stand up to all the crazy rich food sitting next to it. To make sure my salad falls into the ULTRA side of the spectrum, I try to use only ingredients I'm really passionate about so that the flavors don't fall flat. When it comes to salad dressings, I always turn to Pompeian for my olive oil. Here, I've used their extra virgin olive oil mainly because its flavor is so rich and exquisite that it's good enough to drink.
This holiday season, Pompeian is helping families across the country immortalize their favorite holiday recipes by offering personalized bottles of Pompeian Extra Virgin Olive Oil, which, by the way is the first and only extra virgin olive oil to carry the USDA Quality Monitored Seal. These customized bottles will feature a customizable label and photo and will look super cool on your holiday table or could make for a really fun and unique gift for an olive oil lover. I have quite a few of those in my uber Italian family, so I know what I'll be gifting this year!

Arugula, Apple, Goat Cheese and Candied Pecan Salad with Cider Vinaigrette
A salad worthy of a spot on your holiday table - arugula, apple, goat cheese and candied pecan salad with cider vinaigrette.
Ingredients
For the cider vinaigrette
1 shallot, diced
¾ cup apple cider
2 tbsp apple cider vinegar
¼ cup extra virgin olive oil
1 tbsp dijon mustard
salt and black pepper, to taste
For the candied pecans
1 cup pecans
4 tbsp brown sugar
2 tbsp maple syrup
pinch of sea salt
For the salad
5 oz arugula
2-3 honeycrisp apples, cored and diced
4 oz goat cheese, crumbled
Instructions
For the cider vinaigrette, in a medium skillet, combine the shallot, cider, and cider vinaigrette. Bring to a simmer over medium heat and cook until reduced to ¼ cup of liquid, about 20-30 minutes. Pour the dressing into a bowl and whisk in the olive oil and dijon mustard. Season to taste with salt and black pepper. Set aside.
For the candied pecans, in a small skillet combine the pecans, brown sugar, and maple syrup. Cook over medium-high heat, until the brown sugar melts and starts to form a thick syrup, stirring constantly, about 3-4 minutes. Immediately pour the pecans onto a parchment-lined baking sheet and spread out into a single layer. Allow to cool.
In a large bowl, toss together the arugula, apple pieces, goat cheese, and pecans. Toss with the cider vinaigrette right before serving.
Notes
An Eats Well With Others Original
 Eat your greens! Check out these: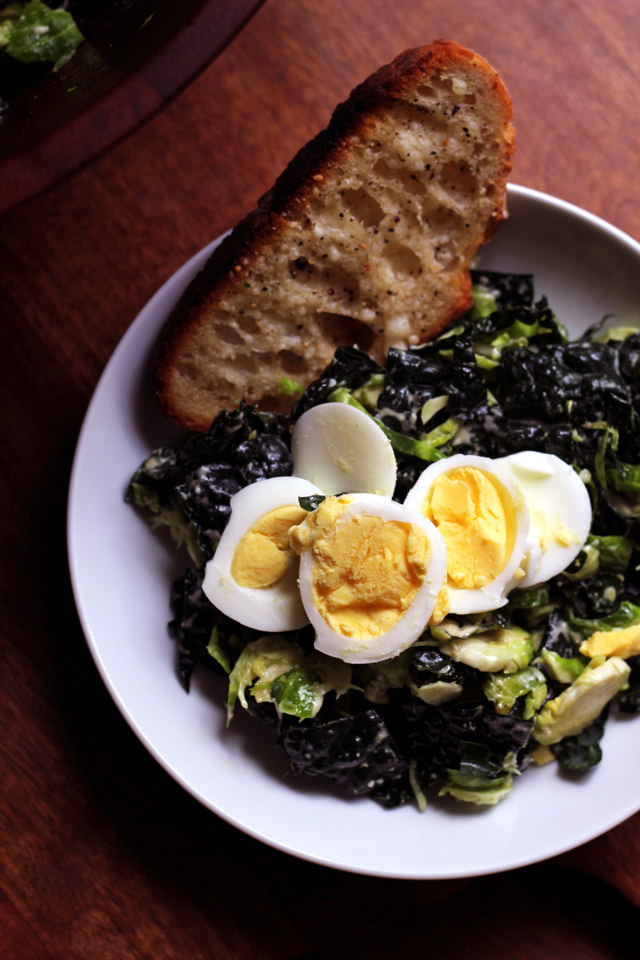 Kale and Brussels Sprout Caesar Salad with Parmesan Toasts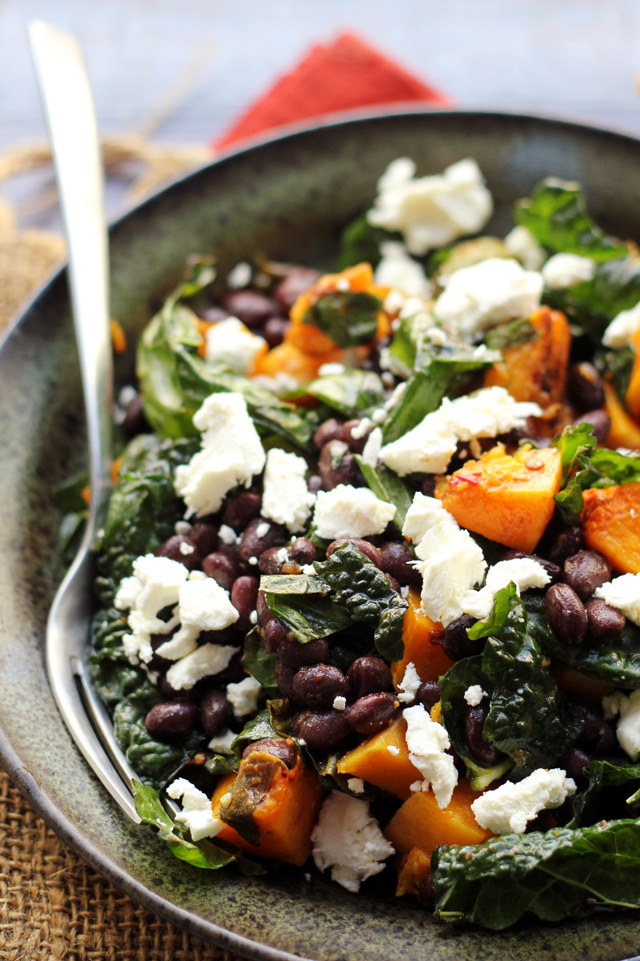 Butternut Squash and Smoky Black Bean Kale Salad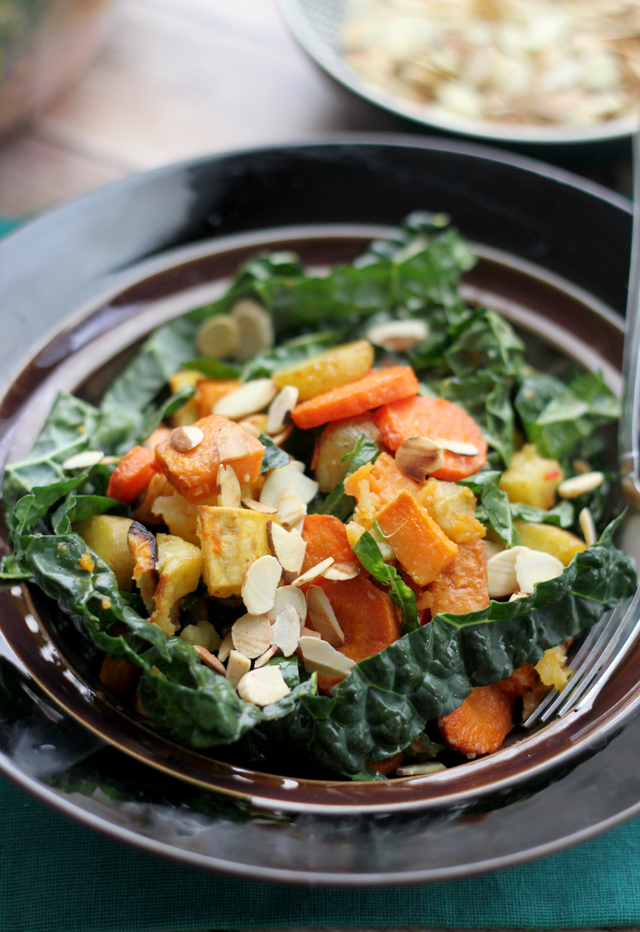 Miso-Harissa Roasted Carrot, Squash and Two Potato Salad
From Around the Web:
Roasted Sweet Potato Salad with Candied Walnuts from Pinch of Yum
Kale Salad with Cider-Roasted Squash and Apple Cider Vinaigrette from Love & Olive Oil
Lemony Kale Salad with Parmesan Crisps from The Roasted Root
Kale Salad with Roasted Pumpkin, Cranberries, and Goat Cheese from Heather Christo
French Lentil and Vegetable Salad from In Pursuit of More