Smoked sea salt adds a world of flavor to this dish of pumpkin gnocchi with broccoli rabe and smoked ricotta. Easy enough for a weeknight meal and fancy enough for a dinner party.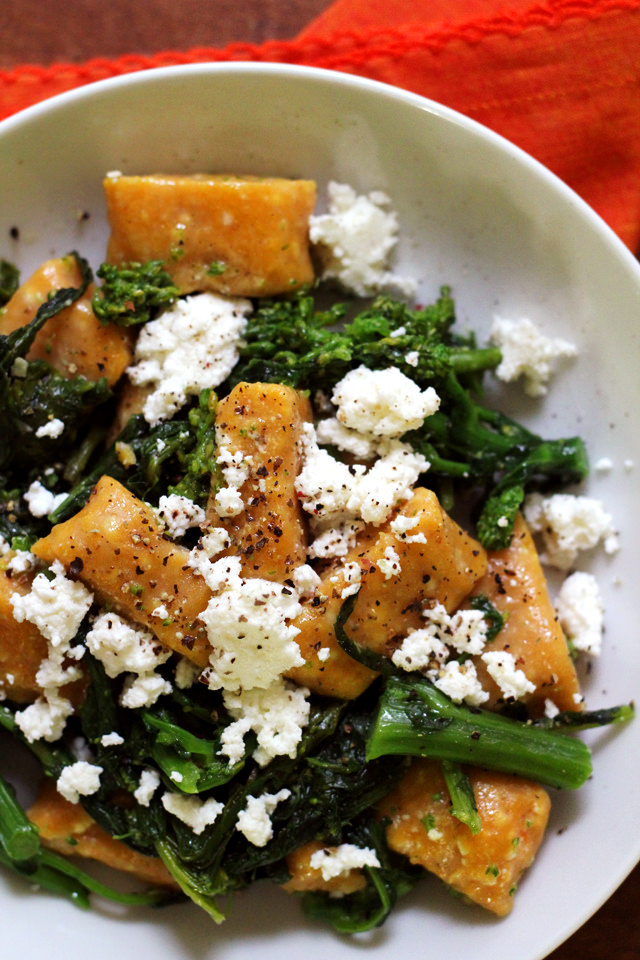 Gnocchi is in the air.
And love, and peppermint, and deeeeeep dark almost burnt coffee, and pine needle happy smell.
Because WE BOUGHT OUR FIRST CHRISTMAS TREE.
I feel like this qualifies us as a "Real Married Couple" now.
Honestly, up until now being married hasn't felt that different, probably because we've lived together for over a year now so there's not that much new territory to uncover.
And then I found myself on 3rd Avenue screaming about how crucial macaron ornaments are to the very core of my Christmas cheer while the.boy pretended he had no idea who the crazy lady shrieking about French pastries was.
So this is what married life is all about.
For the record, I won. All of it.
And I have the cannoli, layer cake, macaron, carrot cake, whisk, rolling pin, and pomegranate ornaments to prove it.
Another thing you should know about my good wife skillz (or lack thereof) is that I fail at the side salad.
Regularly. Frequently. Daily.
I have the best of intentions, I really do, but by the time I make a whole main dish, FROM SCRATCH, the thought of putting together a side salad that consists of more than random lettuce scraps from the bottom of my crisper drawer just seems totally unreasonable.
Then I discovered Eat Smart Salad Kits and they turned my whole outlook on the side salad upside down. Each kit is packed with five to seven SUPERFOODS and is a fast and flavorful way to eat your veggies. Take, for example, the Wild Greens and Quinoa Salad which I am BONKERS CRAZY about. It has kale, beet greens, julienned broccoli, carrots, red cabbage, quinoa, almonds, and feta. Plus avocado herb dressing. And all you have to do is toss and serve.
That wilty crisper lettuce didn't even stand a chance.
(If you're not sure where to find Eat Smart Salad Kits, check out their Store Locator to find the nearest store to you that sells them!)
On the weekends, I like to make meals that necessitate a little more of a time investment and this gnocchi is just that. It's not difficult to make, but it does require you to get your hands dirty. I'm strangely okay with that.
The key to making great gnocchi is to handle the dough as little as possible. This helps it to stay light and fluffy and melt-in-your-mouth good. I like to make my gnocchi with ricotta instead of potatoes because its easier to work with and also CHEESE. Need I say more?
Most pumpkin gnocchi that you'll find in stores are packed with warm and almost sweet spices like cinnamon and nutmeg, but here I've gone totally savory by flavoring them with smoked sea salt. Paired with slightly bitter broccoli rabe and another dose of creamy ricotta, the umami is unmistakable. This is definitely dinner.
And it might even make up for that little show of irrational totally reasonable street screaming we engaged in. If not, well. We'll always have our macaron ornaments. Priorities, people.
Pumpkin Gnocchi with Broccoli Rabe and Smoked Ricotta
Smoked sea salt adds a world of flavor to this dish of pumpkin gnocchi with broccoli rabe and smoked ricotta. Easy enough for a weeknight meal and fancy enough for a dinner party.
Ingredients
1 cup canned pumpkin
2 cups ricotta, divided
2 large eggs
1 tsp smoked sea salt, plus more for garnish
1 tsp kosher salt
3-4 cups cake flour
1 bunch broccoli rabe, coarsely chopped
2 tbsp olive oil
2 cloves garlic, minced
black pepper, to taste
Instructions
Bring a large pot of salted water to a boil.
Meanwhile, make the gnocchi. In a large bowl, stir together the pumpkin, 1 cup of ricotta, eggs, smoked sea salt, and kosher salt. Add 2 cups of the flour to the bowl and mix in with your hands. The dough will be very sticky. Add in another ½ cup of flour and mix that in as well. The dough should still be sticky but also easy enough to work into a log. If it is still too sticky, then add another ½ cup flour until it is the right consistency.
On a lightly dusted surface, split the gnocchi dough into 4 equal portions. Roll each portion into a thin log, about ½-inch thick. Cut into 1-inch gnocchi. Place on a parchment-lined baking sheet. Repeat with remaining dough.
Drop the gnocchi into the pot of boiling water in multiple batches, depending on the size of your pot. Make sure you don't overcrowd them or they will stick together. The gnocchi are done cooking when they start to float. Remove to a parchment-lined baking sheet with a slotted spoon and repeat with remaining gnocchi until they are all cooked.
Once the gnocchi are cooked, bring the pasta water back to a boil. Add the broccoli rabe to the pot and cook for 2-3 minutes to remove some of the bitterness. Drain and lightly pat the broccoli rabe dry.
In a large skillet, heat the olive oil over medium-high heat. Add the garlic to the pan and saute for 30 seconds, or until fragrant. Add the broccoli rabe to the pan and season with a pinch of salt. Saute for 3-4 minutes or until heated through. Stir in the gnocchi and saute for a few minutes to heat through.
Divide the gnocchi and broccoli rabe mixture among 4 bowls. Top each plate with ¼ cup of the remaining ricotta, a sprinkle of smoked sea salt and a grind of black pepper.
Notes
An Eats Well With Others Original
Nutrition Information
Serving size:
¼ of recipe
 For more pumpkin pasta recipes, check out these: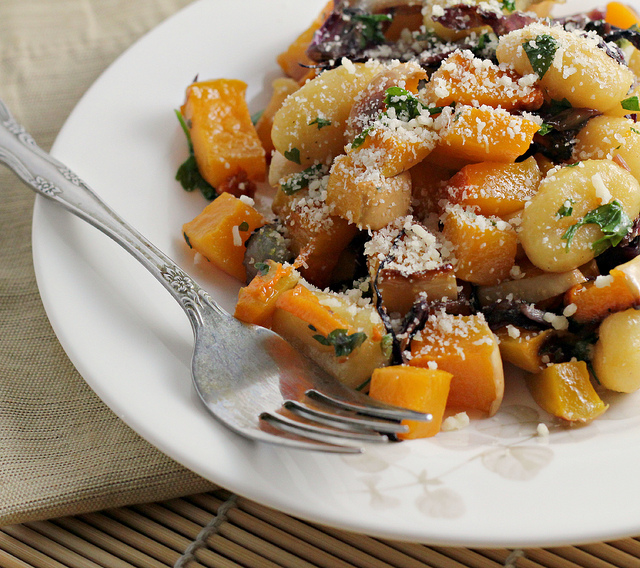 Pumpkin Gnocchi with Winter Squash and Seared Radicchio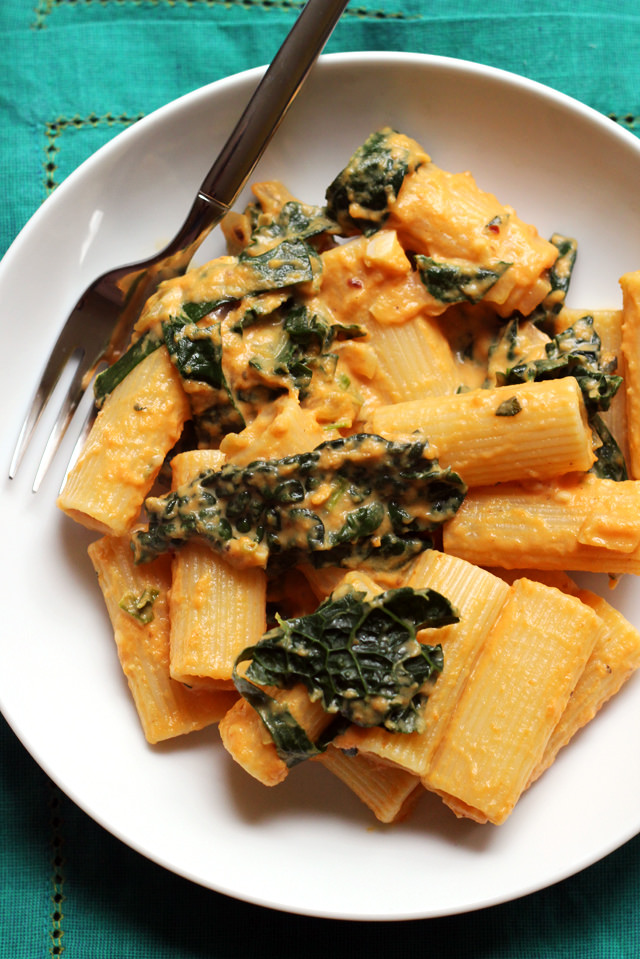 Rigatoni with Spicy Pumpkin Cream Sauce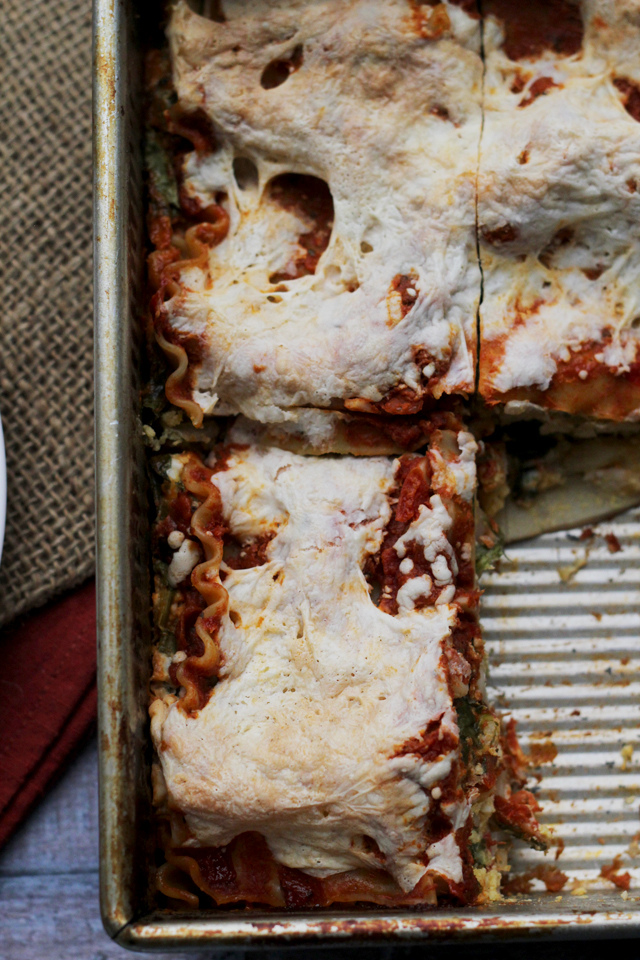 Butternut Squash and Spinach Lasagna
From Around the Web:
Pumpkin Fettuccine Alfredo from Cookie + Kate
Butternut Squash Lasagna with Parmesan Spinach Sauce from Cinnamon Spice and Everything Nice
Butternut Squash Alfredo Baked Shells from Gimme Some Oven
Creamy Pumpkin Pasta with Parmesan and Sage from Bake Your Day
Caramelized Butternut Squash and Kale Florentine Lasagna from Half Baked Harvest

I was selected for this opportunity as a member of Clever Girls and the content and opinions expressed here are all my own.