Sweet potato vindaloo is a vegetarian take on a traditional Indian dish that it is at once sweet, tangy, sour, and spicy from a richly spiced vinegar and tomato-based sauce.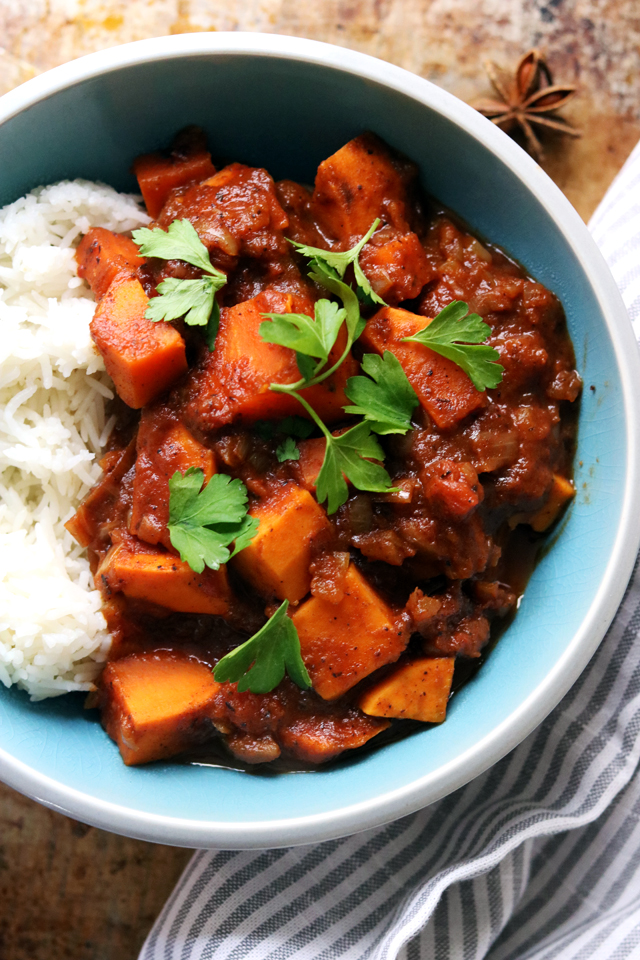 Are you challenging your taste buds in this new decade??
And by that I do NOT mean by giving up carbs and all things delicious in this world. Haaaaalllllll no. I'm zero percent about that.
I mean by introducing them to new flavors/textures/cuisines that maybe you were too scared to try in the past? Or maybe these were foods that you already loved but were too timid to tackle yourself in the kitchen??
Please say yes because these are the BEST kind of resolutions. They're all about enriching your life, and we could all use more of that.
My food resolution this year was to cook more Indian food! It's a cuisine that I love and really want to master but somehow I always go back to the same five paneer recipes that I know and love instead of breaking out into the more unusual/less mainstream eats. To give this goal some structure (let's be honest, "cook more Indian food" is kind of an all-encompassing, vague, unspecific task) I'm going about this by cooking my way through Meera Sodha's Fresh India cookbook. It's wholly vegetarian, which makes my life easier, and full of delicious mostly authentic recipes. There is definitely some fusion food in there but the flavors and concepts are (I think) all true to Indian culture.
I won't be sharing all of my Indian cooking adventures here (though you can follow along on Instagram stories for more detail!! @joanneeatswell), just the best of the best. And that happens to include this recipe for sweet potato vindaloo. Vindaloo is typically a meat-based dish that is known for being incredibly spicy with a tangy tomato and vinegar-based sauce. Meera Sodha has vegetarianized it for us by adding some taming sweetness in the form of sweet potato chunks! This makes the dish a bit more manageable in terms of spice level but also adds more complexity of flavor.

Sweet Potato Vindaloo
Sweet potato vindaloo is a vegetarian take on a traditional Indian dish that it is at once sweet, tangy, sour, and spicy from a richly spiced vinegar and tomato-based sauce.
Ingredients
4 tbsp canola oil
6 cloves
1 star anise
20 black peppercorns
3-inch cinnamon stick
2 tsp cumin seeds
6 garlic cloves, minced
1¾-inch piece of ginger, peeled and grated
5 tbsp white wine vinegar
¾ tbsp kashmiri chili powder
2 medium onions, thinly sliced
1 tsp salt
1 tsp sugar
14 oz can crushed tomatoes
2 lb sweet potatoes, peeled and cut into 1-inch chunks
Instructions
Heat 1 tbsp of the oil in a large frying pan over medium heat. Once hot, add the cloves, star anise, peppercorns, cinnamon stick, and cumin seeds. Fry for 2 minutes, or until fragrant and toasted. Remove from the heat.
Place the spices in a spice grinder and grind them to a powder. Add in the garlic, ginger, and vinegar, Grind again until the mixture forms a smooth paste. Remove to a bowl and stir in the chili powder.
Place the remaining oil in the same pan that you used to toast the spices. Add in the onions and saute for 15 minutes, or until browned and caramelized. Add in the spice paste, salt, and sugar. Saute for a few minutes so that everything is well combined. Add in the crushed tomatoes along with 1 cup of water. Put a lid on the pan and cook for 5 minutes. Add in the sweet potatoes.
Bring the curry to a boil and then lower and simmer. Cook, covered, for 20-25 minutes or until the sweet potatoes are completely tender. Serve with yogurt and basmati rice.