A hearty one pot chickpea, tomato, and orzo soup topped with dollops of basil pesto. Full of fresh flavor!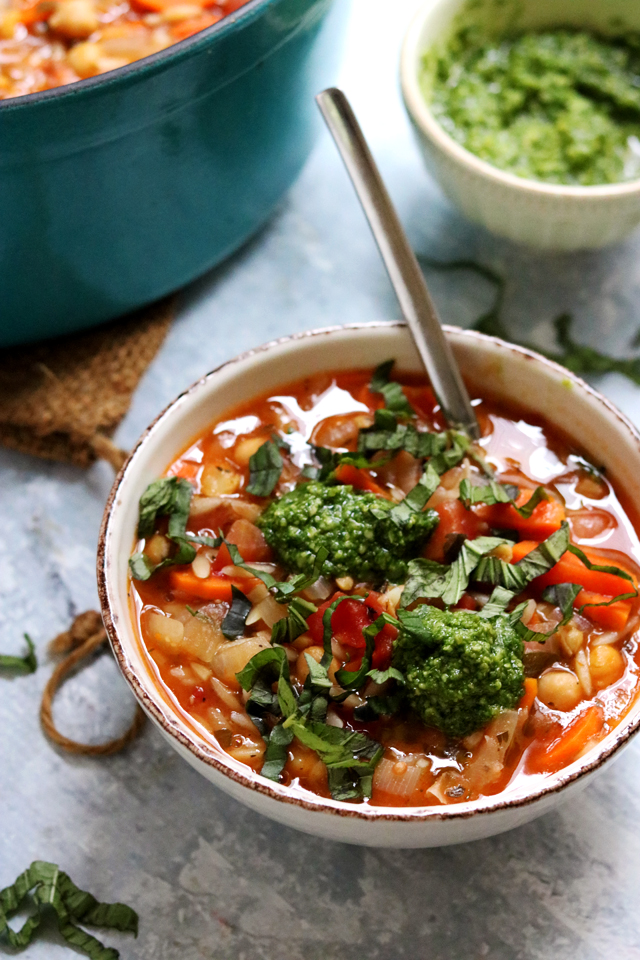 Have I got something warm and cozy for you today!!
And it's like twenty degrees here today…so yeah, we need it.
This started off as a play on ribollita, which is an Italian tomato-based soup that gets thickened by slices of toasted bread. While that sounds (and tastes) wonderful on day one, it turns into a soggy, mushy mess on day two.
I'm a firm believer that soup should only get better with age (within reason, of course), so I abandoned that thickening strategy pretty quickly and decided instead to turn it into a one pot pasta soup! The beauty of this is that as the pasta cooks it absorbs some of the soup's liquid while also releasing a bit of its starch to make the soup broth thick and creamy – multi-tasking at its most delicious.
This soup is full of simple, fresh flavors – carrots, onions, tomatoes, fresh herbs. It is one of those meals that tastes like a warm hug – total, pure comfort.
It gets topped off with dollops of basil pesto for a touch of brightness and sunshine…the promise that warmer weather will someday be here again.
Chickpea, Tomato, and Orzo Soup with Basil Pesto
A hearty one pot chickpea, tomato, and orzo soup topped with dollops of basil pesto. Full of fresh flavor!
Ingredients
2 large onions, thinly sliced
3 tbsp olive oil
2 large carrots, peeled and cut into half moon slices
1 tbsp tomato paste
1 cup white wine
1 (14 oz) can crushed tomatoes
1 tbsp chopped oregano
2 tbsp chopped parsley
1 tbsp thyme leaves
2 bay leaves
2 tsp sugar
4½ cups vegetable broth
salt and black pepper, to taste
1 cup dried orzo
2½ cups cooked chickpeas
4 tbsp basil pesto
shredded basil leaves, to serve
Instructions
Heat 3 tbsp of the olive oil in a large Dutch oven or heavy-bottomed pot. Add the onions to the pan and saute for 4 minutes on medium heat. Add in the carrots and cook for another 4 minutes to soften the vegetables. Stir in the tomato paste and cook, stirring constantly, for 1 minute. Add in the wine and let it simmer for 2 minutes.
Stir in the canned tomatoes, herbs, sugar, broth, and salt and black pepper, to taste. Bring to a boil, then cover and simmer for 30 minutes.
Add the orzo to the pot and simmer until tender, about 10 minutes. Place the chickpeas in a bowl and crush them a little bit with a potato masher so that some are squished but some are left whole. Pour into the soup and simmer for another 5 minutes. Season to taste with salt and black pepper.
Ladle the soup into bowls and serve with a dollop of pesto on top, along with finely shredded basil.