Take-out at home takes less than 30 minutes when you're making this Szechuan spicy garlic eggplant and string bean stir fry!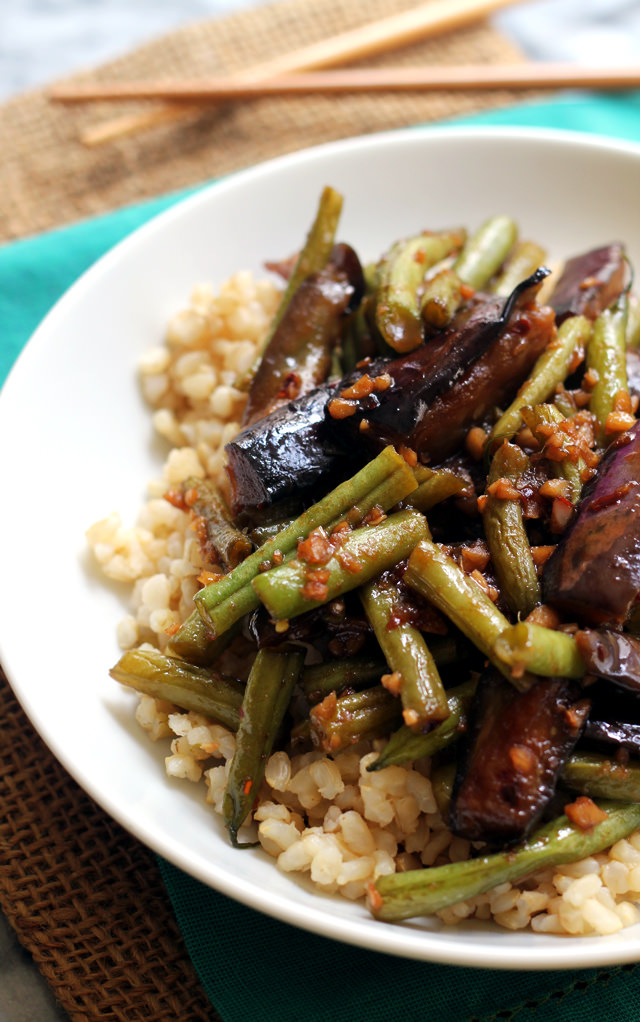 We all have things to do, people to see, summer lovin' to live,
(theses to write),
so let's keep things simple around here, shall we?
STIR FRY!! The answer to all of life's busiest weeknight prayers. Answered.
Unless, of course, you're one of those people who takes 90 minutes to make a 30 minute meal. (<– Don't be like me.)
But even I was able to get this from chopping board –> stovetop –> table in 25 minutes flat, non-existent attention span and all! Which means you guys can probably do it in 10. I have all my faith in you.
We keep getting these cute Japanese eggplants in our CSA and for weeks now I've dreamt of them all fall-apart tender in a sweet salty garlicky spicy sauce, like something I had in a restaurant many moons ago, that I can't now remember the name of. Somehow I found excuses to make this, that, or the other thing with them instead until finally life got in the way.
I mean, really GOT IN THE WAY to the point that on Saturday, it was either get in the kitchen and make it happen or go without lunch.
I think you know what I chose.
We happened to also have some CSA string beans in the fridge, so I threw them into the pan as well, but you can totally take a clean-out-the-fridge approach to this. The eggplant really does get all melt-in-your-mouth good and the sauce brings the flavor in a bold, spicy, explosion kind of way. It's probably going to put your favorite take-out joint to shame. Sorry? (<–NOT.)

Szechuan Spicy Garlic Eggplant and String Bean Stir Fry
Take-out at home takes less than 30 minutes when you're making this Szechuan spicy garlic eggplant and string bean stir fry!
Ingredients
¼ cup soy sauce
2 tbsp balsamic vinegar or Chinese black vinegar
2 tbsp mirin
1 tbsp sugar
1 tbsp minced fresh ginger
1 tsp red pepper flakes
2 tbsp olive oil
10 cloves garlic, minced
2 medium Japanese eggplants, sliced 2-inch thick crosswise and cut into 6 wedges
1 lb string beans, trimmed and cut into 1-inch lengths
1 tsp sesame oil
Instructions
In a medium bowl, stir together the soy sauce, vinegar, mirin, sugar, ginger, and red pepper flakes. Set aside.
Heat the olive oil in a large wok over medium-high heat. Add the garlic to the pan and saute for 30-40 seconds or until fragrant. Add the eggplant and string beans to the pan. Saute for 6-8 minutes, or until the eggplant starts to soften, stirring every few minutes. Stir in the sauce. Bring to a simmer and cook until sauce is thickened and eggplant is tender, 3-5 minutes. Remove from heat and stir in sesame oil. Season to taste with salt and black pepper. Serve over brown rice.
More Takeout At Home!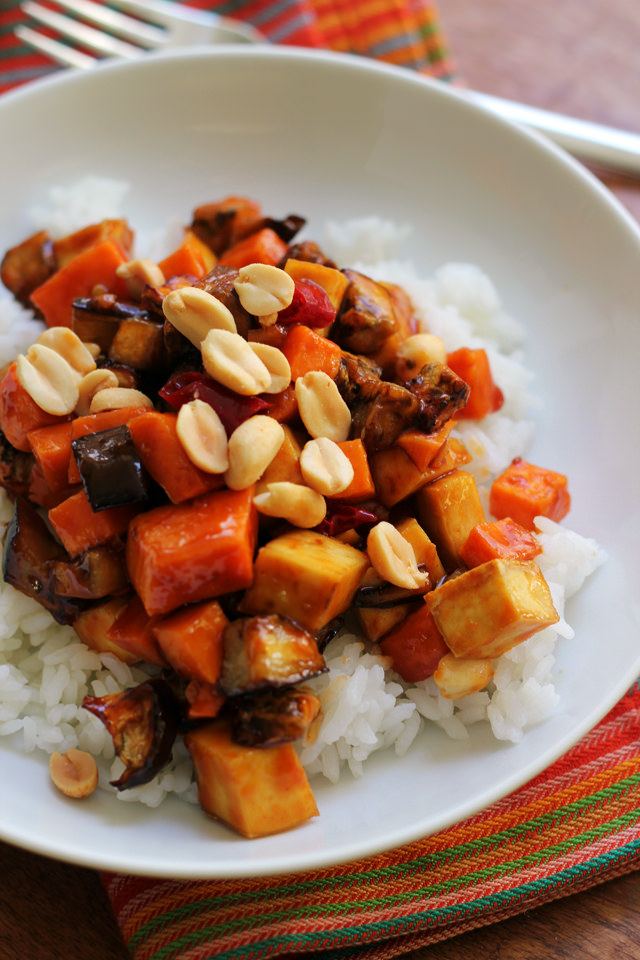 Crispy Kung Pao Tofu and Vegetable Stir Fry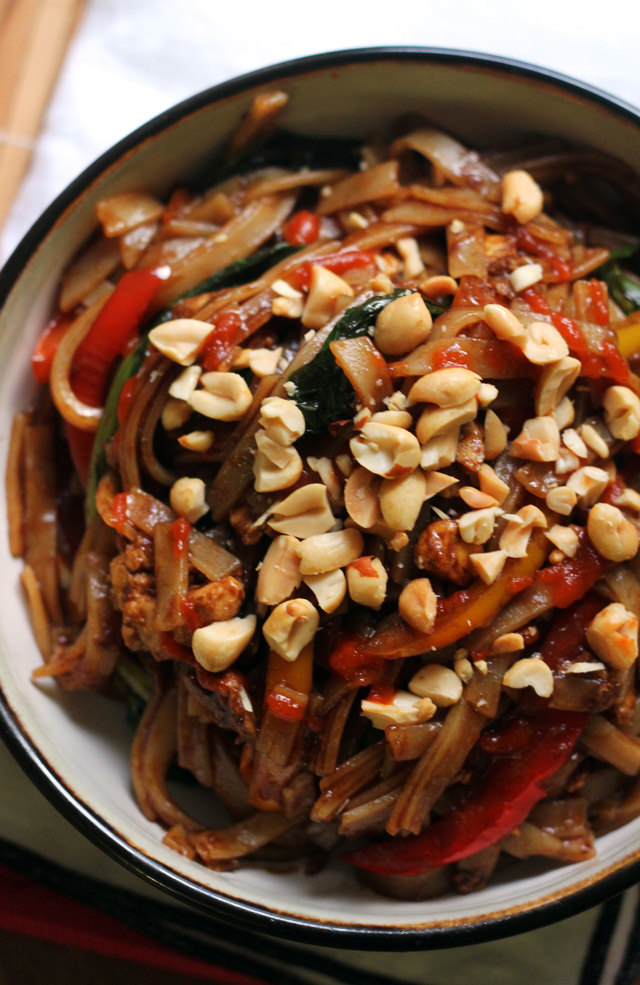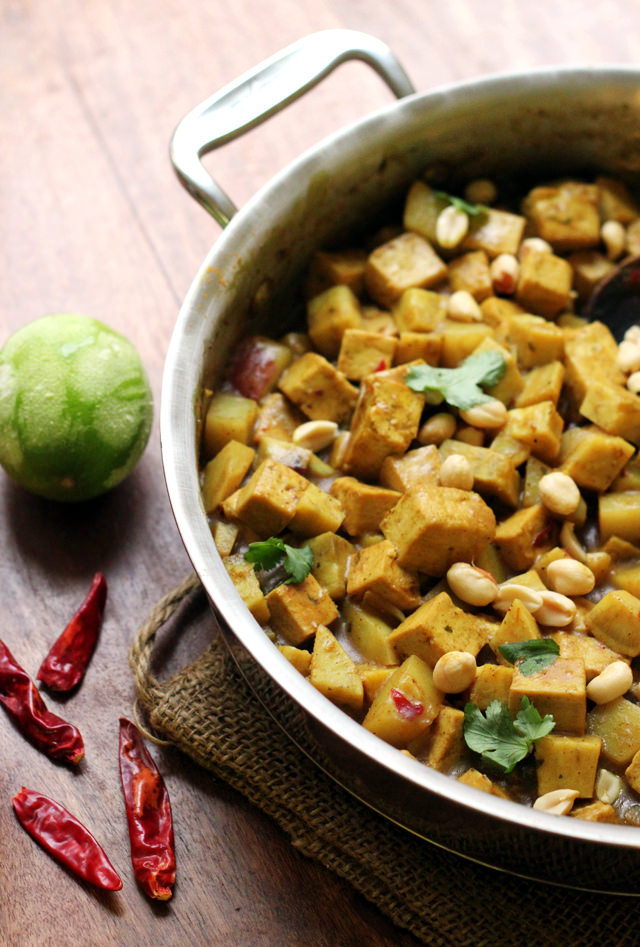 Massaman Curry with Peanuts, Potatoes, and Cardamom
From Around the Web:
Quick and Easy Vegetable Lo Mein from Hip Foodie Mom
Thai Peanut Stir Fry with Tofu + Broccolini from Oh, Ladycakes
Korean Tofu Soup from See + Savour
Crispy Baked Tofu Teriyaki Bowl from Coffee & Quinoa
Sesame-Orange Ginger Chickpea Stir Fry from Ambitious Kitchen