My lovely and awesome friend Cara has been hosting a Clean Eating Cocktail Party for the past month and was SO SWEET to ask me to contribute! Knowing how much I love to accessorize with grain salads, you can imagine how super psyched I've been about it.  Head on over to her blog to check out my guest post and to get the recipe for this Roasted Carrot and Red Quinoa Salad!
Most of my favorite holiday memories revolve around the dessert table.  The heady aroma of all of the pies and cookies and cakes emanating from the serving platters sitting before you, the background noise of friends and family chatting about, simultaneously, nothing and everything.  And of course, the warm cup of coffee sitting in front of you, tying it all together.
Dessert is always my favorite part of the holiday meal to prepare, and also my favorite part to eat. So you can imagine how thrilled I was when Cate, Sarah, Patsy and I made it the focus of our second annual food bloggers Thanksgiving.
That also put the pressure on, however.  How does one capture the essence of the holiday spirit in just one dessert?
Do you go for the chocolate peppermint combo, as Sarah did, with her chewy and totally addictive chocolate peppermint bark cookies?
Keep it classic and kid-friendly with some ice cream cups from a local Jersey dairy?
Go for a two-in-one kinda deal (it was Black Friday/Cyber Monday weekend after all!) with a majorly luscious caramel apple pie cheesecake?
Or revive the Thanksgiving spirit, as Patsy and I did with my pumpkin pie bread pudding and her pumpkin spice bundt cake with creamy pumpkin glaze?
Do you see what I mean? How could you possibly choose one set of holiday scents and flavors over another?
Thankfully, with Dunkin Donuts' new seasonal coffee flavors – Mocha Mint, Pumpkin Spice, and Gingerbread Cookie (along with classics like their original blend and dunkin decaf) – you don't have to.  I was sent the Gingerbread Cookie flavor to try and just smelling the ground coffee alone made me want to break out in Christmas carols.  Drinking it made me feel like I was back at our holiday dessert table, sharing memories and so much happiness.
These seasonal varieties are available at your local grocery store as well as at Dunkin Donuts stores, so no matter where you live across the nation, you'll have a convenient way to purchase and enjoy it.  They're only available for a limited time though, so pick one up sooner rather than later and with just one taste…you'll understand why they really are the perfect accompaniment to a holiday meal.  In addition, the new seasonal varieties will have a cute gift tag on them, which is just perfect for giving them away as stocking stuffers or as hostess gifts to a coffee lover in your life.  I know I'll be picking up a few to tote with me to any holiday parties I'll be attending and also to just keep on hand so I can relive the holiday season all year-round.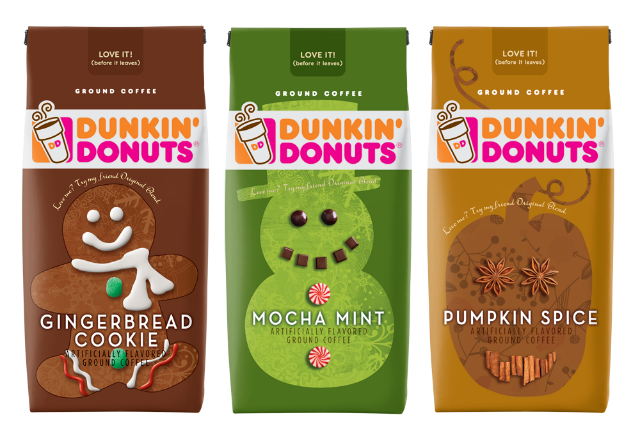 Thank you to Dunkin' Donuts® packaged coffee at grocery for being a sponsor. I was selected for this opportunity as a member of Clever Girls Collective. All opinions expressed here are my own.
You are reading this post on Eats Well With Others at https://joanne-eatswellwithothers.com. Excerpts and links may be used, provided that full and clear credit is given to the author and or owner of Eats Well With Others. All rights reserved by Joanne Bruno.