A pistachio cream pie made with seriously addictive homemade pistachio pudding, an oreo cookie crust, and topped with homemade whipped cream – it's the BEST PISTACHIO PIE EVER!!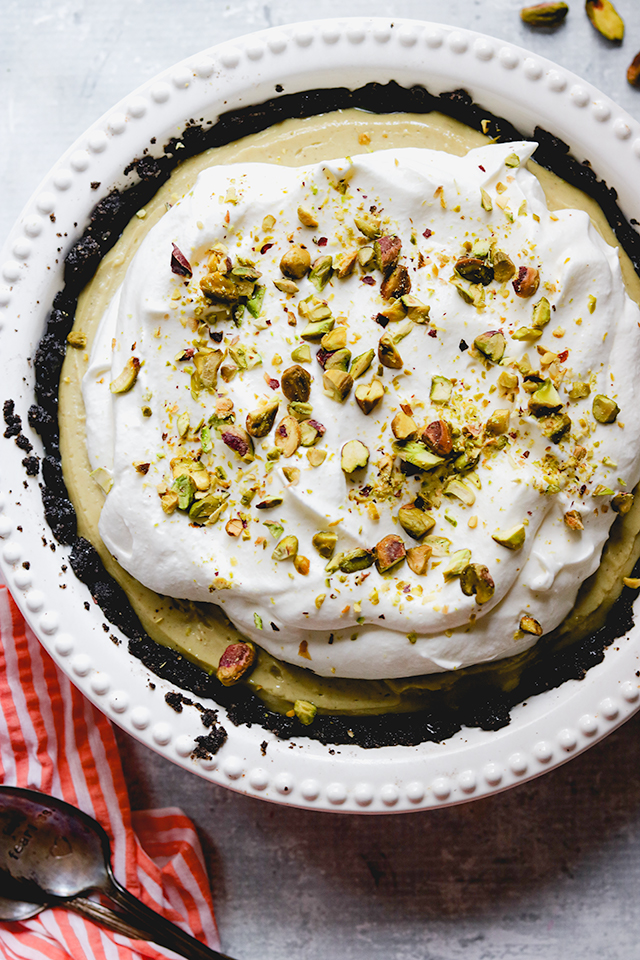 I made the mistake of doing a quick google search of the phrase "pistachio cream pie" in preparation for writing this post…and let me tell you – DON'T DO IT.
There are just some things you can never unsee.
To sum it up for you (and to save your eyes from permanent damage): it was recipe after recipe of neon green pie fillings made from artificial everything. I'm not averse to a shortcut here and there, but this….this was too much.
Suffice it to say, you won't find any of that here. We're using real, pronounceable ingredients: actual pistachios, a whole lot of milk and heavy cream, butter, cornstarch, eggs…okay, and YES, Oreos for the crust. You can totally make your own if you're really looking to get a completely homemade experience but…see the above on shortcuts. This is one I'm willing to take. 
This pie is honestly one of the best things I've ever eaten. I have a minor obsession with pistachios (you may have noticed) so perhaps I'm a bit biased but….IT IS SO SO SO SO SO GOOD. Truly a pistachio lover's dream pie.
You start with an Oreo cookie crust that gets filled with your homemade (100% made from real ingredients!!!!) pistachio pudding and is then topped with homemade whipped cream and even more pistachios (we're really gilding the lily here). 
The Oreo cookie crust is pretty standard and is just made from Oreo cookie crumbs, a bit of sugar, salt, and melted butter. Mix them all together and then press the resulting mixture into your pie crust. You could blind bake it straight away, but I highly recommend chilling it in the fridge or freezer for a bit so it doesn't slump down the sides during baking. 
The pistachio filling is made from a mixture of ground pistachios, sugar, and milk that are simmered with eggs and cornstarch and thicken into a truly addictive, magical pudding. Try not to taste it before pouring it into the pie crust or you will really be in danger of eating it straight from the pot. (I speak from experience.)
The filled pie gets refrigerated for a few hours (or overnight) and then topped with homemade whipped cream and a pistachio garnish before serving.
The recipe is (no surprise) from Erin McDowell's The Book On Pie AKA the pie bible.
If you haven't gotten it yet, then do.
And if you have it, but haven't made this pie yet….I don't even know what you've been doing with your time. DO IT.
Pistachio Cream Pie
A pistachio cream pie made with seriously addictive homemade pistachio pudding, an oreo cookie crust, and topped with homemade whipped cream - it's the BEST PISTACHIO PIE EVER!!
Ingredients
For the oreo crust
210 g (1¾ cups) oreo cookie crumbs
25 g (2 tbsp) sugar
2 g (1/2 tsp) kosher salt
85 g (6 tbsp) unsalted butter, melted
For the filling
160 g (1⅓ cup) unsalted, raw pistachio meat
200 g (1 cup) sugar
173 g (3/4 cup) heavy cream
565 g (2½ cups) whole milk
28 g (1/4 cup) cornstarch
2 large eggs
3 large egg yolks
1 tsp kosher salt
29 g (2 tbsp) unsalted butter
1.5 tsp vanilla extract
¼ tsp almond extract
For the topping
118 g (1/2 cup) heavy cream
25 g (2 tbsp sugar)
47 g (1/3 cup) chopped unsalted raw pistachios
Instructions
For the crust
Stir together the cookie crumbs, sugar, and salt in a medium bowl. Add in the melted butter and stir to combine. Press the crust mixture into the bottom and up the sides of a 9-inch pie plate.
Place in the freezer for 15 minutes to chill.
Meanwhile, heat the oven to 350F. Bake for 15-17 minutes. If the crust shrinks, use a small metal measuring cup or ramekin to press the crust back up the sides of the pie plate. Allow to cool completely.
For the filling
In the bowl of a food processor, blend the the pistachios with ½ cup (100 g) of the sugar until they are pretty finely ground. Add in the cream and continue to blend until the mixture forms a smooth paste.
Transfer the pistachio mixture to a medium pot and whisk in the milk until well combined. Bring to a simmer over medium heat, stirring frequently.
Meanwhile, whisk together the remaining ½ cup (100 g) sugar, cornstarch, eggs, egg yolks, and salt. Set aside.
Once the pistachio-milk mixture starts to simmer, pour a quarter of it into the egg mixture, whisking constantly so that the eggs don't cook. Pour this back into the pot with the pistachio-milk mixture.
Increase the heat to medium and cook, stirring constantly, until the mixture thickens and starts to boil. Remove from the heat and stir in the butter, vanilla, and almond extract. Stir until the butter is melted completely and the mixture is smooth.
Pour the pistachio mixture over a fine-mesh sieve, straining it into the prepared pie crust. Cover with plastic wrap, placing the plastic wrap directly on the surface of the pie crust and refrigerate until completely chilled, at least 2 hours or overnight.
For the topping
Combine the heavy cream and the sugar in the bowl of a stand mixer fitted with the whisk attachment. Whip on medium-low speed until thickened, about 1-2 minutes. Increase the speed to medium and whip until medium peaks form.
Spread the whipped cream over the top of the chilled crust. Sprinkle with the chopped pistachios and serve.