Finger-licking good sticky sweet Thai chili tofu stir fry – crispy tofu cubes are tossed in a sweet and savory sauce along with stir-fried veggies.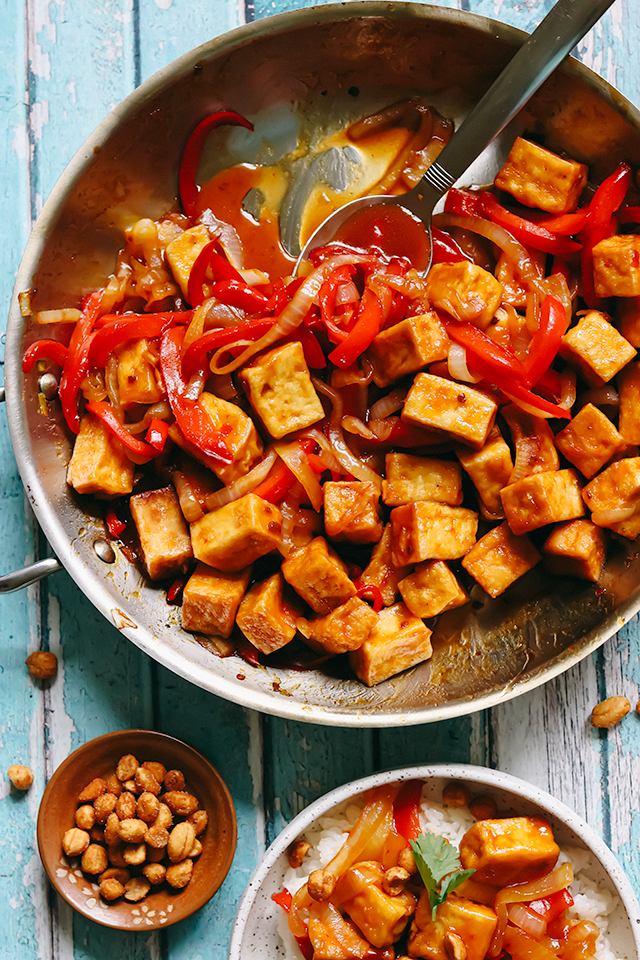 We're about to get our frying pants on!!
(But seriously, it's probably not a bad idea to invest in a whole separate outfit for frying days. THE HOT OIL SPLASHES – they're real and they've ruined 90% of my clothes.)
You know I don't fry much, but there's a special place in my heart for crispy fried tofu and sometimes I JUST NEED IT OKAY.
This recipe pairs crispy, chewy tofu bites with a sweet, savory, and spicy stir fry sauce. The sauce gets super thick and coats the tofu in the stickiest, best way. It is literally the stir fry of my dreams and what I always want my take-out to taste like (though it rarely ever does).
Thankfully it's actually really easy to cook at home, probably in less time than it takes for takeout to be delivered.
Let's make it!
First, the tofu!!
I've become a bit of a tofu snob in my old age.
I like my tofu extra firm and not water-logged at all. If you get the right kind, you don't even need to press it, you can just pat it dry and you're good to go. I find that the best kinds come in vacuum-sealed soft plastic and not in those plastic cartons. Wildwood Tofu and Hodo Tofu are my two absolute favorite brands, so seek them out if you can. (No one is paying me to say this, I just love them!)
The tofu gets cubed and tossed in a flour/cornstarch/salt mixture. And then you fry it in a vat of hot oil, which is really not as scary as it sounds!! The flour/cornstarch coating protects the wetter insides from touching the hot oil, which reduces splatter and gets it extra crispy. In fact, the whole frying process should take less than ten minutes from start to finish. Not so bad!
Next, you stir fry your veggies in a hot pan so they get a little bit soft and a little bit charred, and then you add in the sauce which is just a simple mixture of sweet Thai chili sauce and soy sauce.
Add the tofu back into the pan and let it get totally coated in that thick, sticky, glorious mess. Serve it over rice to soak up all the good stuff.
Sticky Sweet Thai Chili Tofu Stir Fry
Finger-licking good sticky sweet Thai chili tofu stir fry - crispy tofu cubes are tossed in a sweet and savory sauce along with stir-fried veggies.
Ingredients
For the tofu
1.25 lb extra firm tofu, drained and cut into 1-inch cubes
100 g (~3/4 cup) all purpose flour
100 g (~1 cup) cornstarch
2.5 tsp kosher salt
canola or vegetable oil, for frying
For the stir fry
2 tbsp canola oil
1 large white onion, sliced
2 red bell peppers, seeded and thinly sliced
9 tbsp Thai sweet chili sauce
4 tbsp soy sauce
cooked short-grain rice and honey-roasted peanuts, for serving
Instructions
For the tofu
Pour oil to 1-inch depth into a large heavy-bottomed nonstick skillet or Dutch oven. Heat over high heat.
While the oil is heating, toss the flour, cornstarch, and salt together in a large bowl. Add the tofu cubes to the bowl and toss until coated in the flour mixture. Add the tofu to the oil in a few batches, making sure not to crowd the pan. Fry for 2-3 minutes per side until golden and crispy, then removed to a paper towel-lined plate. Repeat until all of the tofu is fried.
Carefully discard the hot oil and clean out the pan.
For the stir fry
Heat the 2 tbsp canola oil in a large skillet or wok over high heat. Add the onion and bell pepper, and saute for 8 minutes over high heat, or until softened and charred in areas.
Meanwhile, in a small bowl, whisk together the sweet chili sauce and the soy sauce. Pour into the pan with the onion and bell pepper. Add the cooked tofu back to the pan and toss to coat in the sauce. Lower the heat to medium-high and cook until sauce is thickened, about 2 minutes.
Top with honey-roasted peanuts and serve over rice.
Notes
An Eats Well With Others Original