Layers of roasted eggplant and succulent garlic bechamel make this creamy lasagna a truly indulgent dinner.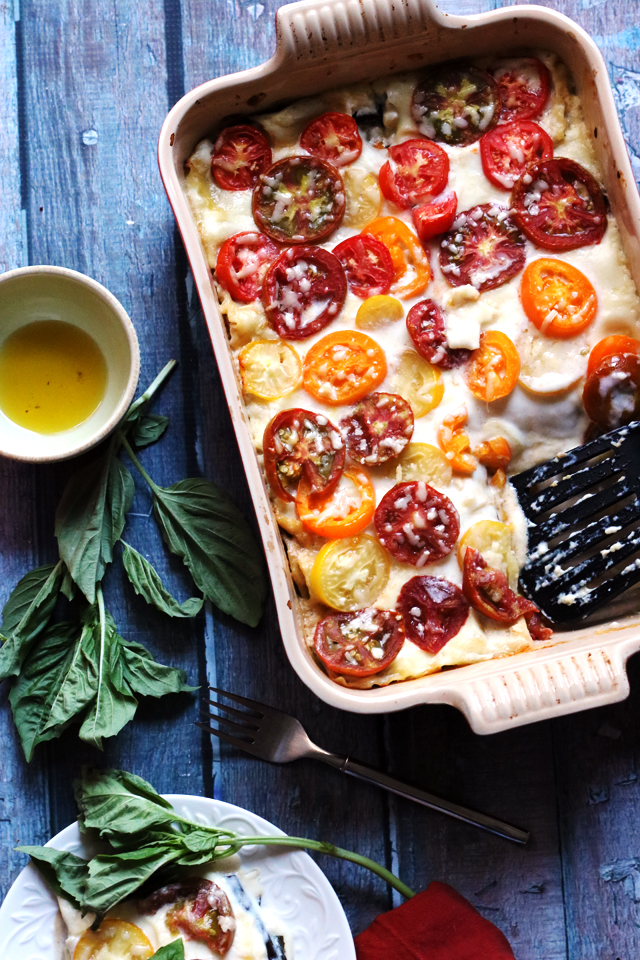 In case you were under the (understandable) misconception that either (a) marrying me or (b) having Remy were the best moments in the.boy's life.
NOPE.
Apparently we were all fooled.
Last week he called me frantically from work (during the day, while I was supposed to be SLEEPING, mind you) to let me know that a BEST EVER EARTH SHATTERING thing had happened and was I sitting down, because I had better brace myself.
I asked if he had won the lottery and he was all NOPE, even better.
Apparently better than being a millionaire and never having to work again == getting to throw out the first pitch at a Mets game.
I honestly would never have guessed that.
So on Tuesday we all trekked it over to the baseball stadium so they could pamper us, feed us free food, and so Remy could frantically look for airplanes flying overhead (the stadium is right near LaGuardia airport, so the planes are super low), scream AIRPLANE! constantly, and have a full blown meltdown whenever there wasn't one in view. (So every two minutes.)
Oh, and so Mike could throw a ball across home plate in front of who knows how many people.
FUN!
Mostly.
I mean, I'm glad he had a good time and lived out one of his best dreams.
But quite frankly this mama could use a drank and a plate of lasagna, pronto.
And if I never hear the word airplane again, it will be too soon.
Too bad so sad there was none of this lasagna left in the fridge when we got home because it would have made my life!
Seriously, this is so good. The fresh sweet tart tomatoes on top are the perfect complement to the rich garlicky bechamel and buttery eggplant layers.
Every bite is honestly perfect.
I used plain old lasagna sheets for it and did NOT boil them ahead of time (pro tip, there is no difference between no-boil lasagna and regular lasagna – it's all marketing) but you can also use fresh noodles (also no need to boil ahead of time) and it will be just as tasty, if not more so.

Roasted Eggplant Lasagna with Garlic Bechamel
Layers of roasted eggplant and succulent garlic bechamel make this creamy lasagna a truly indulgent dinner.
Ingredients
3 lb eggplant, sliced lengthwise ⅓-inch thick
olive oil, as needed
salt and black pepper, to taste
1 lb lasagne
8 oz fresh mozzarella, grated
½ cup grated parmesan cheese
6 basil leaves, torn into pieces
1 lb assorted heirloom tomatoes, thinly sliced
For the garlic bechamel
2½ cups milk
3 garlic cloves, smashed with the flat side of a knife
4 tbsp butter
¼ cup flour
½ cup heavy cream
Instructions
Spread the eggplant out on parchment lined baking sheets in a single layer and sprinkle with salt. Set aside for 30 minutes. Meanwhile, heat oven to 425F.
Blot the eggplant dry and then brush with olive oil on both sides. Place back on the parchment-lined baking sheets and bake for 15-20 minutes, or until browned. Flip over and bake until the second side is browned, another 15-20 minutes. Season with salt and black pepper. Set aside while you make the bechamel.
To make the bechamel, slowly heat the milk with the garlic in a medium saucepan. Once it comes to a boil, remove from the heat and set aside to steep for 15 minutes.
In a second pan, melt the butter over medium heat. Stir in the flour and cook for 2 minutes, stirring constantly. Slowly pour in the milk through a strainer and cook until sauce is thickened, stirring constantly. Cook over very low heat for 20 minutes, stirring occasionally. Pour in the cream and season to taste with salt and black pepper.
Grease a 9x13-inch baking pan. Spread ⅔ cup sauce over the bottom of the pan. Top with a layer of pasta and cover with another ⅓ cup of sauce in an even layer. Lay down a layer of the eggplant topped with a third of the mozzarella, 2 tbsp parmesan and two of the basil leaves torn into very small pieces. Repeat with two more layers. Top with a final layer of pasta, the remaining sauce, parmesan, and the heirloom tomato slices. Cover the pan with foil.
Lower the oven to 400F. Bake the lasagna for 25-30 minutes or until heated through and noodles are tender. Remove the foil and bake for 10-15 minutes. Let stand for 5 minutes before serving.
Notes
Adapted very slightly from Vegetarian Cooking For Everyone
Because there's never too much lasagna: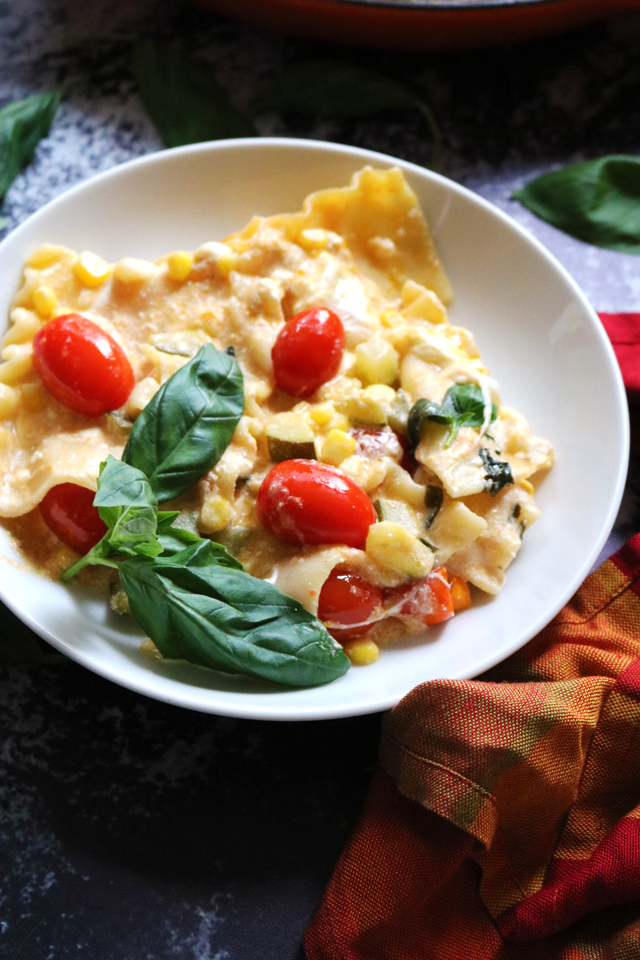 Farmer's Market Skillet Lasagna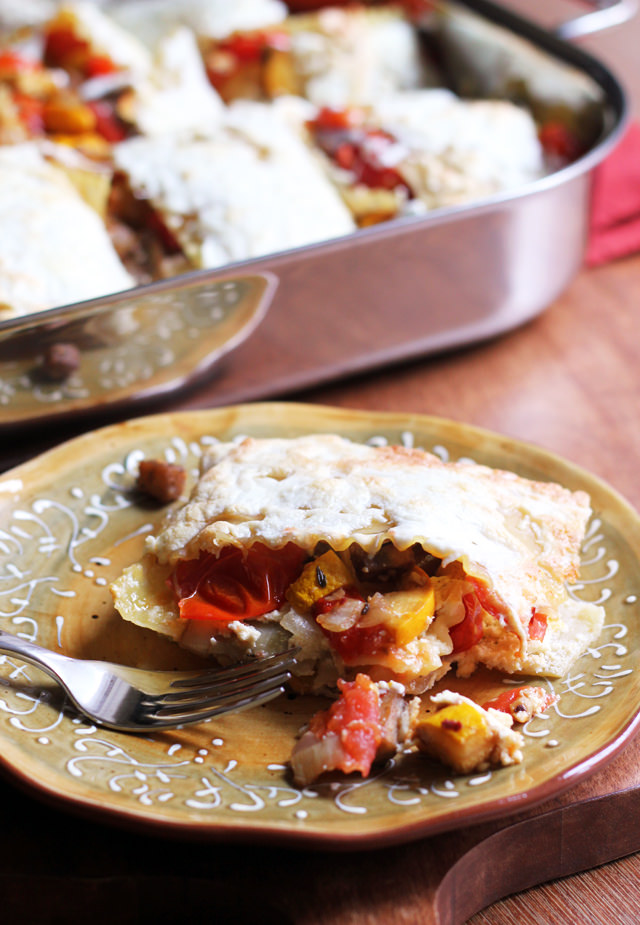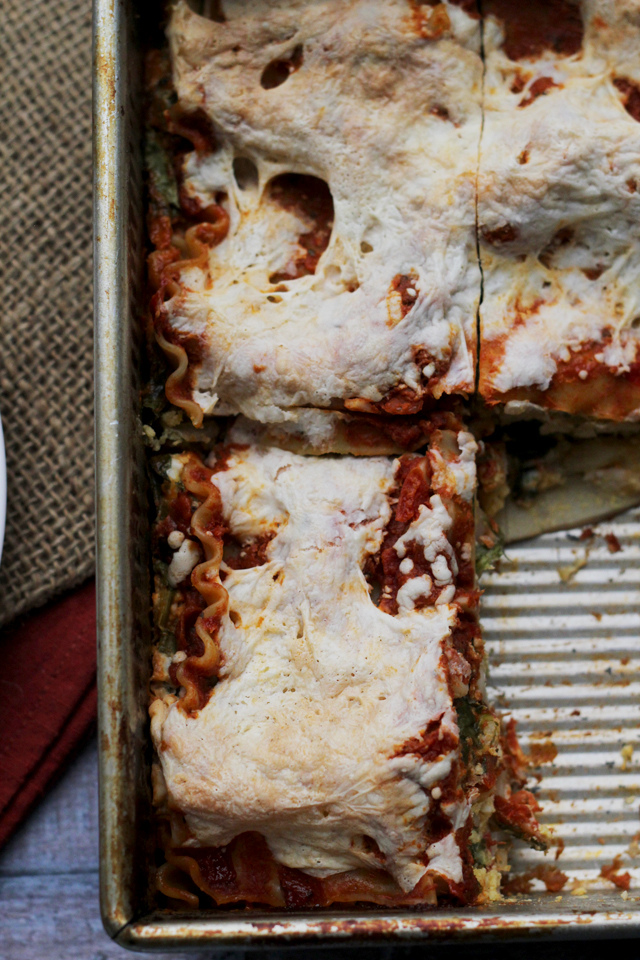 Butternut Squash and Spinach Lasagna