Super easy homemade yeast donuts topped off with a bright, tangy hibiscus glaze – a truly satisfying and delectable morning treat.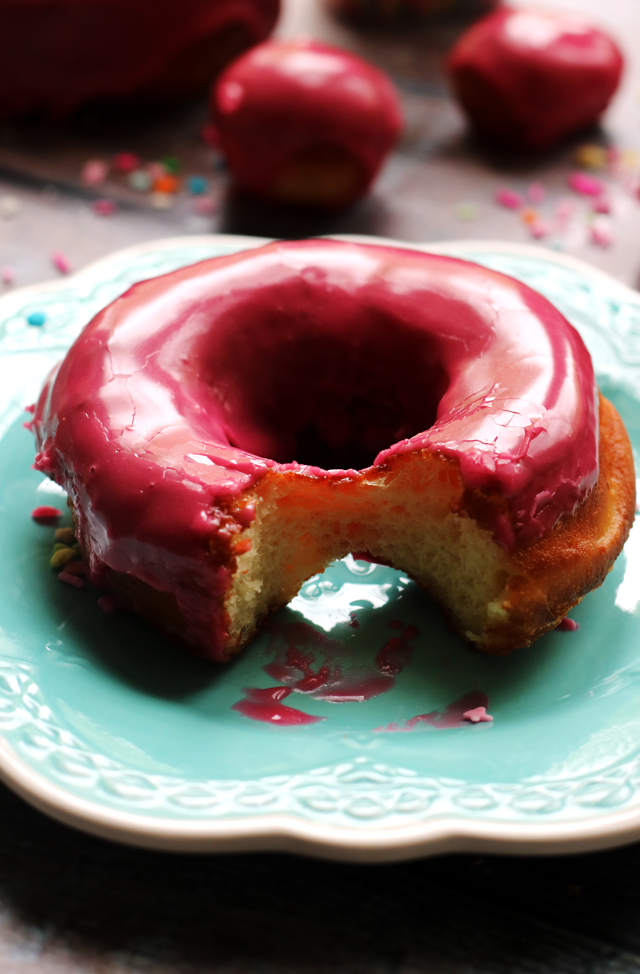 So, they say that America runs on Dunkin'…..
but OHMIGOSH you guys, if you've ever had a REALLY GOOD donut then you'll know that DD stuff is just garbage!!!!
Or like, really high calorie air. Because even after having like 3 donuts, your craving is not even satisfied and you just feel ill, but you still kind of want to go out and find more/better donuts.
They're that "eh".
I realized recently that this is why I just couldn't understand the current donut craze for the longest time.
IT WAS BECAUSE I HAD NEVER HAD A GOOD DONUT.
Don't worry. I've seen the light.
And it tastes like fried homemade yeast dough smothered in a tart tangy everything-you've-ever-wanted-in-a-pink-donut glaze.
My whole donut perception was forever altered when I was home on maternity leave and would take Remy to the Whole Foods that was on our corner for a daily outing. At least a few times a week (orrrr daily. <– I admit nothing), I would grab one of the Dough Donuts as my reward for making it through another sleepless day/night with a newborn.
And maybe it was postpartum hormones. Maybe it was sleep deprivation.
Or maybe they were just. that. good.
But I swear they were some of the best things I've ever tasted.
They were thick and fluffy and dense and perfect. ALL AT THE SAME TIME.
And from then on, I swore to never waste calories on another subpar (cough DD cough) donut ever again.
Part of me also swore to learn to make donuts that good at home. Especially since the nearest Dough-selling establishment is now like 15 blocks away –> way too far for daily donut consumption.
Well. Mission accomplished.
Dough's hibiscus donut is arguably their most famous flavor. Probably because it's a little out there/exotic and a LOTTA glamorous gorgeous hot pink hue.
Little known fact, but it's also SHOCKINGLY easy to make at home. Brace yourself.
The donut itself is just a plain yeast donut recipe. I used one from America's Test Kitchen because they never ever fail.
To make the glaze, you'll need to get your hands on some dried hibiscus flowers (I bought a huge bag on Amazon), but once you have them it's just a matter of making a hibiscus concentrate (this is basically a less syrupy simple syrup) and then mixing that with powdered sugar.
Then, BOOM. Done.
Too easy. Too good.
Now, to tackle their other flavors. Dulce de leche, I'm lookin' at you.

Homemade Yeast Donuts with Hibiscus Glaze
Super easy homemade yeast donuts topped off with a bright, tangy hibiscus glaze - a truly satisfying and delectable morning treat.
Yield:
8 4-inch donuts and 10 munchkins
Ingredients
For the donuts
2¼ tsp active dry yeast
⅔ cup warm milk, divided
3-3¼ cups all purpose flour
6 tbsp sugar
½ tsp salt
2 large eggs
6 tbsp unsalted butter, softened
6 cups vegetable oil
For the hibiscus concentrate
4 cups water
1 cup sugar
1 cup dried hibiscus flowers
For the hibiscus glaze
½ cup hibiscus concentrate
4 cups powdered sugar
Instructions
The night before you want to make the donuts, make the hibiscus concentrate. To do this, combine the water and sugar in a small saucepan over medium heat. Bring to a simmer and allow sugar to completely dissolve. Pour in the hibiscus flowers and remove from the heat. Let cool and then continue to steep in the fridge overnight.
To make the donuts, whisk together the yeast, ⅓ cup warm milk, and a pinch of sugar in a small bowl. Set aside to allow the yeast to activate (the mixture should become foamy), about 5 minutes.
Meanwhile, in the bowl of a stand mixer fitted with the dough hook attachment combine 3 cups of flour flour, sugar, and salt. Mix to combine. Add the remaining ⅓ cup milk, eggs, and yeast mixture. Mix on low speed until a ball of dough forms, about 3-4 minutes.
Add in the butter, 1 tbsp at a time, mixing well after each addition. Once all the butter has been added, mix on medium speed for 3 minutes. Add the remaining flour 1 tablespoon at a time, if necessary, until the dough becomes a soft ball.
Place the ball of dough in a large greased bowl. Cover with plastic wrap and let rise in a warm place until doubled in size, about 2-3 hours. Place the dough on a floured surface and roll to ½-inch thickness. Cut out donuts using concentric biscuit cutters or a donut cutter. Reserve the holes for munchkins. Gather the dough scraps and reroll until completely used up.
Place donuts and munchkins on a parchment-lined baking sheet and cover loosely with plastic wrap. Allow to rise until slightly puffy, about 30-45 minutes.
Meanwhile, add the oil to a large Dutch oven or deep fryer. Heat to 375F. Once risen, place the donuts and munchnkins in the hot oil, making sure not to crowd the pot. Fry until golden brown, about 30 seconds per side for the munchkins and 45-60 seconds per side for the donuts. Remove to a paper towel-lined plate to cool. Repeat until all of the donuts and munchkins are fried.
For the glaze, whisk together the hibiscus concentrate with the powdered sugar. Dunk the donuts in the glaze. I double dipped them to get a really intense pink hue and thick layer of icing. Serve warm.