Salmon and red bell peppers are roasted in a Thai sweet chili peanut butter sauce and then incorporated into cheesy quesadillas. Such a great fusion of flavors!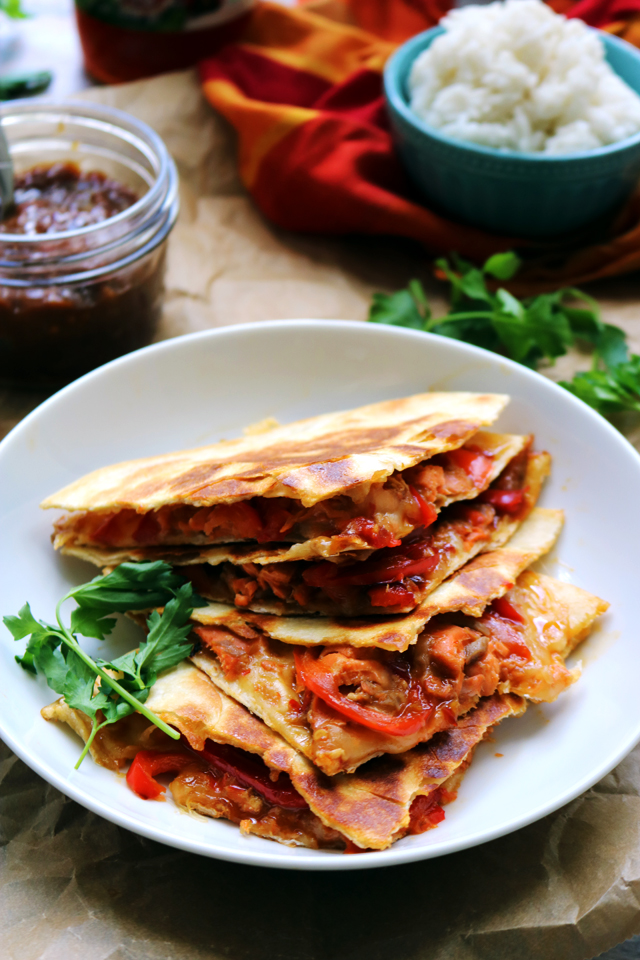 I told you guys that the.boy is under the (false) impression that we eat Mexican food every night, right?
He thinks it's hilarious.
(I think it's delicious.)
Apparently the gazillion times a week we eat pasta/curry/soup/salad don't count or something?! And so the, like, once or twice (okay, four) times a week we eat something Mexican-ish I don't hear the end of it.
I can't even with him.
BUT!
I totally got him with these.
Because they're Mexican in essence…but ALL THAI in flavor.
It was like the best fake-out ever. His face when he bit into them!!
I should have taken a photo. Really. But I was too busy trying to prevent my child from swiping her entire meal onto the floor. Ah, the sacrifices we have to make as mothers.
Seriously, though one of the reasons I make Mexican(-ish) food all the time is because of how well it lends itself to SO MANY FLAVORS.
The fusion opportunities are endless!!
And to be honest, even when I think I'm craving Thai food, there's actually always a Mexican craving underlying it all.
It's a problem only when we're trying to figure out what takeout to order and I can't make up my mind, but when I'm cooking, we have these quesadillas and all is right in the world.
Some of you are, I'm sure, shocked to see salmon on here but the truth is I keep a big bag of it in the freezer and we eat it once or twice a month.
I realize this makes me a not-exactly-vegetarian, but whatevs. I can live with that.
For these quesadillas, the salmon is brushed with a Thai sweet chili peanut sauce and then roasted with the red pepper strips for 15 minutes. It's then broken up into flakes (flaked?) and, along with the peppers, stuffed between tortillas that have been doused in more of the aforementioned sauce. Grated mozzarella gets tossed in there also and then the quesadillas are fried in just a touch of oil until they're ooey gooey on the inside and crispy on the outside.
I served it with coconut rice on the side, which was great for sopping up all of the Thai chili peanut sauce juice that dripped out of every bite.
Plus it also reinforced my argument that we actually were NOT eating Mexican food at all, despite all outward appearances. I can't say it fooled anyone, but hey – you can't blame a girl for trying.
Thai Sweet Chili Salmon and Roasted Red Pepper Quesadillas
Salmon and red bell peppers are roasted in a Thai sweet chili peanut butter sauce and then incorporated into cheesy quesadillas. Such a great fusion of flavors!
Ingredients
For the sauce
¾ cup sweet Thai chili sauce
¼ cup soy sauce
2 tbsp dark brown sugar
1 tbsp peanut butter
½ cup full fat coconut milk
2 tbsp rice vinegar
juice of 1 lime
1 clove garlic, grated
1 tbsp grated fresh ginger
½ tsp black pepper
For the quesadillas
4 tbsp olive oil
1 lb salmon fillets (skin on)
2 red bell peppers, seeded and thinly sliced
8 oz mozzarella cheese, grated
8 large flour tortillas
fresh cilantro, for serving
Instructions
To make the sauce, combine the sweet chili sauce, soy sauce, brown sugar, peanut butter, coconut milk, rice vinegar, lime, garlic, ginger, and black pepper in a small saucepan. Bring to a boil then lower heat to simmer for 5-10 minutes, or until thickened. Remove from the heat and set aside.
Heat oven to 375F.
Place the salmon skin side down on a parchment-lined baking pan. Cover each fillet with about 1 tbsp of the cooled sauce. Scatter the red pepper strips around the salmon. Place in the oven and bake for 10-15 minutes or until salmon is cooked through. Let cool for a few minutes, then remove the skin from the salmon. Discard the skin. Use a fork to shred the salmon into bite-sized pieces.
On four of the tortillas, spread the peanut butter chili sauce in an even layer leaving a 1-cm edge. Top with the salmon, red pepper strips, and grated mozzarella so that each tortilla gets an equal amount of filling. Top with a second tortilla.
Heat 1 tbsp olive oil in a large pan. Add one of the assembled quesadillas to the pan and cook for 3-4 minutes, or until the bottom is browned and crispy. Flip and cook for another 1-2 minutes. Repeat with remaining quesadillas.
Cut each quesadilla into quarters and serve warm.