This strawberry balsamic pie proves that the sweetness of strawberries paired with the tartness of balsamic vinegar is an amazing combination. Such a perfect pie for spring!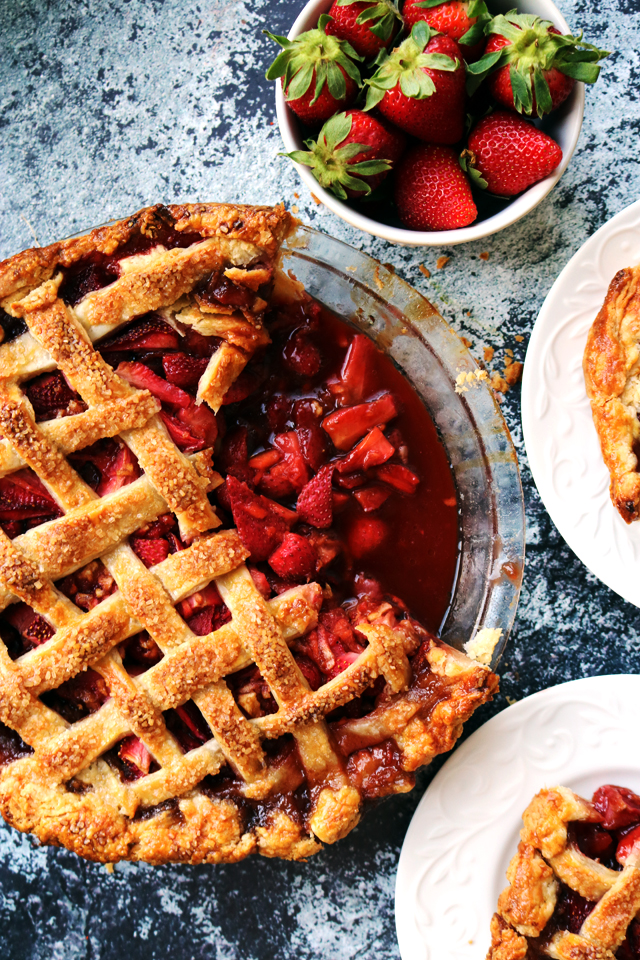 It's the most wonderful time of the year!!!!!!!!!!!!!!!!!
I mean, I like Christmas as much as the next warm-blooded soul, but PIE SEASON you guys!!!!!
It's just the best.
The best thing about pie season is that it comes not once, but twice a year. And they are SO DIFFERENT flavor-wise that you can't even get bored.
Though anyone who gets bored of pie is just not even a human from my perspective. They're like a lifeless piece of gravel or something.
Anways.
There's the November pie scene, which is filled with all things pumpkin, maple, pecan, sweet potato, chocolate pudding. Warm, cozy, and meant to be eaten around a crackling fire with a mug of hot chocolate in each hand.
And then there's now.
Spring.
The onset of berry season and with it the reminder that delicious fruity things come from the earth that are most perfect when smushed between two layers of flaky, buttery crust and then baked until they are sweet, caramelized, and almost melt-in-your-mouth.
Best eaten with a scoop of vanilla ice cream on top and summer vacation dreams dancing in your head.
We always have berries in our fridge lately. There are days when Remy convinces herself (and tries to convince us) that she can live on them and breastmilk alone.
I smile and nod and then stuff avocado in her mouth in-between berry bites.
All that to say I've been paying special attention to the berry selection available lately and when I saw that strawberries were not only on sale but looking extra fine this week, I had to buy three pounds. HAD TO.
And when you have that many berries on hand, pie is a must must must. Do not pass go, do not collect two hundred dollars, just GET THAT PIE IN THE OVEN.
A quick cookbook search led me straight to this strawberry balsamic pie and the rest is history. Because I may never make another strawberry pie again.
Strawberries usually don't stand alone as a pie filling for a few reasons. First, they don't set up that well leaving you with a pure liquid soupy mess after baking. And second, they are so sweet(!!) and need something tart to counterbalance them. Hence, why they are so frequently paired with rhubarb.
Buuuutttt what if we nixed the rhubarb, added a few dashes of balsamic vinegar, and called it pie filling?! Plus a grated apple for the natural pectin to help thicken things up. And a few dashes of black pepper to get our tongues dancing.
It's like a pie symphony. That's what.
The strawberry flavor sings with a little extra tartness that you get a hint of but can't really place exactly what it is.
So perfect to grace any spring or summer celebration tables or to use up those berries in your fridge "just because".

Strawberry Balsamic Pie
This strawberry balsamic pie proves that the sweetness of strawberries paired with the tartness of balsamic vinegar is an amazing combination. Such a perfect pie for spring!
Ingredients
For the crust
2½ cups all purpose flour
1 tsp kosher salt
1 tbsp sugar
½ lb (2 sticks) cold unsalted butter, cut into ½-inch pieces
1 cup cold water
¼ cup cider vinegar
1 cup ice
For the pie filling
¼ cup + 3 tbsp sugar, divided
2 lb fresh strawberries, quartered
1 small baking apple, peeled
2 tbsp balsamic vinegar
2 dashes Angostura bitters
¾ cup dark brown sugar
3 tbsp cornstarch
2 grinds fresh black pepper
½ tsp kosher salt
egg wash (1 large egg whisked with 1 tsp water and a pinch of salt)
demerara sugar, for finishing
Instructions
For the crust
Whisk together the flour, salt, and sugar in a large bowl. Add the butter to the flour mixture and toss to coat. Using a pastry blender, cut the butter into the flour until only pea-sized pieces of butter (or smaller) remain.
In a separate small bowl, combine the water, cider vinegar, and ice. Sprinkle 2 tbsp of the ice water mixture over the flour-butter mixture. Toss with your hands until fully incorporated. Add more of the ice water, 1-2 tbsp at a time, using your hands to mix. Add just enough of the water mixture so that the dough comes together into a ball. Split the dough in half and shape each half into a flat disc. Wrap in plastic wrap and refrigerate for at least 1 hour.
For the pie
Roll out one of the pie discs into an 11-inch round. Use this to line the pie plate leaving a 1-inch overhang around the edges. Wrap in plastic wrap and freeze overnight.
The next day, roll out the second pie crust disc into an 11-inch round. Using a pizza cutter, cut into long thin strips for the lattice. Place back in the refrigerator to chill.
Next, prepare the filling. Sprinkle 3 tbsp of the sugar over the strawberries and toss gently to combine. Allow to macerate for 30-60 minutes.
Shred the apple using the large holes of a grater.
Remove the pie crust-lined pie plate from the freezer to thaw a little. Drain the strawberries of as much excess liquid as possible (mine didn't have enough to drain). Toss with the grated apple pieces. Sprinkle with the balsamic vinegar and Angostura bitters.
In a separate bowl, whisk together the brown sugar, cornstarch, black pepper, salt, and remaining ¼ cup of sugar. Pour over the strawberry mixture and gently fold together until well combined. Pour into the pie shell and arrange the lattice on top. Crimp as desired.
Chill in the refrigerator for 15 minutes to set the pastry.
Meanwhile, heat oven to 425F and line a baking sheet with aluminum foil.
Remove the pie from the fridge and brush the pastry with the egg wash. Sprinkle with demerara sugar.
Place the pie on the foil-lined baking sheet and into the oven. Bake for 20-25 minutes, or until the pastry is just starting to brown. Lower oven to 375F. Continue to bake for another 35-40 minutes, or until the berries are bubbling all over and the pastry is a deep brown.
Allow to cool completely before serving.