Warm spices of cinnamon, cardamom, cloves, and nutmeg add a hint of sweetness to this spicy vegan Massaman curry with peanuts, potatoes, and cardamom.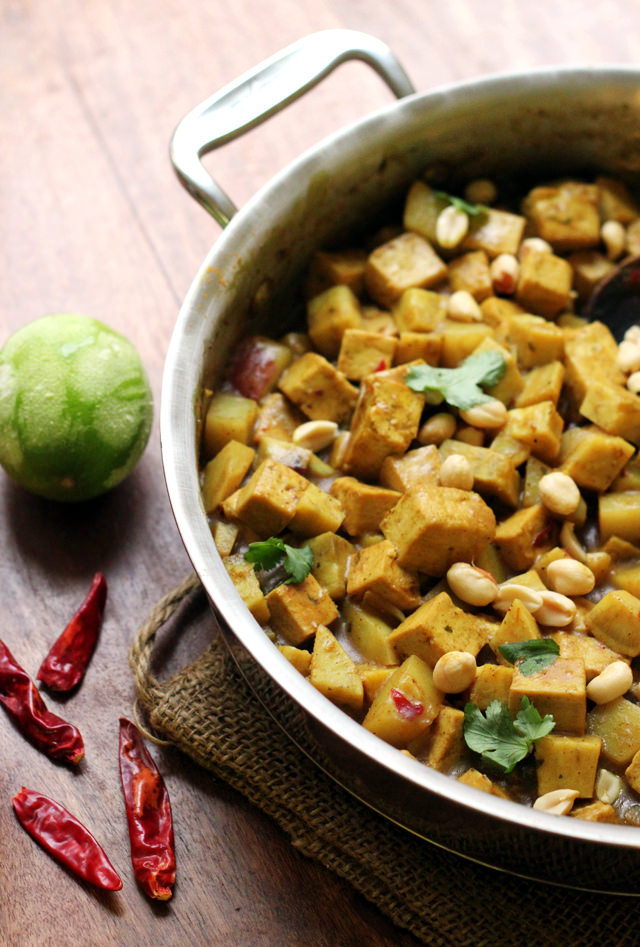 Call me a creature of habit (I am), but at Thai restaurants I always order the red curry.
Alllllwwwaaayyysss the red curry.
It's kind of my thing.
Can you blame me though? It's sweet, it's spicy, it lingers on your tongue and makes you feel all warm and fuzzy inside…it's one of my spirit foods. I'm sure of it.
But today we're not talking about the red curry.
Because the thing is, when you order the same curry Every.Single.Time…you only get to taste the same curry
Every. Single. Time.
We have to branch out! Live life! Eat all the things! Taste all the flavors!
Now before you think I actually went into a Thai restaurant and ordered something other than the red curry (let's not get too crazy now)…I have to tell you I did the next best thing.
I made it myself. Curry paste and all.
DON'T RUN AWAY SCREAMING.
When this ludicrous curry-paste-from-scratch thought first entered my head, I had a similar reaction. I was convinced I was going to have to dedicate a whole precious Sunday to hopping from specialty store to specialty store to find ingredients, and doesn't that warrant some kind of ungodly shriek?
(It does. It really does.)
But it doesn't to be that way!  Apparently. And this curry paste proves it.
The hardest-to-find ingredient is probably the lemongrass, but most grocery stores carry it now and if they don't have the fresh stuff, they probably have it in a jar in the International food aisle. Use whatever's easiest to find – I won't tell. Aside from that, the hardest part is running around your kitchen actually gathering the ingredients, but from there it's smooth sailing. Just throw them into a food processor and press GO.
Really. It's that easy.
What sets Massaman curry apart from red or green curry is that it's infused with all sorts of warm spices such as cinnamon, cloves, nutmeg, and cardamom, which impart a hint of sweetness to this otherwise spicy dish. It is thought that the addition of these flavors comes from Muslim influence in the southern part of Thailand.
In Thai restaurants, this curry is usually served over rice with potatoes and peanuts. Always daring to be different, I threw it over some farro (I think we were out of rice –> #FOODBLOGGERFAIL) and added some tofu and sweet potato into this slurpable mix.
Honestly, I can't really tell you how this compares to what you get at your local takeout joint, seeing as how I've never had it from my local takeout joint (see my ode to red curry above), but I can assure you that it was GOOD.
I-refused-to-share-my-lunch-leftovers good.
I-may-never-order-red-curry-again-because-I'm-too-busy-making-Massaman-curry-at-home good.
That good.

Massaman Curry with Peanuts, Potatoes, and Cardamom
Warm spices of cinnamon, cardamom, cloves, and nutmeg add a hint of sweetness to this spicy Massaman curry with peanuts, potatoes, and cardamom.
Ingredients
For the Massaman curry paste
15 dried red finger-length chiles, such as chiles de arbol
1 tbsp coriander seeds
1 tsp cumin seeds
10 black peppercorns
3 stalks lemongrass
¼ cup fresh cilantro
¼ cup coarsely chopped shallots
8 cloves garlic, coarsely chopped
1 tbsp minced ginger
1 tsp lime zest
1 tsp ground cinnamon
1 tsp ground cloves
1 tsp ground nutmeg
1 tsp ground cardamom
1 tsp salt
For the curry
14 oz coconut milk, divided
2 tbsp Massaman curry paste, or to taste
1 lb extra firm tofu, drained and cut into 1-inch cubes
1 small onion, coarsely chopped
1 potato, peeled and cut into 1-inch cubes
1 sweet potato, peeled and cut into 1-inch cubes
¾ cup vegetable broth
1 tbsp brown sugar
½ tsp soy sauce
1 tsp salt
25 green cardamom pods
1 cup unsalted dry-roasted peanuts
Instructions
To make the curry paste, stem the chiles and shake out as many of the seeds as possible. Break the chiles into large pieces and soak in hot water for 20 minutes. Drain and set aside.
Meanwhile, in a small dry skillet, fry the coriander and cumin seeds over medium heat, until darkened and fragrant, about 2 minutes. Add to a spice grinder along with the peppercorns and grind to a fine powder. Set aside.
For the lemongrass, trim away and discard any root section below the bulb and cut away the top, leaving a stalk about 6 inches long. Remove any dried or yellowed leaves. Finely chop the stalk.
In a food processor or blender, combine the chiles, lemongrass, ground spices, cilantro, shallots, garlic ginger, lime zest, cinnamon, cloves, nutmeg, cardamom, and salt. Grind to a smooth puree, scraping down the sides of the bowl as necessary and adding up to 2 tbsp of water to move the blades. Transfer to a jar and store in the refrigerator for up a month until ready to use.
To make the curry, shake the coconut milk can well. Add ⅓ cup of the coconut milk to a large saucepan and bring to a gentle boil over medium heat. Cook until thickened and fragrant, about 3 minutes. Add in the curry paste and cook, stirring to soften the paste and combine with the coconut milk, for 3 minutes. Add in the tofu and onion. Stir to coat with curry paste. Add in the remaining coconut milk, potatoes, vegetable broth, sugar, soy sauce, and salt. Put the cardamom pods in the center of a coffee filter and tie shut to form a small sack using a rubber band. Put in the saucepan. Bring to an active boil. Lower heat to a simmer and then cook, stirring occasionally, for 15 minutes or until the potatoes are tender.
Add in the peanuts and stir gently. Season to taste with salt or more curry paste.
Notes
Adapted slightly from
Simply Vegetarian Thai Cooking: 125 Real Thai Recipes
Nutrition Information
Serving size:
¼th of recipe
 More Thai curries: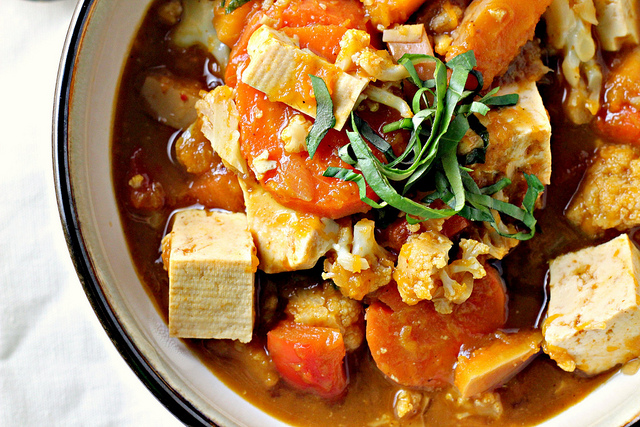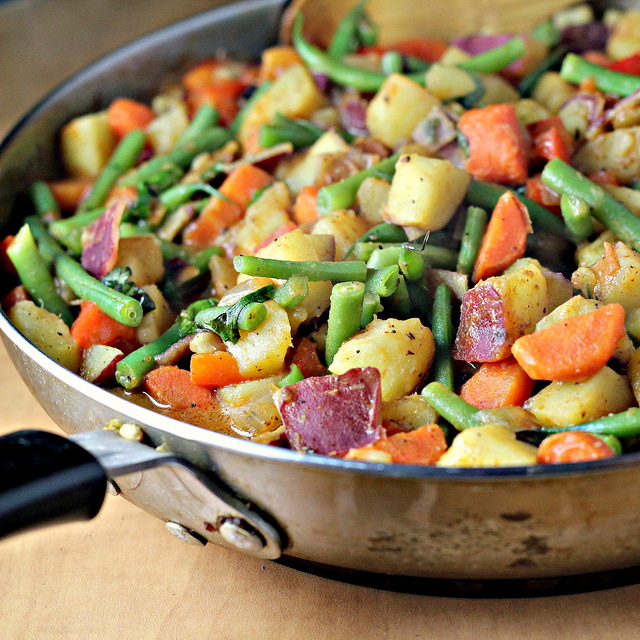 Golden Thai Curry with Green Beans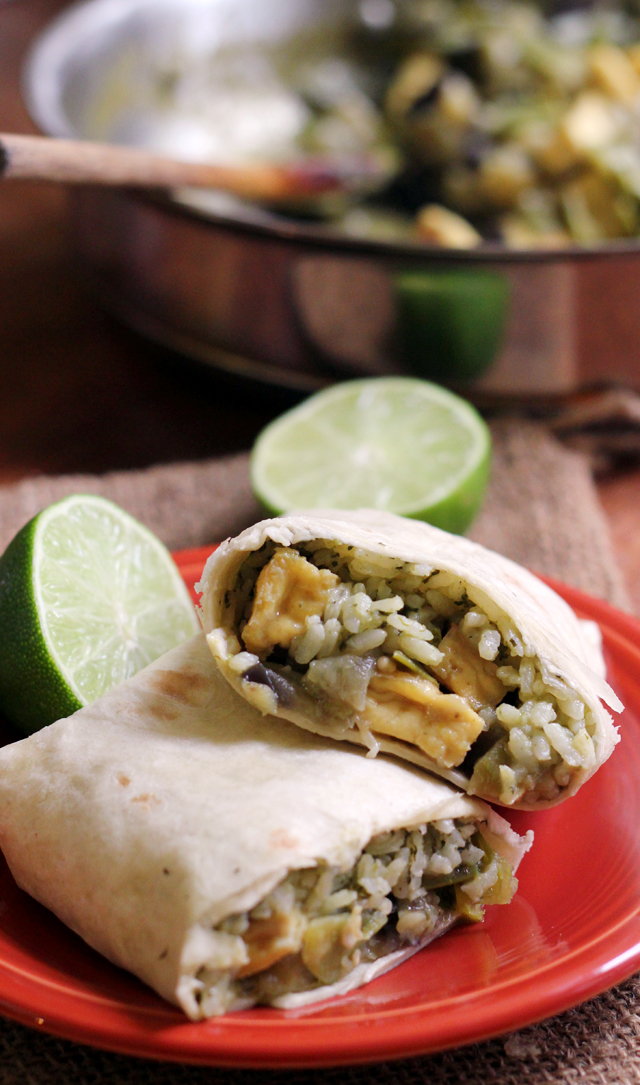 From Around the Web:
Thai Kabocha Squash Curry from Oh My Veggies
Eggplant and Chickpea Coconut Curry from The Flourishing Foodie
Coconut Curry Sweet Potato Chowder from Veggie and the Beast
Thai Massaman Butternut Burgers from Connoisseurus Veg
Red Thai Curry Noodle Soup from Amuse Your Bouche